Keeping costs as low as possible has always been a high priority for businesses, but with the current economic uncertainty, it's now even more important than ever to focus on areas that could save you money.
Whilst inflation increases, it's only natural that companies have to put up prices to keep up with rising costs, but it can be tricky to strike a balance when you also need to retain your customers.
This is especially true of car repair businesses that are battling with expensive parts, energy costs, and customers who are also looking to save money.
We'll explore the main issues affecting car repair businesses and ways in which you could cut costs without impacting your customer base.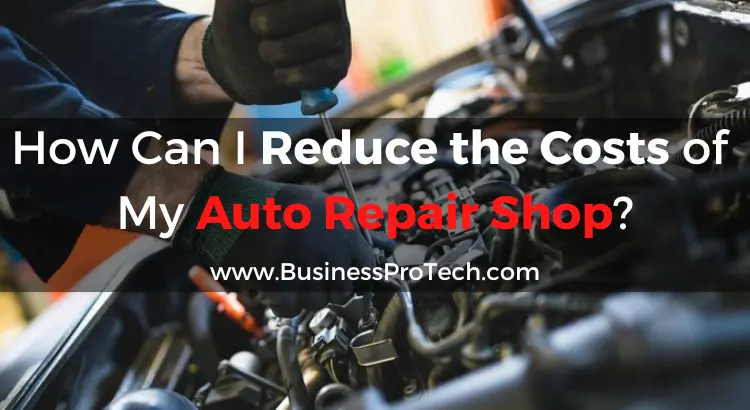 How the Motor Repair Industry is Being Impacted
A number of factors have impacted the motor repair industry in recent months including car part shortages, high fuel, and energy prices, and the after-effects of lockdowns. And car repair businesses also expect their costs to increase further in the next few months.
Inflation rates are having an impact on every aspect of car ownership including insurance, maintenance, labor costs, and the price of parts.
As people look to reduce costs across their lifestyles, some might choose to manage without a vehicle at all or cut down to one car in their household. Others could decide to downsize to a cheaper vehicle with lower fuel and repair costs.
Another factor that could affect the motor repair industry is the frequency in which drivers get their vehicles serviced. If cars are being used less, drivers could be tempted to forgo their annual checks. Whilst this might seem a cheaper option in the short term, failing to keep up with basic services and maintenance could end up costing more in the long term.
With these factors in mind, motor repair shops will need to strike a balance of offering good quality services and parts, keeping their costs achievable for customers, and affording bills and expenses.
How Can Car Repair Shops Make Savings?
Whilst these might be challenging times for the motor repair industry, there are multiple ways in which you could look to cut back costs if you own a car repair company:
Monitor Energy Use
Just as you would at home, this could mean making simple changes such as switching off equipment and appliances when not in use, especially overnight. If you're buying new equipment, make sure to invest in quality, energy-efficient items that are designed to last.
If you're looking at ways to cut back on energy costs in the long-term, consider solar panels or another renewable source of energy supply such as a biomass system.
Cut Back on Non-essentials
Take time to consider your overall costs and identify areas where you can make reductions. This could be expensive marketing or promotional strategies, or even workshop space that you no longer use. If you do have a spare area, think about renting it out or using it as a way to diversify your business.
Invest in Quality Tools and Equipment
Don't skimp on the equipment you use as this will likely have a knock-on effect on the standard of quality work you carry out. Maintain your reputation by continuing to invest in the necessary tools such as quality wrenches from RS. If any equipment needs repairing or replacing, make sure it's taken care of.
Take Care of New and Existing Customers
Try not to focus all your resources on gaining new customers but make sure to look after your current ones too. Offer the same quality service to everyone and you'll maintain your reputation across your customer base.
Diversify
Look to future-proof your business by expanding what you offer or providing specialist services, depending on your skills. This could include providing cosmetic vehicle enhancements, offering mobile services, or even specialising in a particular make or model.
Don't be Tempted to Overbook
When you're looking to increase your income, it might feel like the easiest way to do this is by taking on more customers. Only increase your bookings if you have the time and resources in your schedule as you could end up letting customers down if you take on more work than you can manage.