When you work freelance or run your own small to medium enterprise, working away from home presents more challenges than it would if you were part of a corporation. Here is how you can shave money off your overhead while still enjoying your time away.
Business trips are not all they are cracked up to be. You work away from your family, sometimes for extended periods, and you never get a chance to unpack your suitcase fully. Bouncing around from hotel to hotel is more than just frustrating, it is also bad for your mental health.
When you have one hundred tasks to do each day to keep your business afloat, you do not need the extra stress of not being able to find a pressed shirt in the morning. Save yourself the business travel hassle with these accommodation inspirations.
Hotel life is dull. Here's how you can make it better.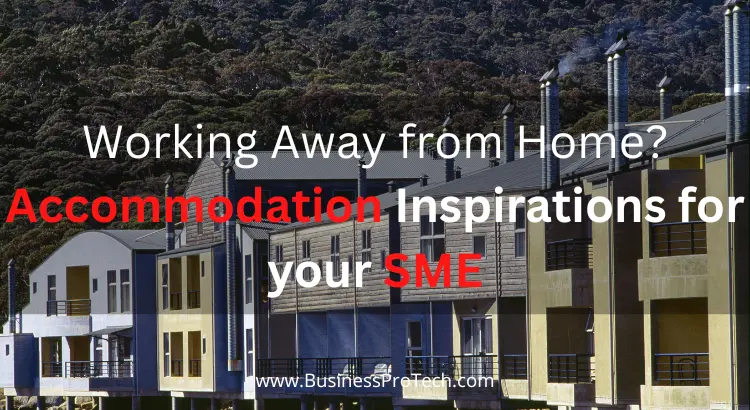 Accommodation Inspirations for SME Travel
If you are traveling for business as an SME owner, your first thought will always be that you should stay in a hotel. Unfortunately, hotels are pricey and will burn through your allowance for each journey, fast. You can get the same level of luxury in other business lodgings.
Here are some fun ideas for traveling on your work's budget while making that budget go further.
The Short-Term Rental Stay
You can find short-term rental stays which have the same level of luxury as you would find in a 5-star hotel. These furnished apartments, Toronto, are a notable example.
They provide you with all the extra soft towels, thick linens, and home comforts that you would expect from a hotel, but you rent it out for a longer period. Short-term rentals typically have a minimum stay of 30 days. This means they are unsuitable for holidays but perfectly suited to business trips.
They are especially useful if your business takes you out of town to the same location repeatedly. If you find you are only at home on weekends, for example, a short-term rental is an ideal solution.
Corporate Housing
If you have a whole team of people traveling to the same location over a prolonged period of time, opt-out of hotels and into corporate housing. This allows you to house multiple people in the same location, close to the place of work. It means you may have to add an apartment block to your property portfolio.
However, the property is always a sound investment for rent over time. You can even offer corporate accommodation as a paid-in option for team members who travel for work. If you make the rent the same price as travel costs, you could offset the mortgage.
The single-traveler version of this is to invest in a holiday home in the location you frequently travel to. That way you have the option of bringing your family with you.
Also Read: The Hidden Disadvantages of Working from Home (04 Problems)
The Fun Options for Business Travel
There are far more places to stay than you limit yourself to with a hotel.
Glamping for Business
Corporate glamping is a good way to experience a better work-life balance while you work away from home. This accommodation type takes on the form of camping but with added luxuries.
It comes with access to hot water, for example, as well as Wi-Fi onsite, high-tech facilities in your yurt or bell tent, and the same closeness to nature that you find when you camp. Most glamping sites have at least one hot tub on the premises.
If you get lucky, you may even find a site just out of town that comes with office space for you to WFH in real style.
The Log Cabin
If you want to make sure that you get your own hot tub, a chalet or log cabin is a little pricier than a yurt or a bell tent, but it comes with some excellent privacy.
Arguably the better choice during the off-season, log cabins are warmer, cozier, and ideal places to romantically stare out the window while you type up your spreadsheets.
The Houseboat
Another fun option is to forego hotels entirely and stay on a houseboat while you are working in the city. Have a look at what houseboats are available in your area.
You will be surprised by the versatility they offer, as well as being a fun alternative for any boat lover, they usually come with harbor parking and more space than you might think.
Business Trips Don't Have to be Boring
Take a flick through treetop stays, live in a yurt, enjoy a caravan, or stay in a converted bus. The options are both endless and far more fun than a hotel.
Who says business has to be boring? Simply use your accommodation budget to make life more exciting and you can improve your work-life balance on the go.