There are numerous reasons that a boat owner may elect to delete their yacht from the US Coast Guard Documentation system. While having a federally documented vessel is seen as a privilege and an advantage in many cases, sometimes either regulations or costs prohibit a managing owner from keeping a vessel in a Documented capacity.
If you intend to delete your vessel from the US Coast Guard Database, you may proceed to the link below to file your CG-4593 application and receive your Certificate of Deletion.
This process generally takes 1-2 weeks from the filing of the application to receipt of the Certificate of Deletion. https://unitedstatesvessel.us/deletion-cod/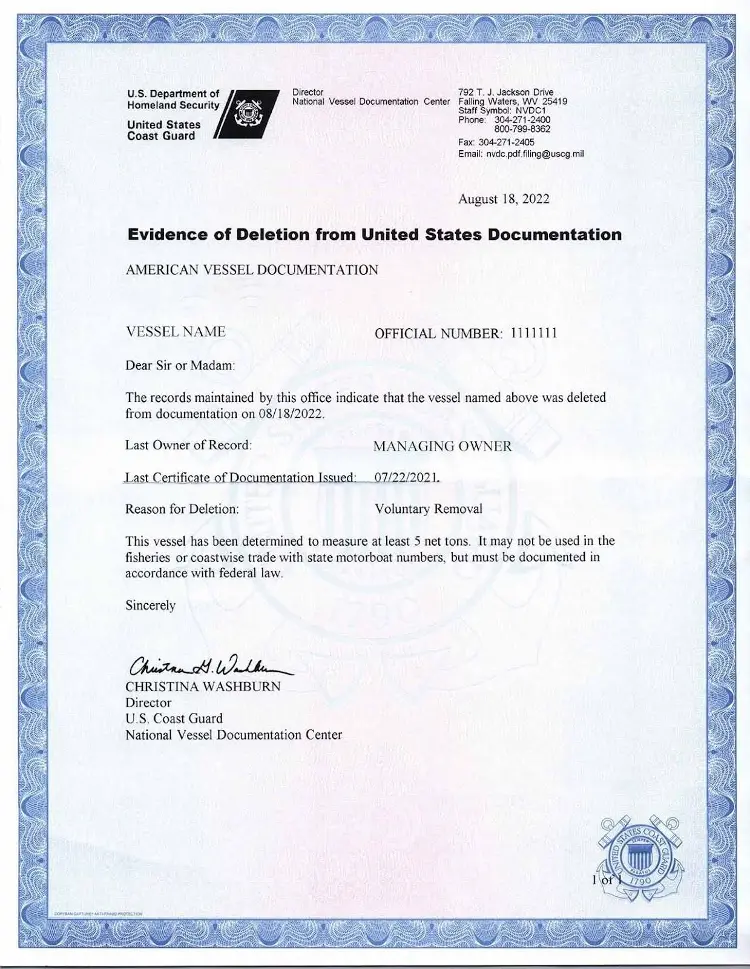 Citizenship Requirements
One of the most common reasons for deleting a US Coast Guard Documented vessel from the database is due to citizenship requirements. Only US citizens may own Coast Guard Documented vessels in the United States per CFR Title 46.
When a foreign citizen purchases a federally Documented vessel, the previous owner must request deletion.
Dual Registration Costs
Another reason for deletion is the cost associated with concurrent registration and Documentation. Some (not all) states require Coast Guard Documented vessels to be registered with the state as well.
While the State will not issue a title or numbering decals in this situation, they will require annual registration fees. If the vessel is not engaged in commercial trades (including chartering and commercial fishing) and if the vessel is not leaving US waters, it may be more cost-effective to simply delete it from the Documentation and register with the State.
Seeking State Title
If you are seeking to obtain a State Title for a Documented vessel, it must be deleted from the documentation. Federal law prohibits concurrent possession of a Certificate of Documentation and State Title.
Foreign Registration
If you intend to register a vessel in another country such as Canada, both US law and the foreign registrar law will require deletion from the US Coast Guard database to establish registration in the new country.
These entities will require the Letter of Deletion in order to process your application.
Wreckage/Destruction
Complete wreckage/destruction of a vessel in the hurricane, fire, flooding, etc. warrants deletion from Documentation, as managing owners may desire to remove their information from the National Vessel Documentation Center database.
Vessels No Longer in Charter
Some vessel owners no longer need federal Documentation and inspections if they are no longer chartering their vessel or using it in a commercial capacity, with required endorsements.
Federal Documentation is only required for vessels operating in the Coastwise Trade and Fisheries capacities.
Instances When Deletion from Documentation is Not Required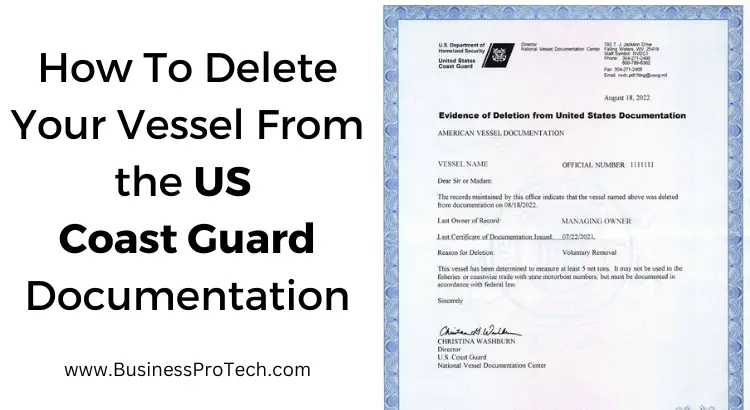 Vessels stowed in a dry dock or in a shipyard on the hard do not require deletion from Documentation. Simply file for Reinstatement of Documentation once the vessel returns to an operational capacity.
If a vessel is sold to a US citizen, deletion is not required. Simply submit the notarized CG-1340 Bill of Sale to the National Vessel Documentation Center along with payment of the required fees, and the transaction will be recorded.
This is analogous to the? release of interest/liability? processed by State Departments of Motor Vehicles.