It's no secret that technology has revolutionized the way the modern world does business, but what does this actually mean for contractors working in the electrical industry and how can it benefit you in realizing greater revenue and growth for your business?
The construction industry is booming, and along with it is the demand for electricians where the number of job vacancies is expected to rise by 9.1% between 2020 and 2030. The industry is rapidly growing, and technology is the key to being able to keep up with the pace.
What technology can do for you is give you a competitive advantage and help you succeed at meeting the ever-growing demands of your customers.
There are many ways you can do this, but perhaps the first place to start is to adopt electrical contractor software that has the sole purpose of making your internal business operations more streamlined and efficient so you can spend more time servicing your clients and working on more business-critical tasks.
This article explores the various types of technologies contractors can explore which can make a real difference in winning more jobs, being successful, and growing your all-important bottom line.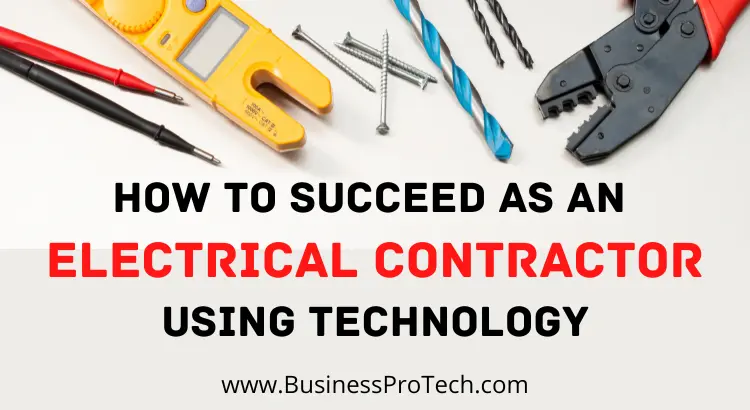 Six Ways to Leverage Technology as An Electrical Contractor
It can be challenging to know where or how to start using technology to your advantage. This is a good place to start:
Choose the Best Business Software for Operational Efficiency
Consumers demand the latest technology for their own convenience in usability, flexibility, and aesthetics. People also want to do business with companies that can demonstrate they operate responsibly too.
As a contractor, you'll find yourself fulfilling multiple tasks simultaneously. Even the simplest processes such as standardizing your estimates with templates like this free one from Jobber can significantly help increase your administrative efficiency.
Taking steps like this and adapting the way you work in the smartest way, will free you up to work on more business-critical tasks. All-in-one business management software solutions are clever at helping you achieve this.
Digital Marketing for More Clients
The electrical sector is both lucrative and competitive. According to a recent survey, over 70,000 electrical contractors operate in the United States. These establishments earn a cumulative income worth a whopping USD$170 billion.
To ensure you are a firm player in your locality, your company must ensure a robust online presence while at the same time providing the best quality service.
Learning about the basics of digital marketing and integrating search engine optimization is primordial. Online advertising, coupled with conventional methods of promoting your business, will work in your favor and earn you more clients.
Using the Cloud for Real-Time Data Access
Electrical contracting requires vast volumes of data to achieve a successful project. As wiring activities rely heavily on construction work, you must access and keep copies of essential files such as the plan, drawing, schedule, progress reports, and other documents to ensure efficiency and seamless execution.
It can be challenging to keep track of these sets of information using paper. Tapping the cloud storage service lets you and your team get updated on the project's progress. And because the cloud allows you to access information in real-time, you're instantly aware of the issues and can work to resolve them quickly and easily before they escalate.
Prefabricated Products for Faster Service
Not all buildings are built from the ground up. Some projects involve prefabricated materials for modular construction, impacting the electrical contracting sector. Electricians then have to adjust to this development by learning how to attach or install the system in these pre-manufactured buildings.
In most cases, electrical fittings are already attached to these prefabricated buildings, easing the work of electrical professionals.
Working times are drastically reduced by learning how to operate in these settings. Increasing your skill and knowledge and adapting to this technology translates to better customer satisfaction and a positive reputation for you as a contractor.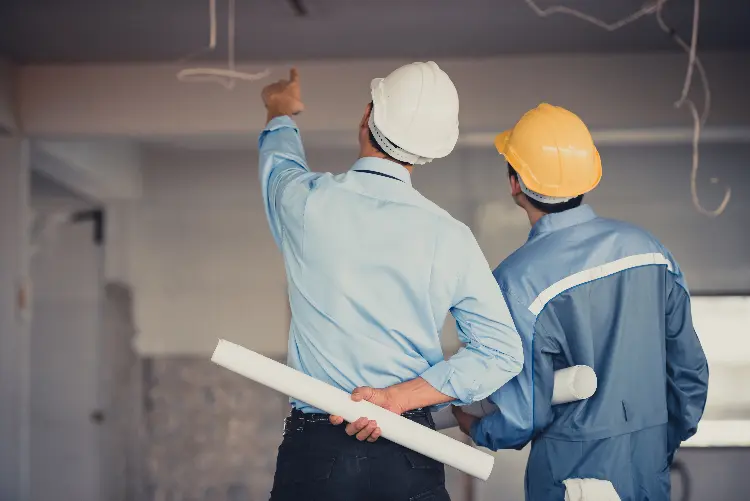 Robotics and Smart Gadgets to Enhance Work Safety and Efficiency
Electrical activities are highly vulnerable to occupational hazards such as fire and electrocution. When any of your workers experience work-related accidents, it's your company's responsibility to contact the insurance company for proper compensation. Unfortunately, labor shortages will cause project delays and other losses.
Preventative measures should be a top priority for your business. Thanks to technology, you can reduce construction accidents by using robotics, automated tools, and wearable devices to practice occupational and fire safety in the workplace.
Underground cable cutters can be operated remotely instead of manually. Doing so reduces exposure to risks. Additionally, a robot prototype has been created to replace workers whose main tasks involve working on electric posts and poles.
In addition, applications for smartwatches aren't restricted to health monitoring. Electricians have wearables that alert electricians of high-voltage sources nearby. The device also integrates a global positioning system or GPS that helps track team members.
Technologically advanced safety boots are available that also have life-saving devices integrated into them. Apart from GPS, they sport cloud connectivity and temperature and light sensors to warn the wearer of nearby hazards.
A multi-functional smart helmet was also developed using augmented reality to locate cables and ductwork required in the building quickly. While most of these technologies are not yet used widely, it might not take long before they become staples in the industry.
Interoperability for Better Work Experience
With cloud technology, servers, and the flexibility of software programs, business applications and data are easily accessible on any mobile device. Using smartphones, tablets, and wearables discussed above, team members can perform tasks traditionally restricted in the office, increasing overall productivity.
For instance, you can create and send invoices while working in the field. You can also show a client an estimate of a project cost that traditionally could only have been done in an office.
You can easily access the office inventory to know which stocks are available and which need to be ordered or purchased as soon as possible.
Wrap up
Innovations have enabled the electrical contracting sector to harness the power of technology to improve operations and productivity.
Using various applications and devices enumerated in this article, professionals can provide the best service at the lowest possible costs, leading to business sustainability and growth.
References that are used in this article:
https://solutions.borderstates.com/the-electrician-shortage/
https://electrification.us.abb.com/sites/geis/files/abb_stateof-v6_002.pdf
https://www.firstresearch.com/industry-research/Electrical-Contractors.html
https://www.ecmag.com/section/your-business/electrical-construction-technology-2019-and-beyond
https://www.iec-cincy.com/how-technology-can-help-you-as-an-electrician/