Promotional gifts are essential if you want to expand your brand's presence. They are a cost-efficient and quick way of attracting future potential customers.
Giveaways show your willingness to establish a more intimate relationship with your clients. There are several choices on offer when it comes to distributing promotional products. One of those is mugs since everybody loves hot coffee or almost any other warm beverage.
But instead of one with a plain appearance, it's a great idea to go with funny personalised mugs. A funny logo, image, or design on your cup will lift your customer's spirits and remind them of your company or business every time they hold it in their hands.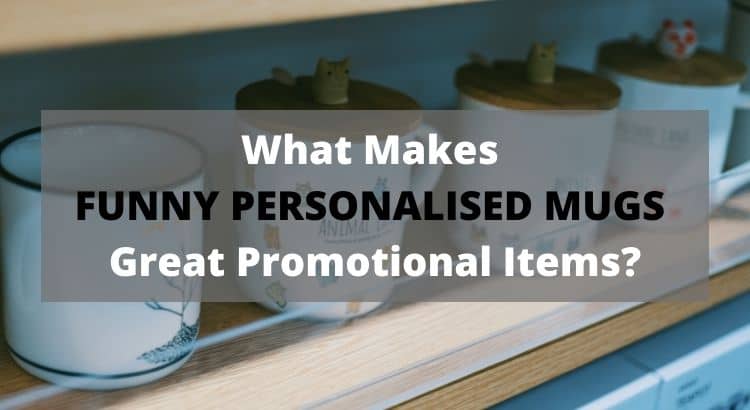 What are some ideas, reasons, and other benefits of having funny personalised mugs as giveaways? Let's find out!
Why are Funny Personalised Mugs a Good Idea?
For most people, mornings begin with a nice hot mug of coffee. The feel of the cup embracing your palms and the rich aroma of the beverage sitting in it is comforting.
But giving the entire experience a humorous makeover will cheer them up instantly, particularly during depressing days. Every time they run their eyes across the catchy and funny logo, it will leave a comforting smile on their face.
It's an efficient way of showing that you can be caring and joyful at the same time. You can also be creative with the logo, tweaking it any way you want to appeal to the reader, and thus display your creativity.
How Should You Design Your Logo For a Mug?
How to make Customized Mugs | DIY MUGS (easy) by Doctor Fashion
Using a pun for your brand name is an effective way of making it stand out among others. Think about a famous saying and then explore its different meanings before selecting one that you feel would work best.
But be extremely careful while deciding on a pun because it will have a long-lasting effect on your customers' minds, and that is how they will recall it. You could also choose to use a visual pun by using geometric shapes, objects, and any images you want.
You could also decide to add a fun mascot to highlight your brand. Research has shown that mascots can benefit your brand immensely. Adults love them since they are extremely friendly and come with a feel-good factor. Kids love them because they develop deep personal bonds and think of them as personal friends.
Make Use of Funny Slogans For Mugs
A funny slogan will always appeal to your clients and potential customers. However, even when you use funny logos, they should be relevant to your business and not seem irrelevant at any cost.
The idea is to ensure that your personalised mug is humorous while expressing the sentiment of your business. It would also be helpful to remember that jokes or slogans that come across as insensitive are best avoided at all times.
Select the Design and Colors Carefully
Your personalised mug should be attractive while being funny. The way to do that is to use a design and colors that attract attention from a distance.
Avoid dull colors, like drab dark brown. Choose bright colors like yellow, pink, orange, lilac, peach, and light pink. The brightness of the color is directly proportional to the level of optimism.
Wrap Up!
Such personalised mugs are excellent ideas for increasing your brand awareness, attracting potential customers, and connecting with your existing ones on a deep level. Humor is highly effective, but you have to be creative to get the best results.