The quality of a team = An excellent leader
There's no denying that it's really stressful to run a business. The role of a business executive is not, by and large, one that is easy. You must thus remember the most crucial component of your company – your team. It ought to be your topmost priority even as you're juggling attending meetings, meeting deadlines, and supervising a hundred other things. As a manager, you now have the duty to motivate, inspire, and lead your team with the intent to accomplish a set of organizational objectives.
Every organization relies on effective staff management since it fosters employee cooperation. According to a recent study, 86% of employees in leadership roles cite poor teamwork as the main cause of workplace failures. Additionally, having satisfied and competent team members benefits more than simply your business's financial line. Plus, people are more inclined to stay with a firm for a long time if they feel that they are making a significant contribution to its success.
Finding the finest candidates for each position and providing them with the necessary training is the responsibility of an efficient employee manager. It will enable them to perform at their peak while still being satisfied with their workloads (and vice versa). Overall, team management is what propels the team members' roles forward.
Setting appropriate standards and fostering a supportive workplace are crucial management tasks. It's important to know how to manage people well, particularly when your team members have diverse expectations and ambitions.
In this post, you'll learn what it involves to manage a team and a few strategies for doing it well. Hold on tight and carry on reading!
Also Read: 7 Tips for Managing a Virtual Team
Essential must-have team building and management skills
People working in businesses vary in age, come from diverse experiences, and have different perspectives on how things should be done. This implies that various groups within your company will have various driving forces and operate most effectively in certain ways.
Managers must develop a toolset of people management skills to guarantee that everyone on the team realizes their full potential. This is essential to give support and lessen stress during times of change, interruption, or uncertainty as well as to inspire each member of the team, raise productivity, and improve worker morale. 
A manager who possesses these abilities will undoubtedly make the difference between a team that is unproductive and underperforming, and a team that is productive, inspired, and engaged.
In no particular order, here are some must-have skills for every manager, aspiring or not:
Most importantly of all, managers should have solid communication skills. The rest of the skills are really useless if you can't effectively interact with the people you oversee. It is necessary to express your thoughts, expectations, and requirements to others in a variety of management duties. This is usually the first thing that you've got to have.
One of a manager's primary responsibilities is problem-solving. Because of this, a great manager looks for and solves issues as they arise, and to achieve this, you need to have exceptional attention to detail. You relieve strain on your staff and individuals in positions of authority by noticing issues before they become serious and figuring out their cause.
It's necessary to have strong organizational skills since managers must balance several duties. You'll be required to manage your workload, supervise the work of other workers, participate in meetings and training sessions, conduct performance reviews, and evaluate corporate regulations. When one is well organized, it is easier to stay calm, save time, and meet deadlines.
Make life easy with Agendrix retail scheduling software
An inexperienced boss could become frustrated while scheduling workers for shift work. Producing a timetable that meets everyone's demands may be time-consuming and difficult at the same time because each employee has different ideal work preferences. Businesses are vulnerable to inaccuracy and predisposed to making bad decisions when scheduling is not automated. Retail scheduling software can significantly improve the situation in this case. And not just any kind – but Agendrix retail scheduling software.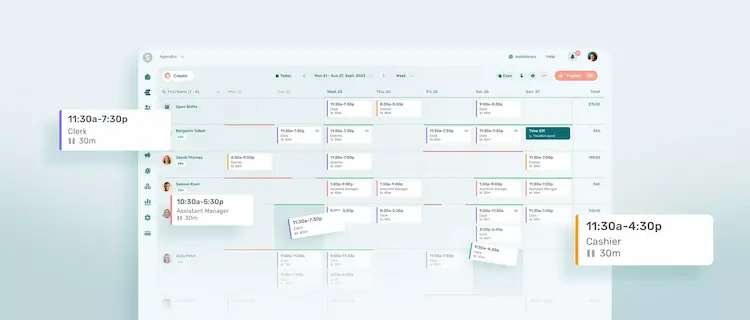 Agendrix retail scheduling software allows managers to readily examine personnel expenses in real-time and change staffing numbers at any time of day. To cut expenses and increase earnings, just this one function may be used. The program could be tailored to your organization's needs to ensure compliance with workforce or overtime standards, and it can even notify you when overrides or exceptions are necessary.
Agendrix scheduling software enables you to quickly copy and change existing schedules as well as create recurring schedules. Even if there are any conflicts, it will let you know so you may change the timetable. Employees gain from this time-saving tactic as well since it helps them better understand when they have spare time to schedule appointments or special trips.
7 Methods to successfully manage your team in 2023
There is more to successful team management than merely assigning duties to team members. In other words, it's your responsibility to lead your team in the direction of the ultimate goal. This entails planning the procedure that will accomplish your goals within the specified parameters and time limit, and taking into account and accommodating the persons involved. If you can achieve this level of harmony, you will be well on your way to a successful result.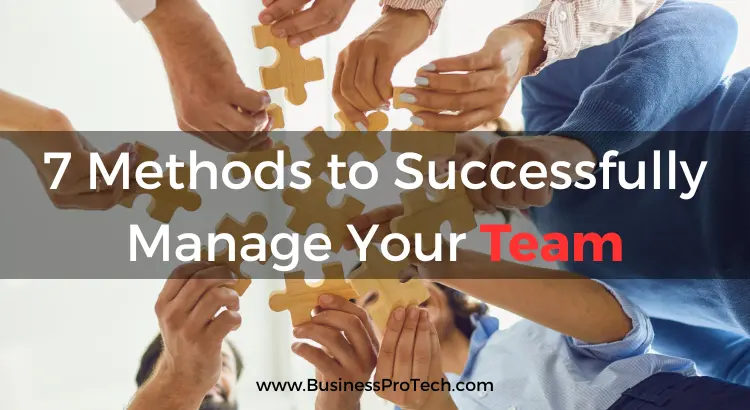 Here are some creative approaches that ensure managers successfully manage their staff members:
Only hire the right pieces for your team
It is vital to employ the correct group of individuals since selecting the ideal people for your team is a crucial component of managing teams efficiently.
Your job becomes instantly smoother and more efficient with the appropriate team members and their abilities and talents. It maintains the maximum possible level of productivity for your project and makes certain that you receive outcomes of the highest caliber.
Be transparent
The workplace benefits from transparency in a variety of ways. Employees become more responsible, content, joyful, and effective as a result. Making employees feel appreciated may increase productivity. This can be achieved by providing constructive criticism, thanking people, and maintaining open lines of communication.
Transparency ultimately helps the whole team since it gives workers the guts to speak out and contribute their thoughts.
Overall, being open and honest with your team members establishes their faith in you as a leader.
Keep an open communication line
The key to ensuring sure your team completes the task at hand is effective communication. You should try to foster an atmosphere where team leaders may offer candid, helpful criticism. Team members ought to feel free to express their concerns and interact with one another.
It's critical that you maintain open lines of communication with your staff and keep them updated on organizational happenings since they want to know about current initiatives, goals, and deadlines. It's also crucial that you welcome feedback and that your employees know they can come to you with any problems or inquiries they may have.
Promote team collaboration
Encourage your staff to value creative collaboration as a means to establish a suitable balance. By ensuring that everyone is aware of existing tasks, you can make the most of the team members' various skill sets. Team members can then participate in the project wherever they believe they can provide value.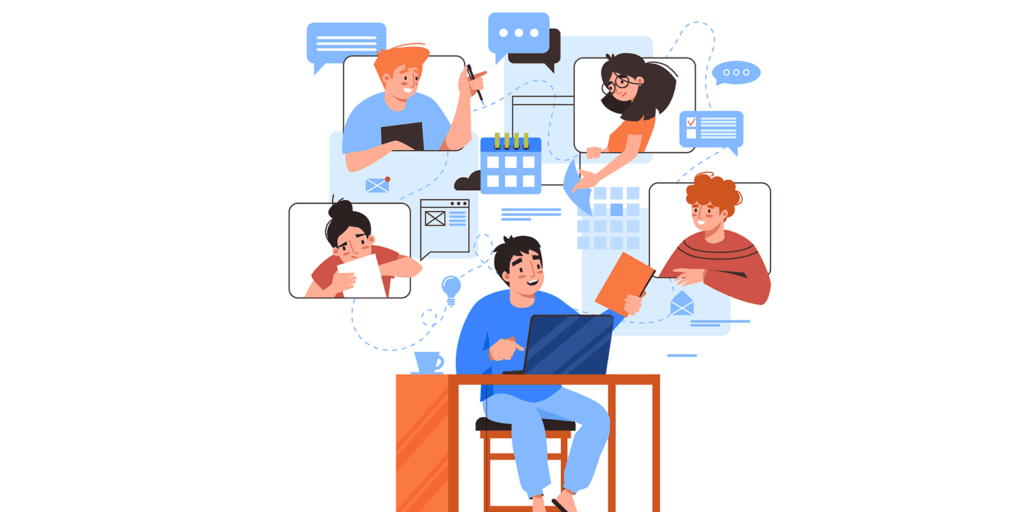 It is more challenging to achieve team unity than it is to say. Through the visualization of forthcoming work for each team member, a collaborative task management application may aid the process. Everyone will be aware of who is doing what and when in this way.
Have a clear and feasible goal
Your team management plan should place a high priority on effective goal-setting. It's important for everyone in your team to grasp the daily goals. Don't forget that your team is highly likely to miss deadlines if you don't have clear, succinct short- and long-term goals.
Additionally, make an effort to establish objectives as a group through extensive debate and brainstorming. To make sure you are all on the same page, involve everyone in the process,
Be a worthy example
You'll serve as a mentor and an inspiration to your team, therefore you must lead by example if you want to earn their respect. It is imperative that you conduct yourself properly and dedicate yourself to your work if you want them to do the same. As you do your duties and advance your career, be sure to assist your team in achieving the same.
Give your staff some breathing space
Continually looking over your team's shoulders might make them uncomfortable or cause them to worry more about you than doing their work. Even worse, such behavior will make them feel untrusted and might lower overall employee performance.
Based on what is acceptable for the function, give people the independence and self-determination they require to complete their tasks.
This will also free you up so that you may complete your own work more efficiently and swiftly.
Individual talent brings small wins; team management births organizational success
Growth is unusual when an individual tries to succeed on their own rather than making use of the abilities of a group. Effective team management is crucial for this reason.
Understanding the value of team management and being willing to put in the effort to improve your abilities are what make you a successful leader or manager. Your team will succeed at work to a greater extent if you manage it more skillfully.
It is important to keep in mind, though, that effective team management is dependent on the individuals involved as well as the workplace and corporate culture.