Construction is an ever-changing industry in which new technologies and e-commerce are constantly improving the productivity and success of businesses in the industry.
This is because new technology allows workers to complete tasks to a higher standard and tend to be safer whilst doing so. E-commerce also makes sourcing tools or materials even easier too.
As of 2022, there are more than 93,500 construction businesses in the UK. Each is competing against one other to secure contracts in order to turn more of a profit.
Taking advantage of the latest technology and e-commerce is a great way for businesses to stay on top of their competitors and continue to impress their clients with the successful completion of projects in an efficient time frame.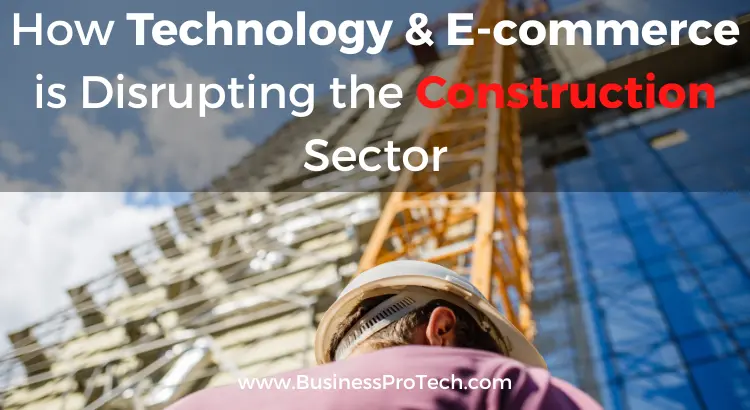 This is especially true in times of increasing inflation and higher interest rates which are squeezing profit margins for businesses across the board. It means competition will be even tougher and so efficiency and cost savings in any business operation will be more important than ever.
If you want to find out how you can take advantage of technology and e-commerce for your business then you've come to the right place.
Read on to find out how the construction industry is being disrupted by modern changes t both technology and e-commerce and how you can use them to your advantage.
Examples of E-commerce Impacting Construction
The e-commerce sector in the UK is huge and is only going to continue growing. Approximately 50 million Brits shop online and that extends to construction business owners too. But why is e-commerce improving the construction industry?
E-commerce makes it easier than ever to get your materials faster and at more favourable prices. This is because you are able to shop around and use price comparison websites to get the best deal on whatever your project needs.
What's more, shopping online for building materials also means they can be delivered straight to your site which should save you the hassle of travelling back and forth from physical stores.
No need to spend hours going up and down aisles to find the right tools and materials for your building project, you can simply browse multiple online stores to not only find the best items you need but also at the best prices.
For example, if you were working on a loft conversion and needed insulation as part of your project, you could simply order all the bulky insulation boards straight to your site conveniently. Saving you time and effort as well as travelling expenses.
Technology Impacting the Construction Sector
Imagine a construction site in the absence of modern technology. Without power tools, we would have to use our hands, even more, to cut boards and drill holes.
Without heavy machinery, workers would be using shovels and pickaxes to dig trenches and excavate huge sites. Buildings would only have a few stories if there were no elevators. All in all, it would take magnitudes of times more labour, effort, and time to make anything happen.
The point is that new construction technology breakthroughs have always accelerated building, thus it's strange that so many businesses are reluctant to accept new construction technologies. We are able to construct buildings that are more powerful, higher, and more energy efficient.
Technology has improved worker productivity and made building sites safer. We have been able to take on more challenging tasks while also increasing productivity and collaborating better.
Every industry is constantly looking to improve its operations to ensure the work is completed in the best way every time. To do this, technology must be evolving regularly in order to see continuous improvement and that certainly applies to the construction industry.
One way technological advancements have impacted the construction sector is the ability to improve the carbon emissions of projects. This is because more materials can now be reduced, reused, and recycled more easily.
Construction processes are also much stronger now too, thanks to the advancements in mobile technologies. Mobile devices can now collect real-time data on the project which allows the site managers to keep on top of its progress. It will also help to save countless hours of manual data entry too, freeing all staff up to focus on the main task at hand.