RPA software technology has emerged as one of the greatest innovations, enabling enterprises to optimize their resources better than before.
We all know that the last two years of the pandemic have been challenging for all, especially questioning legacy approaches to conducting business. But the pandemic also proved as a catalyst, compelling owners to step up their automation and digital transformation initiatives in first gear.
RPA technology became the means of realizing the objective, even if it is on a miniature scale. Moreover, the benefits obtained from RPA bots implementation cleared the path for future transformation possibilities. As a result, enterprises are leaving no stone unturned to win the competitive game.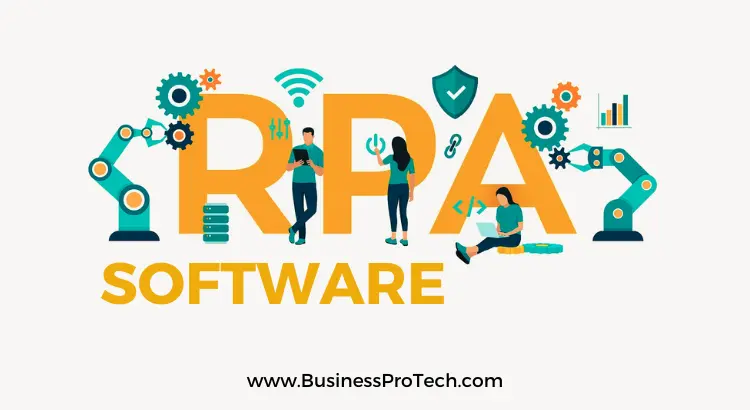 RPA Software – The First Step Towards Innovation
The global robotic process automation market has grown exponentially recently. It was valued at US$ 10.01 billion in 2022. The RPA market is expected to grow at a CAGR of 20.3% from 2023 to 2030, as per experts' opinion.

www.fortunebusinessinsights.com/robotic-process-automation-rpa-market-102042
This is evident by the fact that approximately 53% of organizations have already taken the first step towards innovation with RPA software technology. And, early 78% of the same lot have considered increasing their RPA investment over the next three years. Reasons behind the wider acceptance would be improved compliance, elevated quality and accuracy of operations, higher productivity, and greater cost reductions.
Market surveys show that RPA software might become a near-universal accepted technology within five years if the same adoption pace is maintained. Thankfully for enterprises, over 80 RPA vendors in the global market are already responsible for driving the change at scale.
And most of their clients admitted to having witnessed staggering returns from their RPA investments. For example, Royal Philips, the global healthcare technology leader, successfully achieved an ROI of 110% from their RPA software solution.
Hence, RPA is one of the best tech-enabled solutions for businesses to keep up with the market competition. And that is a proven fact.
What is Robotic Process Automation (RPA) Software?
Every business process across organizations, regardless of their industries or sectors, comprises rule-based recurring tasks occupying maximum productive hours of employees. Such tasks are unavoidable, adding limited value to an employee's personal growth but demanding their undivided attention.
Therefore, for many reasons, such tasks are considered the first candidates for automation. And, as market experts predicted in an old report, at least 30% of constituent work activities have the technical potential for automation. Having realized the automation potential, companies increasingly implement RPA bots to speed up similar time-intensive tasks.
The RPA software solution automates similar repetitive computer-based tasks and processes, saving time and energy of in-house resources. In the shape of software bots, this technology can easily emulate human interactions with machines as closely as possible. Still, unlike humans, they can execute tasks quickly, precisely, and accurately without downtime.
Therefore, to sum up, RPA, also known as Robotic Process Automation, can drive tremendous value for businesses, their customers, and employees.
Top Use Cases for Software RPA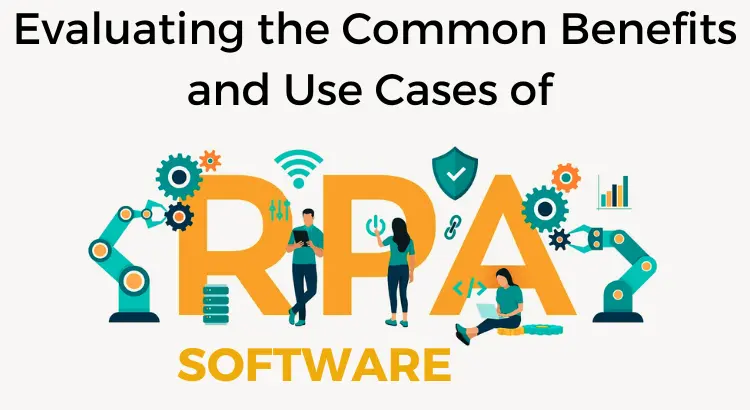 Numerous business use cases exist where RPA bots can quickly change accuracy, speed, and returns. Such use cases are integral to every organization requiring hours of attention and hard work.
But resources involved with such processes find limited time to expand their skills beyond the basics. Hence, declining employee morale follows, leading to higher turnovers. In order to prevent such negative turnarounds, software bots are used instead.
A few such use-case examples would be:
Customer Service
Customer servicing should not be taken lightly since they are the primary source of revenue for every business. And their preferences are to be respected for better results. In the same light, buyers today expect quick responses and practical solutions from their providers.
For example, an automated customer care system supported by RPA bots can sort queries and offer initial responses much faster than a human counterpart, thereby reducing the waiting time by many minutes. This way, customer service can be perfected to increase the satisfaction levels of the end-users – an essential objective for businesses.
Invoice Processing
Processing invoices in bulk is nerve-wracking and error-prone, especially when executed manually. And there are other challenges to consider, namely, variations in invoice formats and fragmented sources.
Such hurdles can result in delayed or incorrect payments, impairing business relations and reflecting wrong figures on financial statements. In order to prevent similar mishaps, RPA bots are effectively used to automate the end-to-end process, from receipt to payment.
Payroll
Processing payrolls for employees every month is not a simple task when the task requires a large volume of data entry efforts. Data inaccuracy, payment delays, and several dissatisfied employees are some downsides. But RPA software can easily automate data consolidation and payroll generation in a few minutes.
Also Read: A 5-Step International Payroll Set-Up Guide
Sales Orders
Data entry is a part of the everyday task for any sales representative. However, when they need to invest more time and effort chasing and converting leads, the sales team spends hours updating lead details instead.
RPA bots can quickly provide end-to-end automation solutions for tasks, including sales order entry, invoicing, etc., leaving the teams to focus more on getting business.
HR Information
Storing and processing employee-related information is another HR department area requiring attention from RPA bots. For example, information pertaining to employee history, payroll, reimbursements, and level of training are sorted and stored through RPA effortlessly.
Top Five Benefits of RPA Software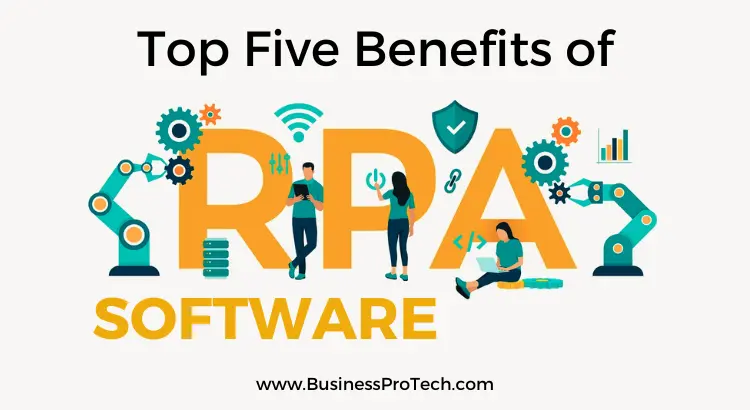 In simple terms, the RPA software executes tasks faster than any human counterpart while maintaining the quality and accuracy of deliverables. But what do these words mean from a business standpoint? Organizations should understand its capabilities in-depth to scale more excellent value from RPA technology.
The following is a list of five primary objectives of RPA that benefit every organization, regardless of which industry they fall under.
Boost Productivity Across
When employees are left to take care of responsibilities they excel at while leaving bots to handle repetitive, rule-based tasks, it is a win-win game for all.
Employee productivity enhances while their morale stays intact. And owners benefit from consistent, accurate, reliable, and faster outcomes, with lesser costs or time incurred from damage control.
Improve Efficiency for Higher Savings
Repetitive data-entry tasks can impair the efficiency of operations, especially when they are executed manually. But a combination of human and software bots can ensure the efficiency levels are maintained and heightened, leading to business cost savings.
Bots can easily cater to rule-based tasks while humans take care of more complex workflows, reducing the overall time for task executions.
Hit Accuracy Expectations
Humans are prone to committing errors that have dire consequences for businesses. Mistakes in accounts payable, for instance, result in unplanned costs for owners. The situation can be averted with RPA bots deployed in critical areas to achieve 100% error-free and consistent data accuracy.
Unlock Opportunities for Scale
RPA can easily handle workflows with irregular volume, for instance, processing a higher number of orders faster than humans without committing errors. This is because the bots are programmed to scale processes and execute tasks instantly, irrespective of the volume of work.
Generate Data for Analytics
It is quite hard for owners to evaluate how every task is executed for further optimization without granular data. RPA bots easily capture insights from the task level, helping owners identify process gaps and improvement areas, indicating insufficiency in both human and software resources.
The Final Word
RPA software solution has indeed proved to be a blessing in disguise for businesses and their stakeholders. It is the first strategic step towards innovation and transformation. But, in order to scale automation adoption end-to-end, enterprises need to extend the capabilities of RPA bots.
Automating recurring tasks is just the beginning of the journey, and as enterprises continue reaping the benefits, bots work silently, capturing insights to identify more complex areas for improvement opportunities. Therefore, the benefits and use cases are not restricted to the ones mentioned earlier.