Customer social norms have changed and evolved over the years primarily due to the integration of digital marketing in every aspect of business and industry.
A few decades ago, having data regarding your potential customers' interest and time-spending span would have been a bizarre consideration. Today companies can collect data at every point of the consumer journey to help understand and track targeted audiences.
The information could be mobile data usage, interactions on social media, digital clicks, search engine searches, and much more. Business data sets and analytics fulfills the rising expectations to leverage the power of digital migration for the benefit of the business.
Third-Party Forces
Analytical information and management with the highest level of protection is the key to gaining a competitive edge in the marketplace. However, having a team of experienced analytics, AI software, and data warehouses could be very expensive and require continuous monitoring and constant efforts.
Hence many companies and leading industries seek better insights and data analytics through third-party forces. It brings the companies an opportunity to have a fresh perspective toward data-driven decisions.
AI and data have become an integral part of business operations. Third-party analytic solutions are crucial to generate quality data with reliable information. They facilitate linking and assisting in bridging gaps in organizational data.
Five Reasons You Should Use Data Analytics Solution
Cost Advantage:
The data science process can be costly for companies. It is not limited to purchasing advanced software or hardware expenditure.
Companies will also have to employ Data scientists and analytics professionals. Investing and trusting a third-party solution for business data sets and analytics makes sense since most companies will only be able to handle an in-house team of AI experts.
Flexibility:
An enterprise already handling business processes and internal departments must focus on executing the right decision based on results from the analytical platform. Third-party firms are flexible and provide analytics on a contractual basis at any given frame of time.
Investing in a third party allows you to process the data output and make tailored decisions based on your requirements.
Time Is of Essence:
Besides being a cost advantage, outsourcing analytics can preserve time and effort in analyzing data and considering all external factors. The rise of digital marketing, AI, and Analytics has sparked the race for the top.
Even if you think internal analytics can lead to better results, the time you spend building new infrastructure, installing software, purchasing hardware, and hiring employees is immense.
Besides, managing and instructing them is constant work. The exact time can be dedicated and spent on executing insights while you get the information from elsewhere.
Competitive Edge:
If you are someone who enjoys crushing competitors or loves to be ahead of your competitors, data analytics is a necessary investment. It is a golden opportunity for business owners to sense and implement futuristic decisions based on analytical information.
Data Accuracy:
Once you outsource data analytics to a third party, you can cherish both time and convenience. With an in-house analytics team, you have to worry about the results, as the learning curve in data science is very steep.
It takes years of practice to excel at the AI interface. On the other hand, the third party has some of the best AI-focused minds with years of experience.
Wrap Up on Is Data Analytics Beneficial For Your Business?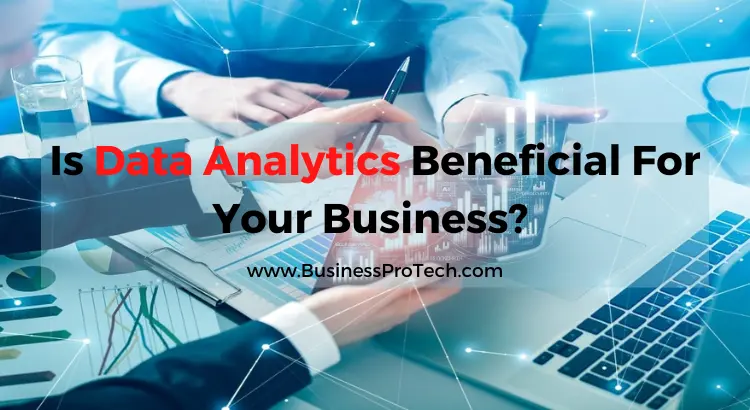 Analytics has become the heart of organizational functioning. It enables businesses and industry leaders to obtain more precise insights across all facets of the company.
Data sets and analytics, also known as business intelligence, help brands gain a competitive edge in the marketplace.