In the era we all are living in today, we have a hugely successful tech business around. It has a huge market area that is covered and yet to be covered when it comes to the best tech business ideas and enterprises related to it.
When we think about it, we consider bigger computer or smartphone companies like Apple, Samsung, and tech hubs like Google. All these technological business ideas are the ones coming up in our minds.
These today's big guns are the biggest today, but back then, they were not that huge. These companies were the startups that took place in a garage-size office, and now they are running the whole world. With a little effort and artwork, anyone can make a big revolution for your tech business.
In this article, we have brought you some fantastic tech business ideas, all you need is a particular skillset to bloom your business. We are discussing some tech startup ideas, which can surely help you out. You need to spot on your spark and see the magic.
Related Article: How to Start a Sticker Business? 6 Sticker Business Ideas
Here are 12 Latest Tech Business Ideas & Opportunities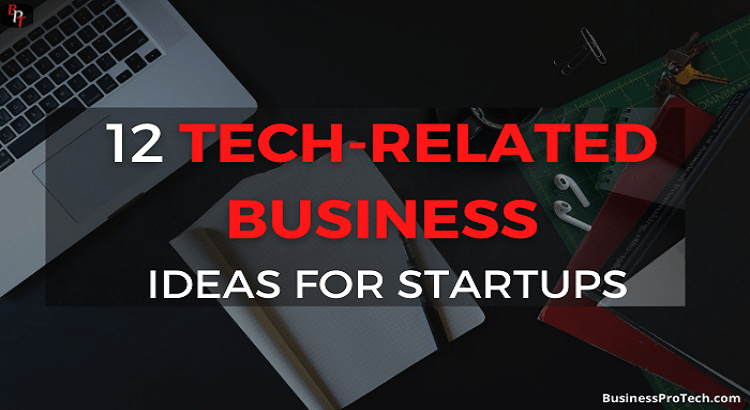 1. AI and Robotics
As we have discussed earlier, robotics is something that you can not just jump into without a specific skill set. No one is born with this talent, but the effort can positively bring out a lot of potentials. One can just be manufacturing spare parts and creating good revenue out of it. If you have a hint of a tilt towards designing and stuff, you can peak into the idea of robotics. There is always room for creativity and uniqueness.
2. Ecommerce Business
There is a massive number of people using a wide array of e-commerce websites and apps. These are highly paid and create considerable revenue for the creators. It can be a big hit if one makes an application that is solely for online shopping via a mobile application that can benefit the masses to expand their business as well.
If you get the idea of e-commerce, you can always consider this option when thinking about future technology business ideas.
3. Software Development Business
When we talk about tech business ideas, we can never overlook the idea of providing services to the people who are serving. Software development can be a core skill for any IT affiliate person. We have been there and done that, and let's be real!
It never gets old or out of the stalk. The world always needs it. You can market it in a creative way to make a benchmark that can make it pop out from others giving software development services.
4. App Development Business
As we have discussed earlier, this is an era of mobile applications. We all are so much into our applications that if we have a closer look at our lifestyles, we are not dependent on our smartphones, we are dependent on certain applications.
One kick flick application can make considerable revenue and can create a significant impact in the tech market. Look at those cab service apps that are on the peak! All you need to spot the gap and fill it with your wonderfully executed ideas.
5. Online Teaching
If we look closer, the world is revolutionizing, and people are considering online courses offered by international universities. It is way cheaper to sit at your place and be a part of it online. Perhaps not just universities, also schools and colleges are offering online courses.
Online Teaching can be a great business idea for professionals as you can get a great deal on revenue by enrolling students online.
6. Blogs Consulting
Another amazing wheel is writing a blog. It is a perfect opportunity to reach out to people. In the world of technology, one can make a lot of revenue by just writing a blog or writing a paid/sponsored blog to be specific. One can advertise, get paid, and educate the masses who have similar interests.
Many people love to read specifically about things of interest. Now, blogging has been an impactful platform for small-scale technical business ideas.
7. Web Designing & Development
Companies, services, and organizations all need it. It's high time that everyone needs it. Even try authors! The web should be attractive enough to grab the attention of the customers or potential customers. Creating websites is an art, and the companies need the assistance of the individuals who master it.
It involves little esthetics and a bunch of skills anyone could go a long way and create a lot of revenue. When we talk about trending technology business ideas, we necessarily do not need much investment. Little can do wonders.
8. Video Production
We all agree that the days of traditional media are fading out. We all are switching to innovative business ideas, and video production is one of those. This is an era of animation and digital video commercials that can be lesser in coat and can serve the purpose more efficiently in comparison to TVCs.
Video production or post-production online can be a very great startup for people who are looking for ideas and skills to polish.
9. Esports and Gaming Franchise
Create a place for online gaming competitions, a place where all the games can be accommodated! A place where a lot of information about sports can be gathered! A place that's one non-stop shop for all the game lovers.
It can create a community and a significant impact on the people who are craving for entertainment. It can be a tremendous recreational hub! Especially for the masses who barely have entertainment or recreational escapes. It can bring an entire gaming community to one online spot.
10. YouTube Channel
You don't need a great IT expert to get there. All you need is a camera, a few editing skills, and an internet connection!
We all have thought at one point that we should make a YouTube channel, and most of us have done that. It can be an excellent hub for creating revenue while sitting in any part of the world, be it rural or urban areas. People get monetized based on talent and content. Perhaps, it is one of the most technical business ideas so far.
11. Graphics Designing
Graphic Designing is a point where we need to have a particular skill set, but significant revenue is generated all over the globe by the individuals who are creating unique art pieces in their own shelter when we talk about technological business ideas.
To keep up the game regarding social media content, companies or organizations are seeking help from a lot of amazingly talented graphic designers who are working wonders. You can always jump in it. A little effort and practice can take you a long way.
12. CMR Software
In today's world! We don't talk about just advertising or marketing. We also talk about the public relations strategy, and public relations experts are hired around the globe by the companies to create client relationship management services.
The companies need assistance for that, and software or database that can bring and assemble all the data can do wonders. If you think you have a specific skill set, you can jump into this business idea that has the potential to do wonders.
Conclusion on Tech Business ideas
So, these were the best technological business ideas that we brought for you to make your space in the tech world. You can work on these ideas individually and create a fantastic fusion to pop into the eyes of the masses!
Recognizing your potential, polishing your skillset, setting your goal, and then hitting it with the right pass can bring out a fortune for your business. After all, this is an era of opportunities.