Customers' impressions and emotions from using a brand's goods and services are referred to as the customer experience.
A happy consumer is likelier to become a loyal customer who can help you increase sales and profit. Therefore a pleasant customer experience is essential to the success of your business.
The term "customer experience" (CX) in the context of banking refers to all your initiatives to make each customer feel valued when they deal with your bank. Additionally, it is the culmination of every interaction consumer experiences during their trip.
Financial service customer experience is the key, most crucial differentiator in the banking sector, and for a reasonable cause: Finance institutions that invest in customer experience in banking receive more recommendations, more significant capital share, and are more likely to scale horizontally and vertically their products and services to pre-existing consumers.
Customer Expectations from Digital Banking Experience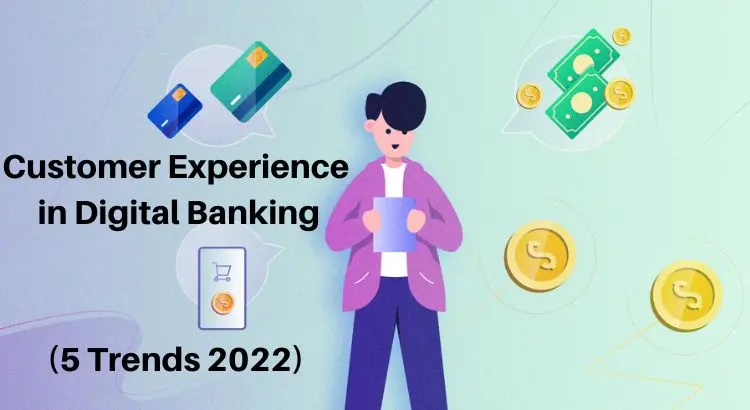 Consumers no longer see their experiences in a business as CX has grown to be of utmost importance with time. They expect that institutions will put their efforts into developing an experience-based culture that meets their requirements, creates trust, is individualized, and goes beyond their expectations.
Some of the most common customer expectations of digital banking experience include:
Services that are easily accessible – Banks must offer simple, easy-to-use digital platforms that can be accessed on different devices, such as smartphones. The majority of banking customers (15%) used mobile devices. Customers typically seek different services, a high-level banking experience, an easy way to contact customer care, and, most importantly, convenience.
Omnichannel digital banking platform – By anticipating consumer behavior, making it possible for them to communicate with their bank across all available channels, and offering them the same services whether they use digital or traditional media, omnichannel banking aims to go above and beyond the expectations of the customer.
Services that are Personalized – Relevant, custom services are constantly driven by the needs of the customers. They look for products and services that satisfy their requirements. Banks can identify the primary driving forces behind company motivation and offer specific support to help shape the banking experience for clients.
Fast Problem Solving – When clients say they need immediate assistance, they mean it. Quick help is crucial for developing loyalty. Financial institutions can grow their service using automated chatbots and offer live support to customers by utilizing real-time assistance features like video chat.
Consumer Engagement Challenges in Mobile Banking
Many challenges are related to mobile banking. The strategic issues discovered by mobile banking contact are divided into three categories: managerial, business, and technological.
These challenges directly affect consumer engagement with the platforms. Some of these challenges include:
With mobile banking, users must have digital devices such as smartphones and tablets.
To use mobile banking, one must be connected to the internet, which can be expensive.
During downtimes, the services are not available.
It can be difficult for users who are not learning or are illiterate.
There is always the risk of hackers and malicious programs.
Digital Banking Trends 2023
With all of the demands of the digital transformation era, the customer experience is a complex landscape for financial institutions to negotiate in the current banking market. The following actions can be taken to improve customer experience.
Using Mobile App Data to Improve Goods and Services
One of the trends in banking customer experience that is expanding the fastest is consumer self-service.
Mobility has made it possible for consumers to use their mobile devices using applications such as the ones provided by Yalantis to access all of their bank's resources from anywhere they have internet access, converting what was previously a pipe dream into a standard expectation.
As CX Tools, Trust, Transparency, Security
Maintaining clarity about your services, products, terms & conditions and providing confidentiality to the financial details are essential customer experience strategies that foster loyalty in your customers.
They continue to recommend your goods and services to other people and come back to you for additional services, adding value to your company.
Consulting Services
Most bank customers want to increase their savings but don't know where to start; those who search online for help will probably find that financial websites' advice is useful but too general to be of much value.
This gives banks an ideal chance to enhance their financial services' customer experience (CX) by connecting their clients with internal financial advisors who can offer guidance specific to each client's needs.
Artificial Intelligence
The ideal tool banks may employ to automate mundane, everyday chores that don't require human interaction, such as checking account balances, calculating credit card balances that still need to be paid, and changing addresses, is a chatbot.
Your bots can be trained to conduct conversations appropriately and adapt to the person's preferred language and timing.
Making important business choices and improving the financial services experience both depend on big data analytics. The rising variations in those needs bring the importance of using big data analytics to acquire in-depth insights into client wants.
Understanding Banking Customer Journey
At every stage of the customer journey, needs, motivations, actions, and barriers to action should be considered. Delivering a fantastic experience in banking requires a thorough understanding of your customer's journey.
Conclusion
You can develop a comprehensive customer engagement plan to close the gaps between clients and your bank by comprehending the various facets of the customer experience.
The importance of the best bank customer satisfaction may be ascribed to its many advantages, including decreased operational costs, customer retention, and staying ahead of rivals by utilizing cutting-edge technologies.