Every day you can see a rise in content creators and influencers as more and more people spend their time on the internet.
If you, too, are the one, you know that there are multiple channels through which you earn. As a result, it becomes difficult day by day to keep track of income.
Hiring capture accounting for influencers will remove the stress of managing finances and allow you to focus more on your online business.
Who Are Content Creators And Influencers?
Influencers have a large fan following on social media or other platforms and are often hired to promote products or services.
Content creators, on the other hand, are people who write or produce original content for a website or blog. They may also work with other bloggers to create coordinated coverage of a topic.
These are the people whose footsteps are followed by a wider audience. They have a huge number of followers who pursue their recommendations.
For content creators, every online platform is for them to create content. They engage followers by regularly posting the content on their preferred social media networking sites.
Their most famous sites are Instagram, Youtube, Snapchat, and Pinterest.
Why Should Influencers Hire Accountants?
Hiring an accountant is essential if you want a managed cash flow if you are an influencer or content creator. Influencers need accountants to ensure that their social media campaigns are profitable and effective.
Here is a list of reasons why hiring Capture accounting for influencers is beneficial:
Complex Financial Structure
Being an influencer or content creator means having multiple outlets for income. An influencer does everything from content creation to product marketing. As a result, it becomes challenging to manage all while creating content regularly.
A skilled accountant takes all your finances-related worries and tracks all your sources of income regularly and adequately.
An Adviser for All Decisions
An influencer or content creator suddenly gets a lot of money. But unfortunately, in this excitement, they make bad decisions that affect their financial security.
A skilled professional accountant helps to take all financial decisions accurately, whether about paying taxes or making any investment.
Saves a Lot of Money
A professional accountant saves money with proper tax planning. Proper budgeting and prompt financial decisions become easy under a knowledgeable accountant's guidance. As a result, influencers stay compliant with tax laws.
Influencers should also have accountants to help them plan for future income because it can take time to predict how much money they will earn from one post to the next.
Manages your Finances
An experienced accountant handles all your expenses, whether credit card bills or loans. He will keep a record of everything. In addition, he will make sure that everything is paid for on time.
By adequately tracking expenses, influencers can ensure that they're spending their money in a way that will produce the best results.
In addition, accountants can help influencers review contracts and ensure they're getting a fair return on investment.
Keeps You Free Mind
An accountant will set you free from the burden of managing money. As a result, you can stay more focused on creating content and enjoy your personal life.
Wrapping Up!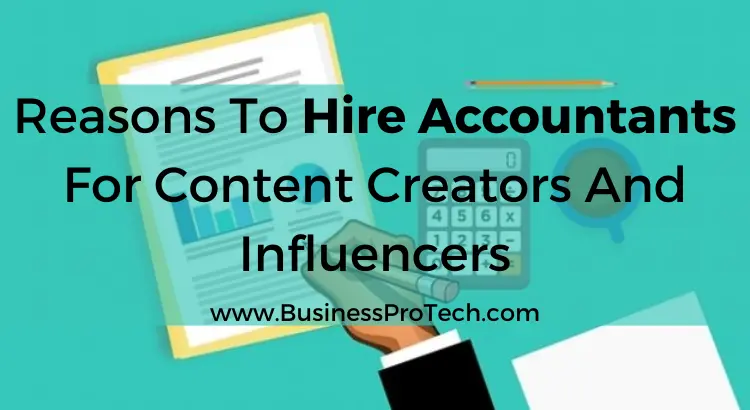 Hiring an accountant will give you peace of mind as you know your finances are in good hands. You should hire an accountant, whether you are a big or a budding influencer. You are liable to pay taxes and bills.
Once you hire an accountant, you get a managed cash flow, a financial adviser, proper finance, and a tax planner.