A lot of businesses are showing interest in android wearables. As a result of the introduction of this technology, mobile applications compatible with android devices have become popular.
People are increasingly using mobile health, fitness, and wellness applications. Consequently, it is a good idea to hire an android wearable app development company to make your business more efficient and productive.
Things to Note Before Hiring an App Development Company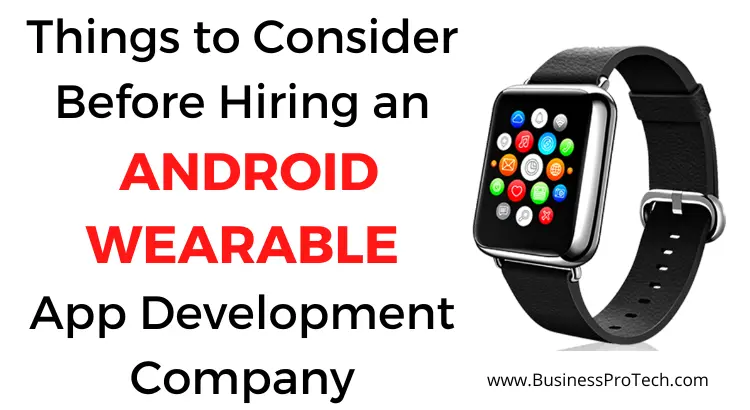 Track Record
When hiring an app development company, it is essential to find one with experience in creating apps similar to yours. Look at their portfolio and ask them how they would approach your project.
They're a good choice if they have a bunch of examples that look like what you want.
Budget
Budget is another major factor to consider when employing android wearable app developers. The price of hiring a developer can vary depending on the type of app and the expertise required.
For example, suppose you want a simple fitness tracker with only basic features and functionalities. In that case, the cost will be considerably lower than that of an enterprise-level application that requires extensive research, design, development, and testing to ensure optimal performance across various devices.
Product Quality
Product quality is an important thing to look for in an android app development company. You should ensure that the product is bug-free and has a good user experience. The product should be scalable, secure, and reliable so that you can use it for many years without any issues.
If your application fails to meet these criteria, you may face many problems in the future when users start using it.
Time and Project Management
Time and project management are two key elements that should be considered before employing an android app development company. Here are some questions you should ask to ensure the time frame for developing your app and its upkeep and updates.
Does the team have a timeline? What is the expected completion time for my app?
How often will you meet with them to discuss progress?
What is the process for accessing the application once it's developed?
What happens if you need changes or updates to the application after it has been released?
Flexibility and scalability
Flexibility and scalability are critical because if your company grows, you need to scale up or down quickly. You also want the ability to change direction, adapt as new technologies emerge, or adjust your business model as required.
For instance, if you are in the healthcare sector and want to develop software for tracking patients and their symptoms, depending on your facility, you should be able to manage the rising number of patients and their data.
Maintenance and Support
When you work with an app development company, it's essential to know that they can provide prompt and effective maintenance and support. You don't want to find out later that they cannot do this because it could negatively affect your business operations.
Ask them how they handle these processes to determine if the company is good at maintenance and support. You should also read reviews from previous clients who have worked with them to learn more about the kind of services they offer.
Conclusion
To ensure high quality for your application, you must choose an experienced android wearable app development company. Considering the above-mentioned factors will help you choose the best company for your needs.