In the era of digital content creation and online collaboration, screen recording has become essential for iMac users. Whether you're a professional content creator, educator, or business professional, having reliable screen recording software is crucial to capturing and sharing your ideas effectively.
Are you looking for a way to boost your performance? Let us share with you our premier list of cutting-edge recorders for iMac to elevate your content creation journey on your beloved iMac. With a focus on compatibility, functionality, and performance, the tools we have picked for you will unleash your creativity and productivity like never before.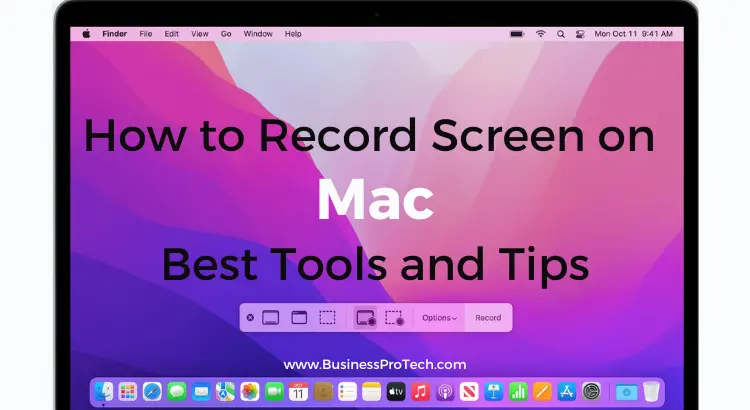 By the way, if you are searching for top screen recorders for Windows 11, this article is for you.
What Screen Recorder Mac to Choose?
If you're an iMac user looking at how to record screens on Mac and create high-quality recordings, you need reliable screen recording software that is compatible with macOS. With so many solutions in the market today, you may feel lost and have no idea what will work best for you.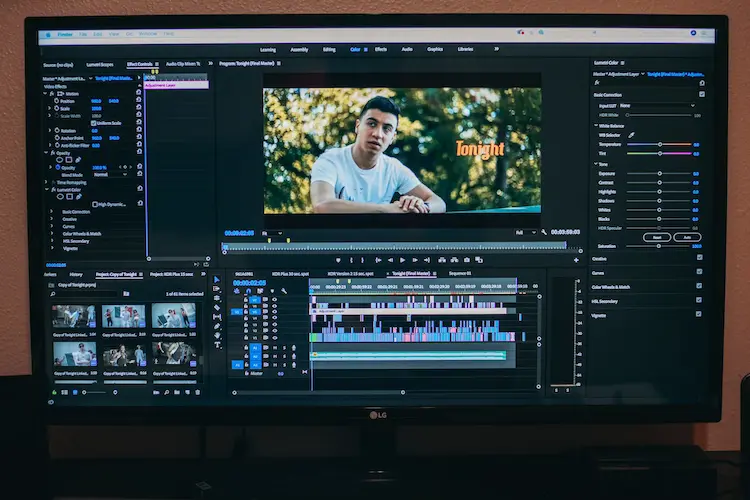 Let us guide you a bit and share our top picks that are designed specifically for iMac users, ensure seamless integration with the macOS ecosystem, and deliver exceptional recording performance.
Movavi Screen Recorder
Movavi Screen Recorder is a reliable and feature-rich software for screen record on iMac. With its easy-to-use interface, advanced recording options, and built-in editing tools, the program offers a straightforward solution for capturing and editing high-quality screen recordings on your Mac.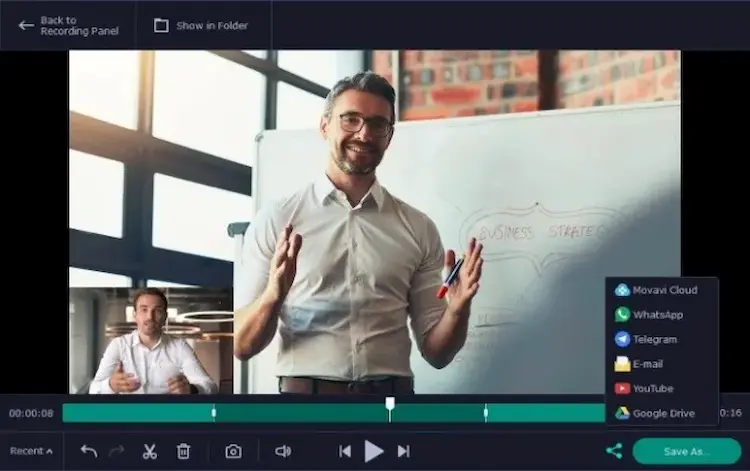 High-Quality Recording
The solution ensures high-quality recordings by capturing your iMac screen in crisp detail and preserving the original resolution of your display. This feature is particularly beneficial for professionals who require top-notch video output for presentations, tutorials, or demonstrations.
Flexible Recording Options
This screen recorder provides versatile recording options that cater to your preferences, enabling you to capture the entire screen or a specific window with ease.
You can also define a custom region for more precise recordings. The software lets you record audio from various sources, such as system audio, and external devices like microphones. This comprehensive tool ensures synchronized audio in Mac-compatible format for flawless screen recordings.
Advanced Editing Tools
The program comes bundled with a range of editing tools that enable you to refine your recordings. You can trim unwanted segments, add captions and callouts, apply visual effects, and enhance the video quality, ensuring your screen recordings are polished and professional-looking.
Multiple Output Formats and Sharing Options
The program supports various output formats, giving you the flexibility to save your recordings in formats compatible with different devices and platforms. You can easily share your recordings on social media, video-sharing platforms, or via email, making it convenient to distribute your content to your desired audience.
Scheduled Recording and Timer
With Movavi Screen Recorder, you have the option to schedule your screen recordings in advance, allowing you to automate the process and capture specific content at designated times. The timer feature also proves handy for time-limited recordings or when you want to capture specific moments during a live stream or online event.
ScreenFlow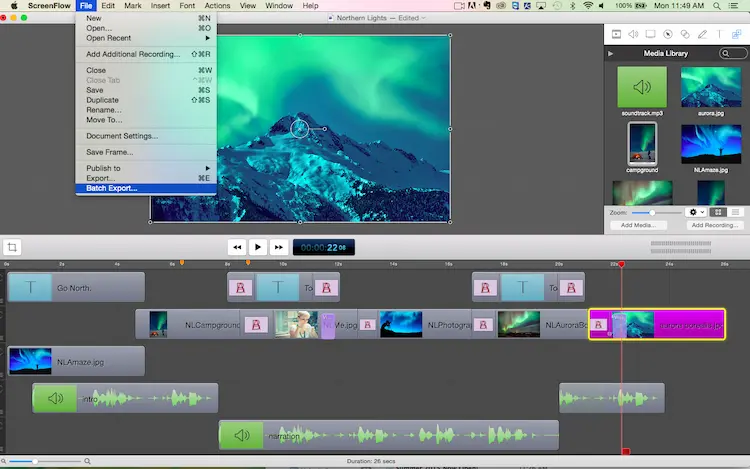 ScreenFlow is a powerful screen recording software that iMac users will definitely like due to its extensive set of features for capturing, editing, and sharing recordings. With its intuitive interface, professional-grade editing capabilities, and support for multiple audio and video tracks.
ScreenFlow offers a comprehensive solution for creating polished screen recordings. What will you like about ScreenFlow, and how can the solution capture screen on Mac?
Professional-Grade Recording and Editing
The program provides a comprehensive set of tools and features that enable iMac users to capture and edit their screen recordings with professional-level precision. With its intuitive interface and powerful editing capabilities, you can easily enhance your recordings, add annotations, incorporate transitions, and polish your content to perfection.
Multitrack Editing and Audio Mixing
One of the standout features of ScreenFlow is its support for multitrack editing, allowing you to work with multiple audio and video tracks simultaneously. This feature is particularly beneficial for creating instructional videos, tutorials, or presentations, as it enables you to synchronize audio narration, background music, and other audio elements seamlessly.
Advanced Export Options
It offers a wide range of export options to cater to different needs and platforms. Whether you're uploading your recordings to video-sharing websites, optimizing them for mobile devices, or integrating them into other applications, ScreenFlow provides flexibility and customization in exporting your content.
Powerful Screen Recording Features
With ScreenFlow, you have access to a variety of screen recording options that go beyond simple screen capture. You can capture specific areas of your screen, record from multiple monitors, include or exclude audio sources, and even record from external devices like cameras or microphones. This flexibility ensures that you can capture exactly what you need for your recordings.
OBS Studio
OBS Studio is a free and open-source screen recording software that is highly versatile and widely used by professionals and enthusiasts alike. With its advanced features like real-time video capturing, customizable scenes, and support for live streaming. OBS Studio is an excellent choice for iMac users who require powerful and flexible screen recording capabilities.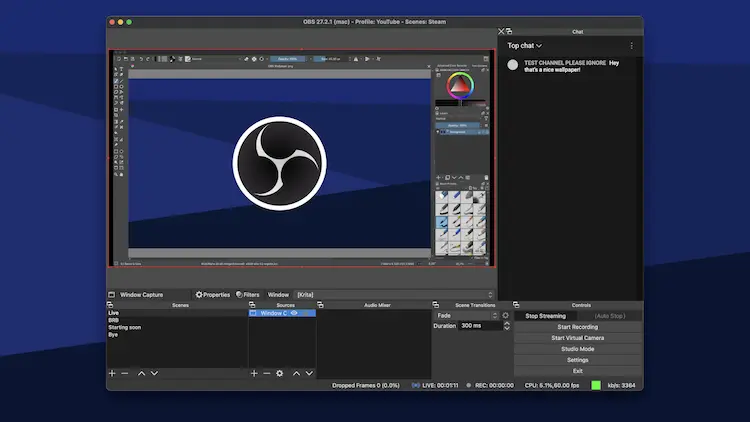 Versatility and Customization
The solution is known for its versatility and extensive customization options, making it a popular choice among iMac users. With OBS Studio, you have complete control over your screen recording settings, allowing you to customize every aspect of your recording, such as resolution, frame rate, audio sources, and more. This flexibility ensures that you can tailor your recordings to meet your specific needs.
Advanced Recording Options
OBS Studio offers advanced recording options that go beyond basic screen capture. You can capture specific windows, applications, or even individual elements within a window, providing precise control over what appears in your recordings. This feature is particularly useful for tutorials, demonstrations, or gameplay recordings where you want to focus on specific content.
Real-Time Streaming
This software is renowned for its powerful live-streaming capabilities. Whether you want to broadcast your recordings to popular streaming platforms like Twitch or YouTube or create live webinars or presentations, OBS Studio enables seamless real-time streaming with customizable settings for bitrate, resolution, and streaming platforms.
Extensive Plugin Support
One of the key advantages of OBS Studio is its vast plugin support, offering additional functionality and features beyond the core software. You can enhance your recording experience by integrating various plugins for advanced audio mixing, video effects, overlays, transitions, and more.
The active community and plugin ecosystem surrounding OBS Studio ensure that you can find solutions to how to screen record on Macbook.
Let's Make the Right Choice Together
Choosing the right screen recorder for your Mac can greatly enhance your productivity, creativity, and communication. Take your time to explore the above solutions that offer a range of features and capabilities to cater to various needs and preferences.
From user-friendly interfaces to high-quality recording output, versatile recording options, advanced editing tools, and seamless sharing capabilities, these screen recorders provide the necessary tools to capture, edit, and share your screen content effectively.
Whether you're a professional, educator, content creator, or casual user, there is a screen recorder on this list that will meet your requirements and elevate your screen recording experience on your iMac.
About the Author:
Olivia Morris shares knowledge and experience to help others succeed. A content manager by day, and a writing enthusiast by night. Passionate about technology, marketing, and the power of words.