While many people are focused on getting to the end of the year, celebrating Christmas, and taking a break, some are also considering what they want their year to look like in %currentyear%.
If you're keen to begin working for yourself next year, you might want to start a home-based business in January or beyond. If so, here are some ways to position yourself better for success.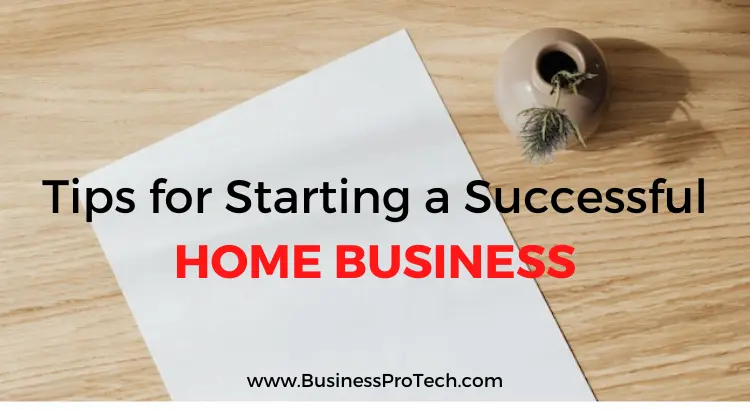 Consider Your Experience, Skills, and Passions
It's wise to consider the areas where you have the most experience and skill and the topics you're passionate about. Think about the knowledge you've developed over the years on a particular subject, industry, target market, or the like, and note your top skill sets.
Make sure you understand your strengths as a leader and person in general, such as communication, analysis, spotting trends, leading a team, or thinking outside the box. You might also be able to market wares well, use computer programs, or easily handle financial and accounting tasks.
It's helpful to think about which parts of past jobs you've enjoyed the most and what you find comes naturally to you. List your passions and subject areas you'd like to learn more about. Once you have all this information, it's easier to see how to apply best your interests and strong suits to developing a business idea.
Find Out About Growth Opportunities
Don't just decide on a business path without first investigating if the areas you're considering are growing or contracting. While you may know a particular industry very well or have top skills that will make you good at offering certain services or inventing products to suit a set demographic, you need to ensure you'll have enough clients to service.
There's no point starting or buying a business if you likely won't get enough consumer interest over the coming years to make the venture viable. Instead, look for areas of growth you can exploit that will help you build your organization as the months go on.
Research consumer lifestyles and spending choices, buyer habits, and look into data about sales numbers and the like over the last five to ten years, and in recent months.
Read blogs, forums, magazines, and books on product and service trends and attend trade shows, conferences, and the like for other insights. Look for gaps in markets that you can fill and see if you can match these up with the experience, skills, and passions you identified for yourself.
Launch a Business with Care
It's best not to go headlong into a new business. Start slowly by testing your offerings in some way first, such as at markets, by selling via Facebook ads or other online markets, or by setting up a pop-up shop for a short period.
Learn as much as possible about the people you're targeting with your products or services, then create wares and operational processes that suit the particular clients you're trying to get.
Ensure you have a unique selling proposition (USP) for your business, too. You need a point of difference that will help your venture stand out, especially if you're entering an already crowded market.
For example, you might have a point of difference around who you sell to or how you sell to them, what you sell, the prices you charge, the level of customer service you provide, delivery methods, marketing strategies, or other factors.
Spend plenty of time working on marketing your new venture, too. You need to get your brand's story, purpose, and USP across effectively and find ways to engage and work with consumers.
Provide helpful, insightful content that allows potential clients to learn about your business and wares properly, and ensure you provide contact details and answer questions clearly and quickly.
Fulfill Legal Requirements and Protect Your Home Business
Small home businesses are easy to start and operate however, there are still some legal requirements you need to fulfill. Each U.S. state has different laws about home-based small businesses which also vary depending on the business you want to start.
Make sure to check these state and local requirements before launching your business. For instance, some states ask for certain licenses and permits to allow you to run a home business smoothly and legally.
Similarly, do not forget to apply for your EIN I.e., Employer Identification Number. It's a federal tax number that recognizes your business as a legal entity and without which you will not be able to hire employees or expand your business in the future. You can apply for your EIN online; head to the IRS website, fill in the required information and get it for free within minutes.
Furthermore, a good way to protect your business against any legal troubles, risks, data breaches, and lawsuits, is to get business insurance. there are many kinds of business insurance that especially protect small home businesses.
For example, the Business Owner's Policy (BOP) provides General Liability coverage in case of bodily injuries and personal and property damages; commercial property coverage which protects your business equipment, as well as business insurance which temporarily pays for your necessary business expenses given you cannot afford it.
Get Assistance from Experts
Finally, don't think you have to do everything by yourself. It's often best to hire experts to provide some advice or assistance that allows you to avoid making significant errors or that helps you launch sooner if you want to be the first to market.
For instance, you might engage the services of an IP lawyer to help you learn about and check trademark names, as well as submit the necessary paperwork to protect your intellectual property.
You may want to use an accountant or financial planner to help you determine the structure of your business, too, or to set up and handle various accounting and cash flow tasks on your behalf. You may also need to hire a graphic designer, marketer, website designer, or other experts.
Conclusion
Starting a business at any time takes resilience and confidence, as well as planning and preparation. If you follow all the tips above, though, you should find it much easier to start a successful home-based business next year.