The Covid-19 pandemic hit the UK construction industry hard through 2020, with overall output declining by more than 46% in the year ending April of that year.
While the sector has since recovered and has had to rely on IT and Ecommerce technologies to cope with government restrictions, there are concerns that it continues to perform below expectations thanks in part to a relative failure to adopt advanced technology and ecommerce principles.
But why is this the case, and what are the benefits of embracing technology in the construction sector? We'll explore these in more detail in the article below.
Why is Tech Overlooked in Construction?
Senior leadership within the construction sector is dominated by older employees, which partially explains why technology is often overlooked within the marketplace.
More specifically, older generations tend to be more suspicious and skeptical about the merit of technology, while such demographics are also fearful of making mistakes during usage and possessed wider concerns about social responsibility.
This is despite the increasing number of adults accessing the Internet in 2022, with the digital divide between older and younger citizens remaining pronounced.
Overall, older adults use significantly fewer digital applications and spend less time online, making them considerably less likely to be familiar with contemporary technology or process purchases online.
What are the Benefits of Using Tech and Ecommerce in the Construction Sector?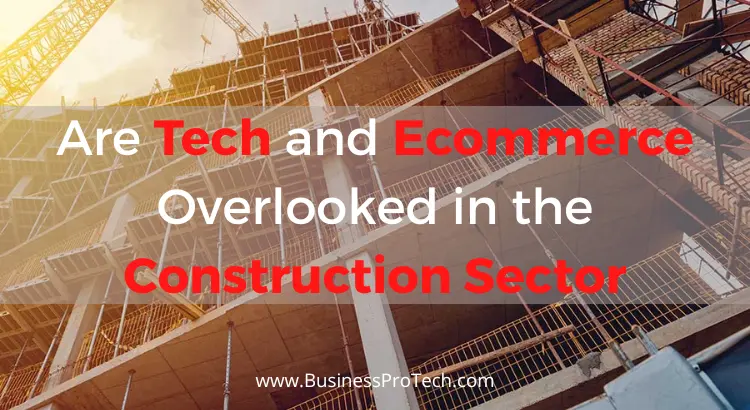 To understand the benefits of tech and ecommerce in the construction sector, let's take a look at the process of procuring tools for work quickly and at competitive prices.
In this case. It's much easier for buyers to create online accounts and search for tools such as the Cordless SDS Max, while comparing the best prices across a range of suppliers and ensuring the quickest possible delivery times.
Compare this to the traditional method of traveling to a local builder's merchant to collect your material and building equipment, the benefits of using Ecommerce are tenfold. From the convenience of being able to compare prices and quality online to having everything delivered directly to your building site securely.
What's more, this process and subsequent purchases can be carried out on the move or from the comfort of your own home, allowing for real-time decisions and reactions to updates as they're received.
These represent competitive advantages for construction workers and management, while online operations of this type can be scaled to suit commercial projects and drive even more significant savings.
Also Read: How Technology & E-commerce is Disrupting the Construction Sector
What About Social Media and Google?
Self-employed builders and tradespeople can also benefit from the virtual realm and technological advancements such as social media.
For example, as these individuals operate in a competitive market, they may want to promote their services through targeted ads, which should focus on optimizing reach among customers within a local catchment area.
Platforms such as Facebook are highly effective here, especially if you create a company page that can be shared within your network and provide a showcase of your completed work. This method allows one to market their services digitally for a fraction of what it would cost to do the same elsewhere as well as help attract more and more new clients.
Google is also an advertising hotbed for builders and self-employed tradespeople, with these underpinning techniques like local SEO and enabling individuals to optimize their online visibility through their own website or even via third-party platforms which specialize in advertising local and national builders.
How Cloud Computing is Transforming Construction
The use of cloud computing and real-time data management to assist project managers is one example of construction technology. Technology that is paperless and cloud-based offers total project awareness.
On a building site, having a single source of truth helps cut down on errors and enhance contractor communication. To make sure we can give you all the information you require about a project, a cloud-based solution like MTI's Clipboard was developed.
Combine the real-time systems' increased productivity (sometimes up to 50%) with the accurate, streamlined data provided by a paperless cloud-based data storage solution. and you have unquestionable
Additionally, you'll have a system that you can connect to portable electronics like smartphones and tablets. From the construction site, contractors can instantly access contracts, paperwork, and other vital job-related data. As a result, there are fewer delays and wait periods, and employees may prevent costly errors.