A startup studio is a company composed of industry experts that specialize in building other companies, with the primary goal to address and provide solutions to consumer pain points.
They partner with new businesses that need a cohort-based approach to help them in their initial startup stages, providing the businesses with key advantages including a team of designers, developers, administrative experts, and marketers to help the startups throughout their various developmental stages.
A startup studio utilizes pooled human and financial capital, including strategic planning, to build parallel entrepreneurship out of market-tested disruptive ideas.
Why Startup Studios Popular Among Budding Entrepreneurs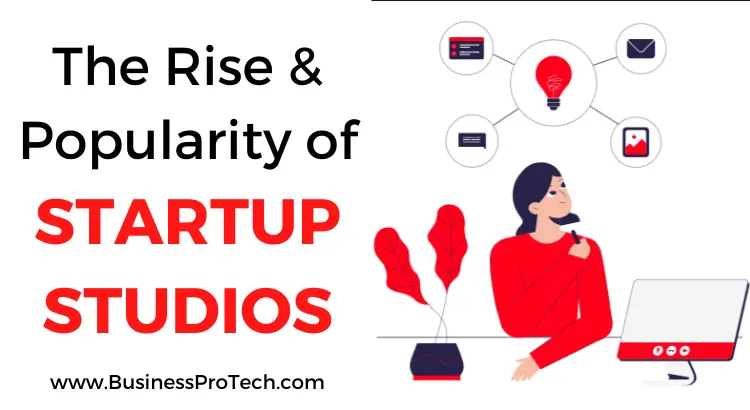 If you have a business idea and need help gathering the resources to see your concept grow to fruition, liaising with a startup studio is a good place to start.
Startup studios are popular, as they invest money and provide mentorship and expertise to help build your company portfolio. They tend to be more fail-proof than one-off venture entrepreneurs because they're run by seasoned professionals who have diversified their project scopes in multiple industries.
If you're looking to diversify and enlarge your business, leveraging the professional services of a startup studio could be what you need. The reason startup studios are growing so fast is they employ trusted and proven business strategies with the following benefits;
You onboard them after you have a good business idea, and they bring the finances to build upon it. Strategic planning, pooled resources, and teamwork mitigate common mistakes and pitfalls in the discovery stage.
Unlike traditional entrepreneurship, where you have to pay salaries, you have access to professional teams with startup studios to take full advantage of and only pay equity once you're launched.
Most startups fail due to inexperience within their chosen fields. On the other hand, a startup studio has the skills, vast resources, and fail-proof blueprints that eliminate time and money losses.
You'll enjoy working with startup studios if you like brainstorming, experimenting with product prototypes, and turning ideas into pilot projects. Startup studios offer opportunities to work on several projects, simultaneously allowing you to generate equity and revenue in wide-ranging companies.
Startups utilize the "spinoff and repeat" as the winning formula to build thriving businesses. They take tried and tested models with a proven track record of generating profits and emulate them to create successful businesses.
Fortunately, numerous industry-specific startup studios are available to business hopefuls that need more resources to work with.
Top 4 Startup Studios You Can Leverage
Below is a short list of the top startup studios, in no particular order, with access to invaluable resources. They've made the cut because they use niche experts and provide a well-defined startup validation process that can help you initiate and scale your new business.
Betaworks, a brainchild of John Borthwick was established in 2008 in New York. Its primary focus is analyzing and identifying remarkable consumer trends and turning said ideas into successful businesses. Digital products like Dots, Twitter, and Bitly have Betaworks to thank for their success.
Wilbur Labs is a San Francisco-based startup studio founded by Phil Santoro and David Kolodny that builds successful businesses by first identifying industry pain points. The studio performs a viability analysis of a business before providing funding and operational support to help bootstrap a new company.
eFounders is an enterprise-sized startup studio that empowers top software engineering talent such as Briq, Dotfile, and Yousign.
Atomic by Jack Abraham employs its disruptive business model on fledgling startups to transform their ideas into promising new businesses.
With funding and a cohort of expert consultants at your disposal, starting a business from the ground up can feel like something other than rocket science. Check out our Startup Studio Insider for more insights into the startup studio world.