We know that SEO is based on keywords to target the right audience, but how are those keywords targeted and how do we know that the keywords we use will be used by the user as well?
User search intent refers to what solution a user is looking for on the internet based on their problem and needs. In simple words, user intent refers to what a user is searching for on the internet.
For example, one user is simply looking for information while the other is prepared to make a purchase and attentively looking for a particular product/service.
User intent is important because it helps you understand the whats and whys behind your prospect's behaviors. Using the user intent the marketers focus on the company goals and website experience that aids to the increase in web traffic and engagement.
Based on the search intent you can incorporate in your content the elements that will drive them to check out your business or what kind of solution can they achieve from your website.
How to Enhance Search Intent to Increase Conversion Rates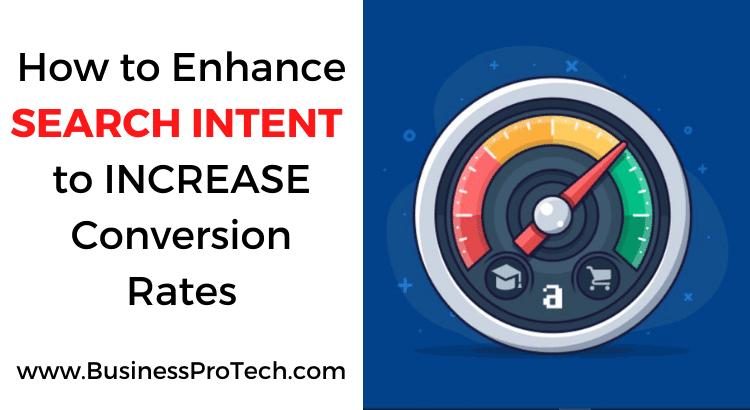 Identify Your User Intent Goals
We are going to keep the identification of the goals as simple as possible. Whatever your goals are, be sure to write them down.
It's easy to get lost in your goals if you opt for the many tools and strategies available in the market. Stay close to your goals when planning.
This way, you can save time and money while following best practices that are in line with your goals. You can ask yourself these questions to begin with. Be as specific as you can:
Do you have a specific marketing goal?
Do you want to create a specific number of subscribers on your mailing list?
Is your goal to generate a specific number of leads?
Do you want to create brand awareness among the public?
To give an example, a site assures users that they will get paid within 2 days with clear "how-to" instructions. The brand has a clear call to action that it wants you to register.
You can learn from this by going directly to what you want to reach your audience.
Create a Framework that Aligns With Your User Intent
Now that we know the benefits of well-analyzed search goals, do you agree that marketing is really just about customer needs? Well yes, in addition to conversion strategies more than your customers.
Successful marketing requires a perfect balance between your goals and your customer's needs to protect your two key interests. We all love a win-win situation, don't we? And because it's easier said than done.
Have you ever tried to invest in a market awareness strategy but haven't achieved the required conversion action?
It's still happening. You can easily bridge this gap by mapping your plans according to your user intent. Digital agency services help you map out a plan that perfectly aligns with your business goals.
Establish User Intent
Now that you have fully set your overall goals and their economic values, let's move on to another important question you need to ask yourself: What exactly are my site visitors looking for?
The user's intention to search online has its roots in the cause. The above websites provide an ideal direct response to the inclusion they offer. Ask yourself if my visitors have just come with the intention of buying?
The key here is to evaluate with the right questions.
Do users compare prices on your site?
Do they just want to see what the market trends are?
If you know the basics of your Google Search Console, you can research search queries that bring visitors to your site or landing page. This data allows you to analyze the type of search query and determine what brings you the most conversions.
Different Types of User Intents
The purpose of each visitor's search may be different in each case. Note their intention to effectively focus their needs on the right inner corners. Based on the goals an SEO agency targets the keywords to achieve goals and bring ROI.
Conversion User Intent
The user searches with the intention of purchasing a product or service. They already know what they want to buy. They just look for where to buy it and don't care how the product is made.
Conversion user intent uses these general keywords:
Buy
Best
Price
Order (Name or Type of shop) on (Location).
Product Research Intent
The visitor focuses on the content as well as the research material. It can be a blog, white paper, electronic newspaper, etc.
For research user intent following general keywords are used:
Product name
Service name
Brand name.
Informational User Intent
The seeker wants the information to provide a solution. Their questions may include how you can complete the task, pricing details, or comparisons between different brands. Some users are also looking for physical places to visit or shop.
To target the information user intent the following keywords are used:
(who, what, where, when)
Why
Ideas
Example
Guide
Tips.
Interactional User Intent
The visitor may simply want to communicate with other people by logging on to the website on social networks, being part of online communities or posting opinions on review sites, and so on.
Interactional user intent general keywords include:
Group
Join
Register
Rate
Community
Register.