Ever since the emergence of COVID-19, automation has been an imperative element of every business. No matter the domain, key players in healthcare, maritime, product manufacturing have adopted Artificial Intelligence (AI) and Machine Learning (ML) as well as Robotic Process Automation (RPA) and Predictive analysis to automate complex tasks.
Digitally transforming a large organization or business with automation might sound simple and seamless, but the procedures or architectures involved are quite complicated.
Businesses will have to analyze and interpret hundreds of interconnected architecture, tools, and innovative technologies to ensure that the entire business automation is running smoothly without any disruption. Also, properly operating the complex IT environment, requires the current automation, scripts, and commands to be more reliable, auditable, and easier to run.
Nevertheless, it significantly reduces operational costs and employee dependence, therefore providing better ROI for the enterprise. This is where Rundeck plays a key role. It helps the large organization or businesses that have implemented automation to precisely connect tools and infrastructure in their operational workflow. This is done with the help of Rundeck, as it can be leveraged as a central hub or dashboard for automation.
It takes off the steam from enterprise operations teams who have to manage large-scale automation tools and connected IoT devices with accuracy, as a disruption in one connected network can affect the complete production line.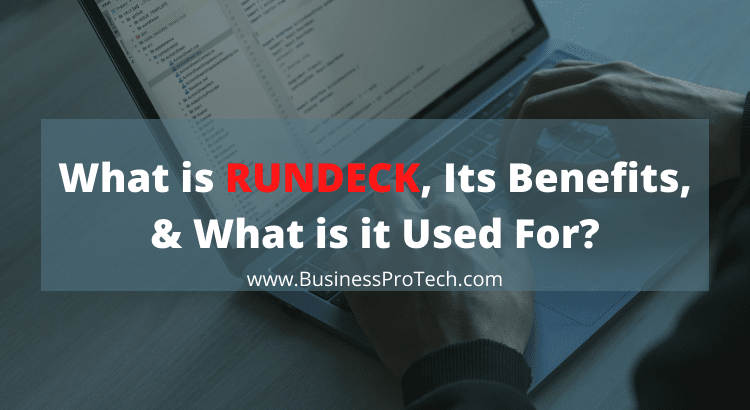 Therefore, helping industrial employees and staff to evenly distribute the power of operational actions with Runbook automation and empower employees to safely execute self-service operations tasks.
What is Rundeck?
Rundeck is an open-source tool that can be leveraged by organizations both large scale and small scale to seamlessly define build, deploy and manage automation.
For this process, Rundeck provides businesses with resources such as web console and analytics, command-line interface (CLI) tools, and a web application programming interface. To be efficiently integrated into any business architecture, the Rundeck is written in Java and allows businesses to run tasks across a set of nodes.
The access control policy for Rundecks is entirely role-based, therefore it gives more security to the automation as well as provides enough flexibility such that different employees can work on multiple solutions with user access permissions.
Rundeck is more like an orchestration tool for enterprise automation that can be leveraged to efficiently manage servers or cloud environments. It is also capable of being implemented with modern DevOps tools and practices, which most enterprises use nowadays.
03 Benefits of Using Rundeck
Leverage Existing Skills and Investments
Large enterprises or industries that operate on traditional architecture will not have to replace their existing infrastructure. This is because Rundeck can be easily implemented on traditional architectures without having the need to replace the organization's existing tools, scripts, API calls, or manual commands.
Therefore, it saves a lot of time and expense for businesses as they do not have to update older architectures just to implement automation.
Diagnose and Resolve Issues Quicker
There are several API's and web interfaces from Rundeck that enable employees in the industry to safely administer diagnostic procedures or error correction strategies.
Sometimes, the need for human intervention can be completely eliminated as Rundeck is capable of virtually administering correction protocols. These protocols would have been previously executed by QA experts or team leads.
Therefore, Rundeck makes the job easier for QA teams by providing support and making improvements by itself.
Increase Compliance and Security Posture
As mentioned earlier, access to automation tools, AI services, Machine Learning, and other technologies are purely based on roles or responsibilities. Even though every employee can access Rundeck, they will have been given individual access based on their profile.
Unauthorized access or entry into the admin panel will be reported immediately to the decision-makers who can easily identify the perpetrators. Therefore, even though a large enterprise employs several automation tools, technologies, or interconnected devices, Rundeck will ensure full security and compliance oversight.
What is Rundeck Used For?
Introduction to Rundeck, in under 10 minutes by Rundeck
Connects People to Tools and Infrastructure
As mentioned earlier, being an automation orchestration tool, Rundeck effectively connects all the resources, tools, and infrastructure in the business landscape. Rundeck not only connects their resources but also ensures that they operate efficiently and without any disruption.
Businesses can seamlessly create workflows that span multiple scripts, tools, or application programming interfaces and can safely manage the entire business automation.
Ops Actions Consumed On-Demand
A large organization will not have only a particular section automated and leave the rest of the domains to employees. Every domain will be precisely automated, therefore giving every employee equal opportunities to work with automation in their respective field.
Rudneck is scalable and flexible, it, therefore, empowers employees with automation tools and technologies that they need to leverage in order to get their tasks completed. Therefore no matter the domain where the automation is implemented Rundeck can seamlessly extend operations privileges to other members and business units using key features such as Enterprise's Access Control, ACL, and User Editors.
Every enterprise that has leveraged automation will have to ensure that all the tools, technologies, infrastructures and architecture work efficiently without disruption. Having employees identify disruptions or having them on the lookout for error identification 24/7 will not be feasible for an enterprise. Especially if there are several automation technologies and devices interconnected.
Therefore, when there seems to be a system failure or incompetence, Rudneck immediately identifies it and prepares the next better alternative to ensure uninterrupted workflow. For this process, the runbook automation is used and operates continuously with Rundeck Enterprise's HA capabilities.
Conclusion on what is Rundeck and Its Uses
As we know, Automation is essential for enterprise efficiency, it reduces time consumption and makes it easy for employees to work effectively. But similar to all other innovative technologies, automation needs proper management and control.
With Rundeck, enterprises that employ automation can make the most out of their tools, technologies, and resources through a single platform. Standardize the way you operate your diverse business domains and technology stack.
Leverage Rundeck to implement your custom and complex automation strategies where an end-user can safely utilize it and make business management efficient.
About Guest Author:
Ricky Philip is an industry expert and a professional writer working at ThinkPalm Technologies, an AI services company, focusing on technologies like BigData, Mobile App Development, IoT, and Artificial Intelligence (AI