The growth of e-business is at an all-time high, and it's only going to get more prominent in the coming years. Creating an online website using an eCommerce CMS is a wise choice.
In this piece, we'll go over some of the most popular e-commerce CMS platforms. Building a solid foundation from the beginning will assist you in quickly increasing sales and achieving commercial success.
Here is the list of 10 Best E-commerce CMS for 2023
Shopify
Shopify's platform is suitable for people who want to set up an eCommerce website quickly. The platform offers a wide range of features and design templates, the perfect choice for new and small e-commerce stores.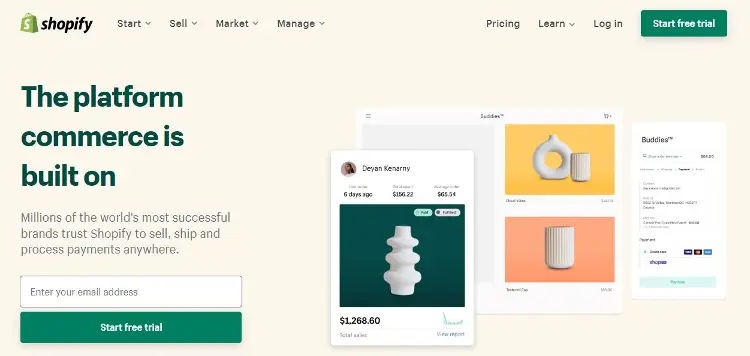 Shopify is also a robust platform with solid support that many users find helpful. Shopify has a wide range of features to create and manage your website, including list management, payment integration, lead tracking, account management, etc. Shopify support services are also quite popular in the eCommerce market.
Shopify Features:
Customizable design.
Mobile friendly.
Use your domain name.
Compatible with multiple languages.
Import/export products via CSV files.
Magento
Magento is a flexible and professional eCommerce platform intended for large multinational companies. Small businesses or online entrepreneurs may use this open-source platform and Magento support services companies assist the eCommerce platform for SM.

Magento has an attractive layout with appealing design templates, which help in effectively linking the marketing and product information to the site content. This can be done by using modules, which are additional custom-designed pages.
Magento Features:
Simple drag-and-drop solution for eCommerce website builders.
Has a range of payment solutions.
Search engine optimized (SEO).
Integrate with B2B functionality.
WooCommerce
WooCommerce is becoming one of the most widely used eCommerce platforms. WooCommerce will have a market share of 22% of the top 1 million sites using eCommerce technology in 2021, according to Barn2.co.uk. The outcome illustrates WooCommerce's rapid growth in recent years.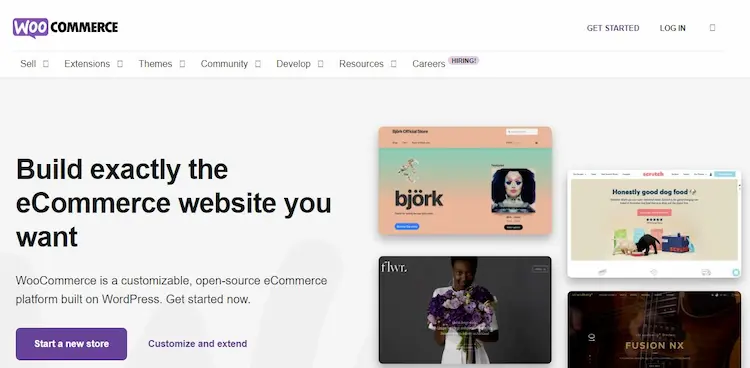 You may use WooCommerce to convert your WordPress site into an online store. Since it offers a range of free add-ons and themes, the site has attracted many users. The significant advantage of these plugins is that they may quickly add several features to the core WooCommerce functionality. You might also enlist the help of WordPress' enormous user base.
WooCommerce Features:
Setting up a shop is simple.
Payments that are both flexible and secure.
Multichannel to the point of sale marketing integrations.
With a sleek and clean design, it's simple to handle orders.
BigCommerce
BigCommerce is a free and easy-to-use multichannel platform that consists of tools, APIs, and hosting sites. It offers over 40 professional-grade features and functions, such as inventory management. It is integrated with third-party apps using their APIs.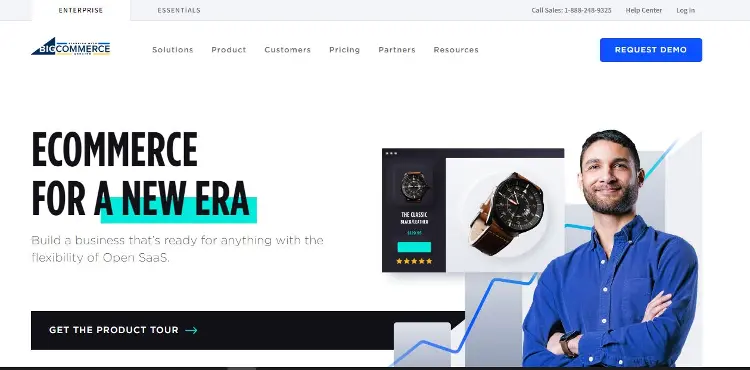 BigCommerce also comes with eCommerce features such as product catalogs, shopping carts, and checkout pages. Their design templates are easy to integrate into your site's layout for a modern look.
BigCommerce Features:
Sell on multi-channels.
Multi-storefronts.
B2B functionality.
Sell in multi-languages and multi-currencies.
OpenCart
One of the most widely used eCommerce platforms is OpenCart. The OpenCart system has a robust developer community with a wide range of plugins and themes. You can also customize your site's layout through personalized templates.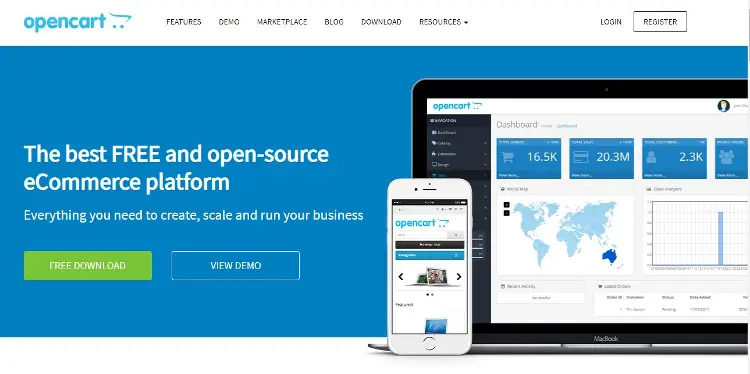 Over 14,000 extensions and themes are available through OpenCart for e-businesses of all sizes. It also accepts payments through over 20 different payment channels and offers eight other delivery choices. Even if you have a restricted budget, the OpenCart platform can help your shop flourish.
OpenCart Features:
Web-based administrative panel.
Integrate with B2B functionality.
Store using a range of payment methods.
Support for several languages and currencies.
PrestaShop
PrestaShop is an open-source eCommerce application that gives you the freedom to quickly build a professional online store. Working with PrestaShop is easy as you may create your module in a few minutes.

PrestaShop will help you save money and time on building a reliable eCommerce website. You will have access to more than 3000 free modules, 14000 free extensions, and 10000 free themes, specifically designed to give your site a professional appearance.
You can also integrate payment methods like Paypal and Google Checkout into your site with some simple modifications.
PrestaShop Features:
Create goods and bundles of products quickly, with attractive menus and layouts.
Allow clients to submit files to offer things that may be customized.
Select goods with variations from the characteristics list and add them to your cart.
Product categories and subcategories are simple to build.
Pixpa
Pixpa is a one-stop shop for business owners, creative professionals, and freelancers that need a website built. Pixpa can help you create feature-rich, professional websites with an online store, e-commerce galleries, a blogging platform, and more without touching a single line of code.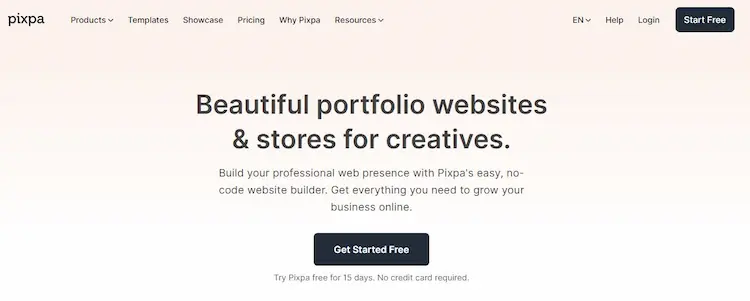 Pixpa's features include product and inventory management, abandoned cart recovery, shipping and discount management, built-in marketing and SEO tools, etc.
Pixpa Features:
Set up your payment gateways.
Offer a variety of shipping options.
Create profiles and wish lists.
Allow clients to submit files.
Wix
Wix offers a wide range of website-building tools with which you can easily create a professional-looking website. Its home page and other features are easy to navigate, and the mobile-responsive features make it possible for you to use your site from any device.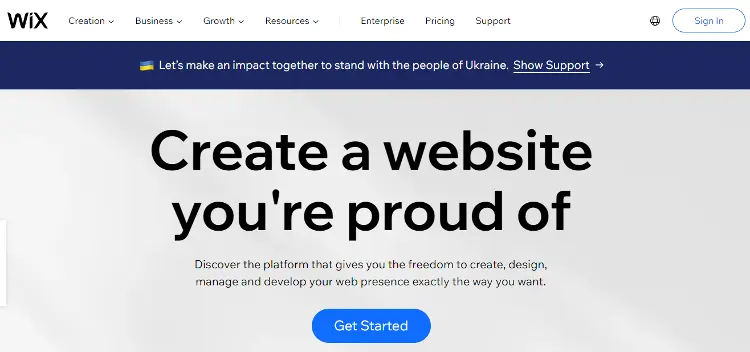 Wix has a user-friendly interface with several tools for managing products, discounts, and invoices. It also offers multi-language tools for international customers.
Wix Features:
Seamlessly create websites from templates or scratch.
Easy and flexible design.
Content management tools like blogs, galleries, forms, etc.
Create your payment processors.
PinnacleCart
PinnacleCart is the most widely used eCommerce platform, and it has been downloaded over 500,000 times and enabled over 1,500 online stores to be built. The site provides a free version for registered users and a paid version with extra features like multi-storefronts and shopping cart software integration.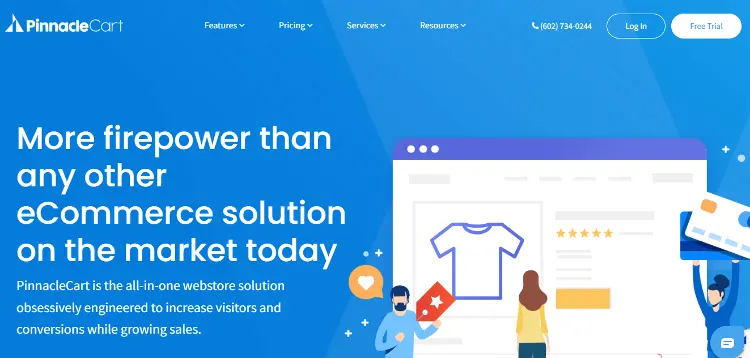 The base system can be configured from the admin panel to your requirements. You can import products from CSV files or use WYSIWYG templates that automatically convert text into formatted images.
PinnacleCart works with more than 30 payment providers, including PayPal and Authorize.Net.
PinnacleCart Features:
Web-based admin panel.
Shopping cart software integration.
Multi-storefronts.
It can be integrated with B2B functions.
Payments via over 20 channels.
Squarespace
Squarespace is a website builder that allows you to build eCommerce stores quickly and easily. The platform offers several themes and designs that you can use as the basis for your online store. You can also create your design or edit an existing one and add goods or services.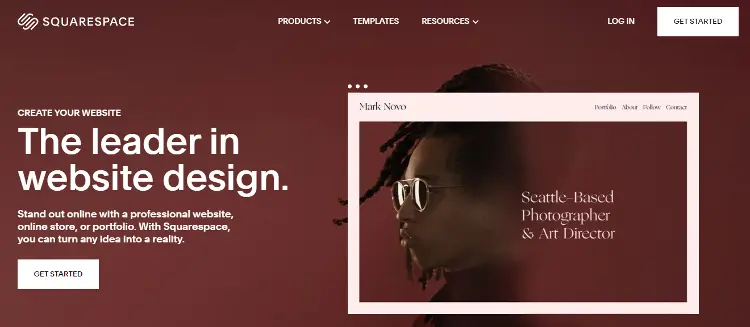 Squarespace's code is written in HTML5, which is mobile-friendly. The platform supports both mobile phones and tablets and can be used from a web browser, the Squarespace app, or the mobile version of the site.
Squarespace Features:
Easy to use a site builder.
Customizable design templates.
Easily integrate your eCommerce shopping cart into Squarespace.
Easy to set up payment gateway options.
Wrap up on Best eCommerce CMS for Small Business
We have tried to list the best e-commerce CMS platforms for 2023. These platforms are the best because they offer unique features that help run your business smoothly.
We have listed them based on their characteristics and stats and amazing features. These platforms have shown significant growth in recent times and will take over the world in 2023.