A business that has just started up, needs, to be present on the internet and make its presence validate there. For that, you need to know a little magic spell! That magic spell is called SEO (Search Engine Optimization).
There are many free and paid SEO tools available for small businesses that are very effective and can amplify the game for a business that is in the initial stage of creating massive hype.
In SEO, there are multiple activities like competitor research, rank tracking, on-page, and off-page optimization, etc. These things need to be done on a daily basis to keep up the website at the top of the search engine.
In this article, we are going to discuss some SEO tools for businesses that can help you to put your website at the top of the search engine.
Let's start with the Best Free & Paid SEO Tools for Small Businesses
Below mentioned best SEO tools for small businesses are selected as per our preference that you can choose from among these. Without any further delay, let's dive into some of the free and paid SEO tools for businesses.
Free SEO Tools For Small Businesses
1- PrepostSEO: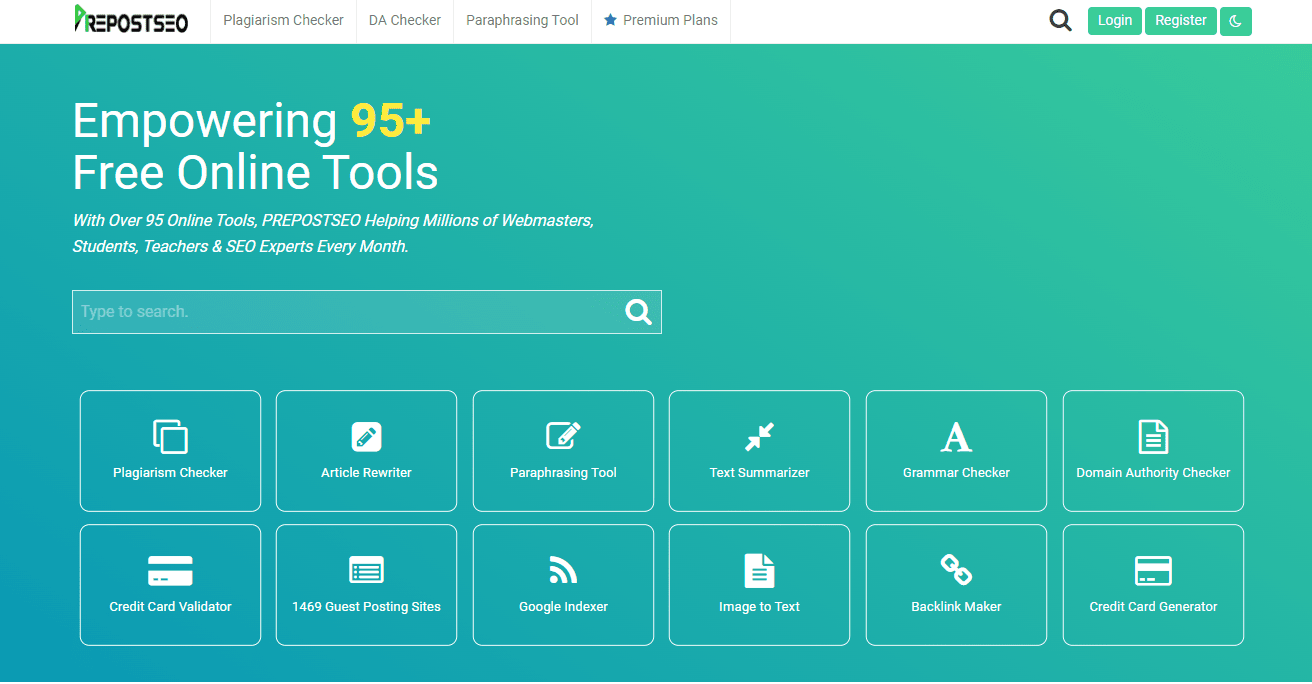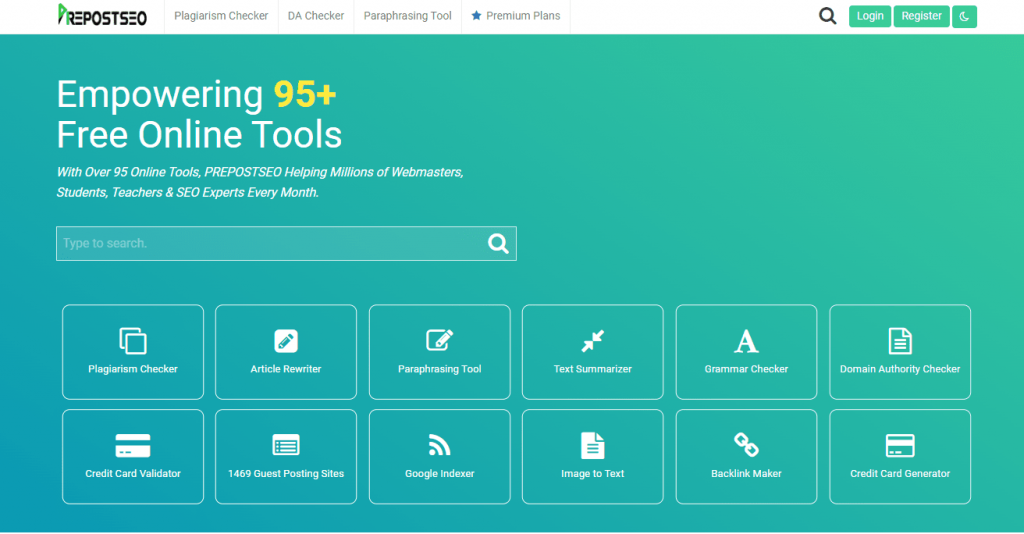 Prepostseo is an online tools service provider which helps to make the content optimized and get better rankings on the search engine.
It provides 95+ online SEO tools that help the users to work smartly. It supports multiple languages, so users from all over the world can avail themselves of its features.
Key Use Cases:
The main help that users get from this website is by using a plagiarism checker and paraphrasing tools.
To save time and get unique articles instantly, you can get help from the article rewriter.
You can check the domain authority of a website from here.
Some users face the issue of extracting text from the image. You can use the image to text converter and make your tasks simple.
Pricing: Prepostseo is a freemium forum. Most of the tools are free. Some of them are paid for the advanced version.
2- Google Search Console:

Google Search Console is a free SEO tool, and it can be a great help when we talk about the best SEO software for small businesses. It is provided by Google that can help the website owners to monitor the track and data, and anyone can quickly analyze the data, which can help in future ventures.
Also, it allows you to find the appropriate keywords to top the search engine. It recommended keywords can bring a drastic change in the ranking of the website.
Key Use Cases:
Identifies indexing and crawling issues and submits pages that need to be crawled.
Monitor Core Web Vitals for a great user experience across devices.
Identify pages that don't have many internal links.
Find page speed and mobile responsive issues.
Find which pages and search queries generate the most impressions every month.
Integrate with Google Analytics and Google Data Studio for reporting.
Pricing: Google Search Console is free to use.
3- Google Analytics: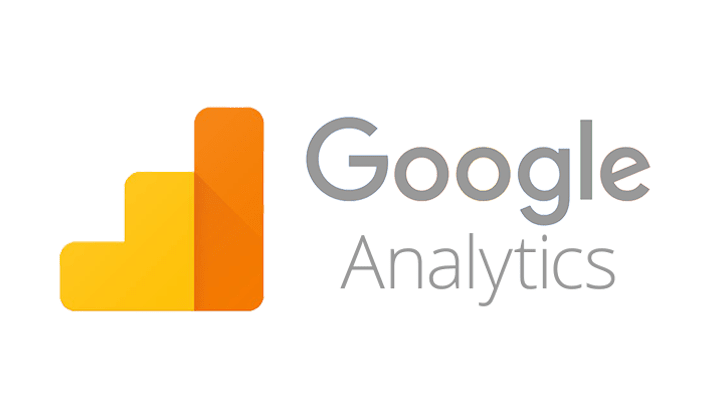 Google Analytics is a free web analytics tool that shares insights about traffic and how visitors interact with your website.
Key Use Cases:
Compares organic performance across devices.
Checks top referral traffic sources.
Check conversions by organic channels.
Diagnoses the organic traffic drops.
Finds high traffic and low conversion pages.
Diagnoses potential UX issues such as bounce rates, time on page, etc.
Monitors branded vs non-branded organic traffic growth.
Pricing: Google Analytics is free to use.
4- Google My Business:

Image by: revgenapps.com
Google My Business is offered by Google, and what it does is depicted by its name. Be at any level; one should apply for this fantastic tool and the bingo part is that it's pretty easy to use. It is capable of managing the details without even a hassle, and it also involves Google Maps.
This DIY SEO tool helps you to create and verify your local business to show customers what you offer. It also helps you manage how your business appears on Google Search and Maps.
Key Use Cases:
Connect with your customers through Google Search and Maps.
Optimize your profile for better visibility in search results.
Provide more opportunities for customers to reach you.
Displays customer reviews and provides updated information.
Respond to the Q&A section to build trust with customers.
Pricing: Google My Business is free to use.
5- Google Data Studio
Google Data Studio is the all-in-one reporting tool that fetches data from multiple sources including Google Analytics and Google Search Console, SEMrush, and Salesforce.
Key Use Cases:
Pulls data from multiple sources into a single report.
Filter data based on locations, devices, and channels.
Automates reporting with customizable schedules.
Creates different types of data visualization with built-in templates.
Pricing: Google Data Studio is free to use.
6- WMS Everywhere: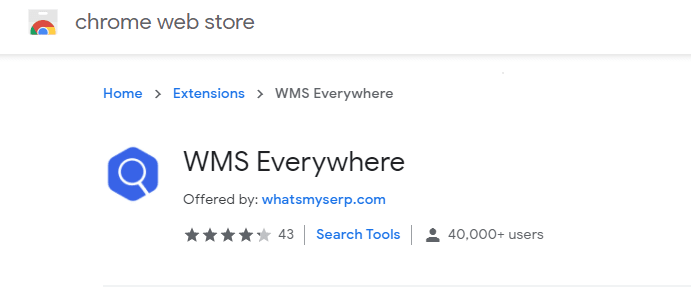 WMS Everywhere (now known as WhatsMyWerp) is a free rank tracker, and browser extension to uncover search volume, advertising CPC and related keywords inside Google search data and helps to gauge SEO ranking.
When we talk about the best SEO tools, we cannot skip this one due to its unique features.
Key Use Cases:
Can do regional research.
It allows you to add and track keywords.
Allows localized tracking.
Its mobile and desktop tracking can help you keep tabs on how your website is ranking on different devices.
Pricing: WMS Everywhere is free to use.
Related Article: 5 Best SEO Tools for Bloggers in 2022 (Free & Paid)
Paid SEO Tools For Small Businesses
7- SEMrush: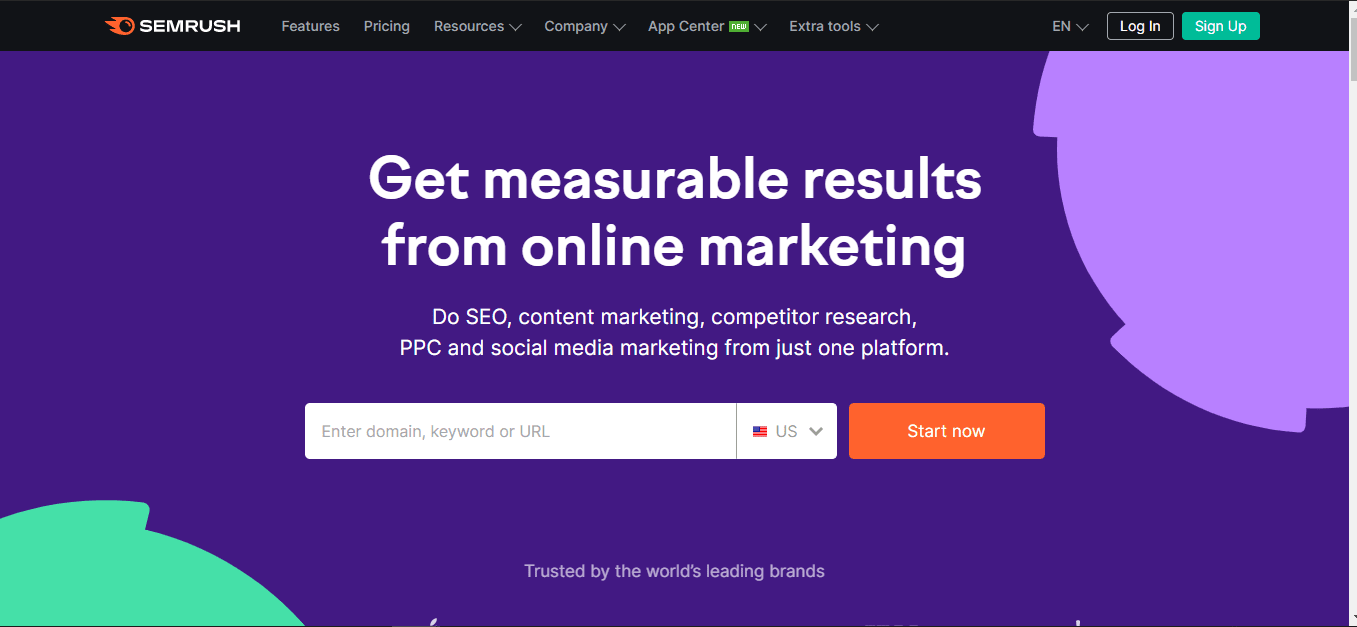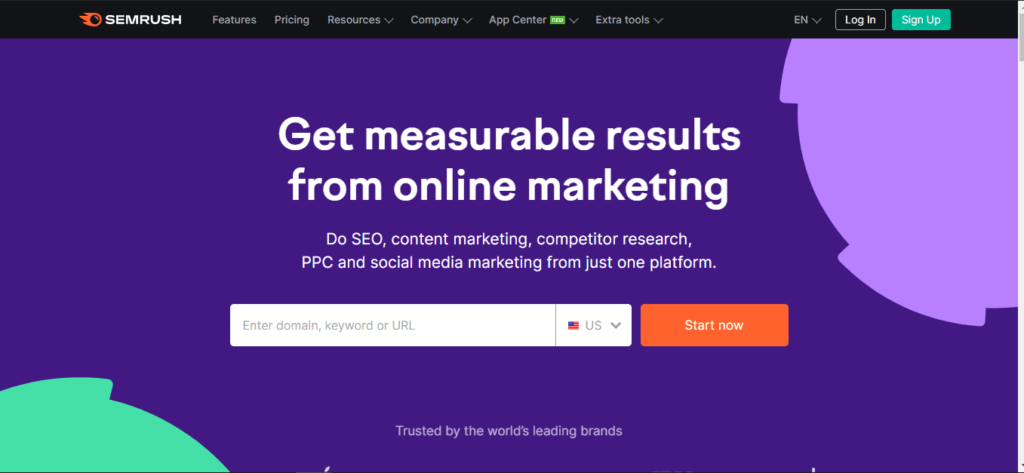 SEMrush is voted as the best all-in-one SEO online marketing tool across all major SEO categories such as keyword research, competitor analysis, link building, rank tracking, and generating reports.
Key Use Cases:
Analyze your competitor's strategy and engagement across different devices using the traffic analytics tool.
Compare the keywords of up to 5 competitors including yourself to find keyword gaps.
Diagnose and fix technical and on-page SEO issues from the site audit report.
SEO writing assistant analyzes content quality – readability, tone of voice, and originality. Also, check for potential optimization.
Monitor keyword ranking at national, regional, and local levels in the position tracking tool.
Use the pre-built reporting templates to get scheduled reports to your emails.
Manage all your SEO projects from a single dashboard such as site audits, link building, on-page SEO, backlink audits, brand mentions, and content audits.
Pricing: Starts at $119.95/month.
8- Ahrefs: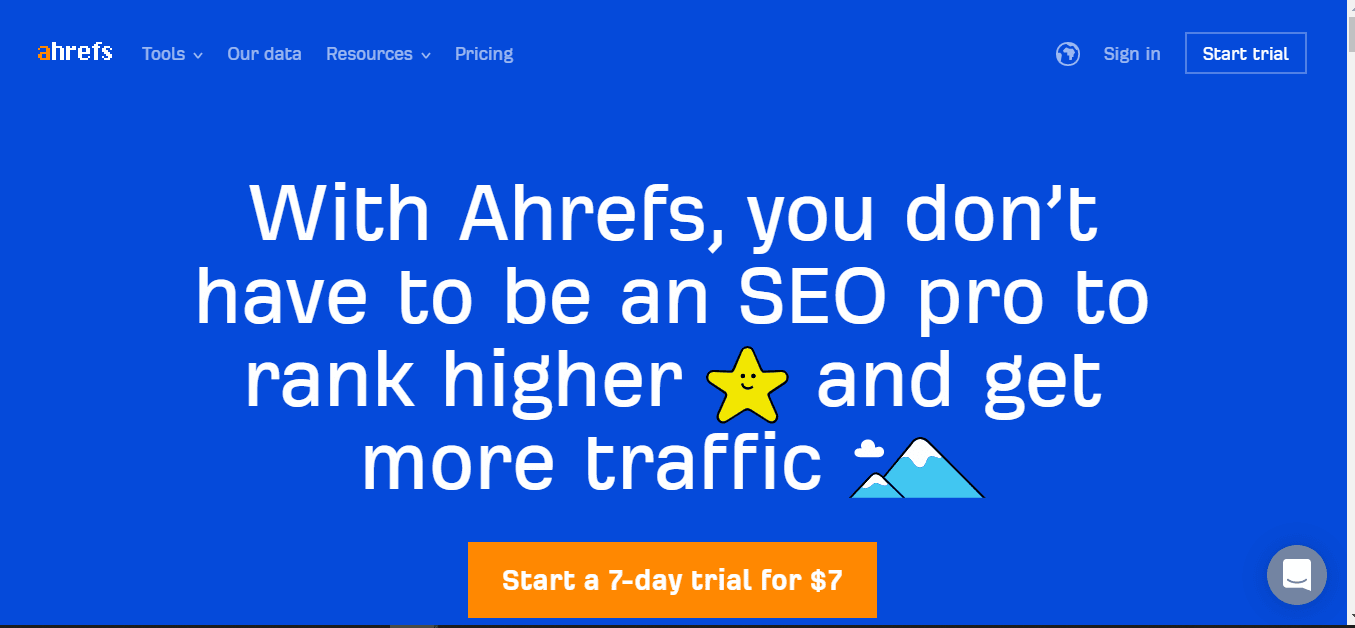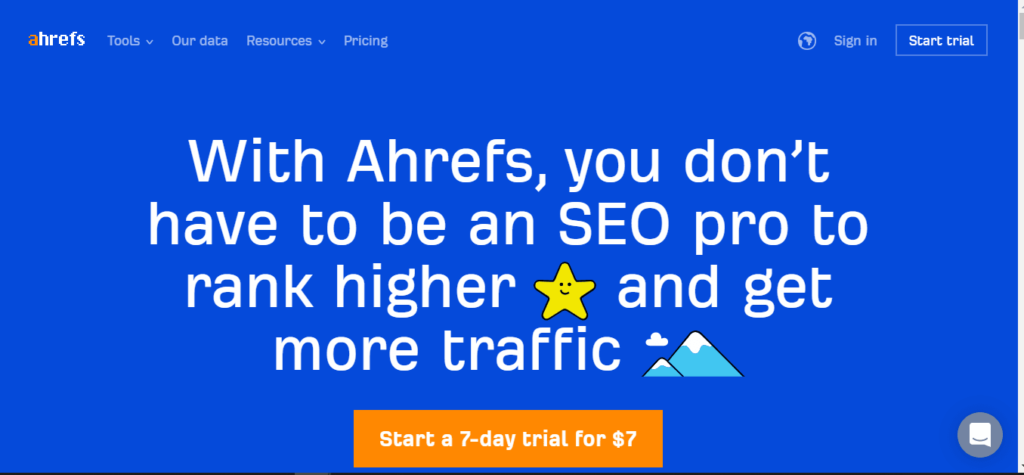 Ahrefs is an all-in-one SEO toolset that covers keyword and competitor research, rank tracking, content and backlink analysis, and site audits.
Key Use Cases:
Using site explorer, analyze the keywords, organic traffic, and backlink profiles of your competitors.
Discover keywords that customers are searching for with the help of keywords explorer.
Content explorer helps to analyze the top-performing content on any topic.
Rank tracker helps to track your keyword ranking progress across your website.
Site audit finds and fixes technical and on-page SEO issues on your website.
Pricing: Starts at $99/month Lite.
9- Yoast WordPress SEO Plugin:

Yoast SEO is the most used on-page SEO WordPress plugin tool and provides a comprehensive set of features to optimize your website. You just have to frame your content first within WordPress than with the use of Yoast; you can check how far the content is performing and what needs to be improved.
The optimization needs to be done on the focused keyword. Along with that, it provides reliability analysis to the admin that how easy to understand your content is for the masses.
Key Use Cases:
Helps to generate XML Sitemaps and sync to Google Search Console.
Optimize meta titles and descriptions on pages and posts.
Provides interlinking features to rank for the right keywords.
Apply meta robot tags (follow, no-follow, index, no-index) to specific pages.
Helps to customize canonical settings and redirect specific URLs.
Generates Open Graph data for social media sharing.
Pricing: It has a free version to manage your SEO and offers a premium of $99/year for one site to unlock even more tools and functionality.
10- Screaming Frog Website Crawler Tool:


Screaming Frog is a powerful website crawler suitable for both small and large sites. It highlights technical issues on your website such as broken links, slow page speed, and on-page issues.
Key Use Cases:
Find technical issues such as broken links, server errors, blocked resources, etc.
Discovers duplicate and thin pages.
Verifies schema markup and microdata formatting.
Detect spam issues and potential malware.
Review robots.txt files and generate XML sitemaps.
Integrate with third-party tools – Google Search Console, Google Analytics, Page speed insights.
Pricing: Free version is available and the premium starts at £149/year.
11- OnPage Champ:

OnPage Champ is the most preferred SEO tool for analyzing and understanding the competitor's business in less than 30 seconds. It helps to scale up your SEO campaigns real fast.
If you want to rank yourself on the top of the Google search engine, then this can be an excellent option to dig into it. You will get to know that suggested little keywords can amplify the game. It is one of the good SEO tools for small businesses.
The platform is unpaid, but some features can be unlocked once paid. Although this works wonders even with the free version, anyone can always go for a premium one if needed, but for smaller businesses, it might not be possible.
Key Use Cases:
Helps to recover rank fall due to unwarranted changes.
Provides weekly team reports to monitor the team performance and get a clear picture of your on-page SEO journey.
Allows you to monitor competitors' entire on-page SEO activity of the past including the new pages added.
Provides on-page SEO SERP audit.
Pricing: Free to track 2 websites. Premium starts at $10/month which tracks 7 websites and 1800 SERP audits per year.
12- UberSuggest: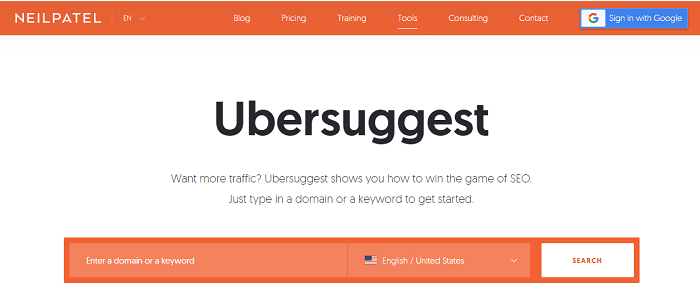 Uber Suggest allows you to get insights into the strategies that are working for others and adapt them for your website. Specializes in generating new keyword ideas and content ideas to rank in the organic search.
Key Use Cases:
You can get an overview of your domain for the below metrics such as organic keywords, organic monthly traffic, domain score, backlink score, and traffic.
Discover the top traffic pages and where they originated from.
Find which search terms are driving traffic to your website.
Discover the top-performing content for a particular keyword and see the domain authority and number of clicks for a particular piece of content.
Provides backlink data and various metrics on those backlink sites.
It also has an SEO analyzer that crawls your entire website and offers suggestions based on SEO best practices which include an SEO checker and site speed.
Pricing: Free trial for 7 days and have 3 Premium plans (Individual – $12/month, Small business – $20/month, Enterprise /Agency – $40/month).
13- Answer The Public: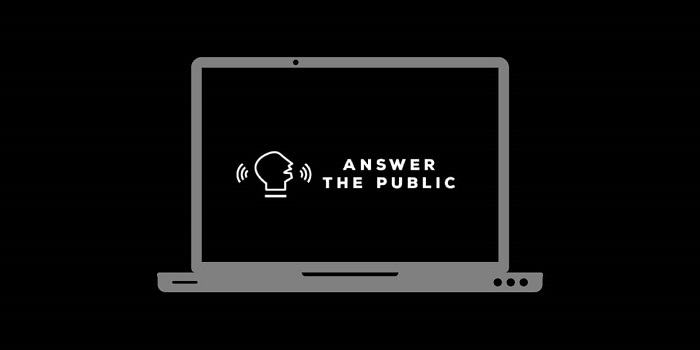 Answer The Public is a small web-based content marketing tool that can lead you to a whole bunch of creative ideas that can lift your business. This tool fetches results-related search queries from different search engines (i.e. Bing, Google, etc.) and categorized the data in a sequence.
To be precise, it tells you how people search keywords and what are the tilts and patterns of people getting a particular sector on the internet. In this regard, you will be able to produce the content masses' demands.
Key Use Cases:
Provides raw search insights.
Explore keywords from all angles.
You can monitor and get alerts for new suggestions to your email.
Compare data over time.
Can create folders to organize your research.
Hide unwanted branches and suggestions.
Pricing: Free version is available and has 3 premium plans which start at $99/month and go to $399/month.
14- Long Tail Pro: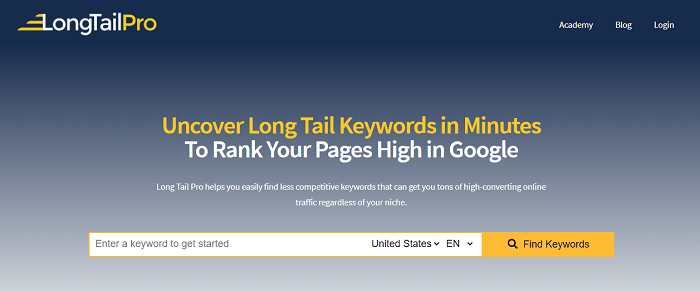 Long Tail Pro is a desktop keyword research tool that enables marketers to discover profitable, targeted keywords and calculate keyword competitiveness for almost any niche.
Key Use Cases:
Can create multiple projects.
Generate keywords based on your seed keyword.
Export keywords in an excel sheet.
Import keywords into Longtail pro.
Find domain names.
Keyword competition checker.
Favorite your best keywords.
Pricing: Start at $47/month.
15- Pingdom:

Pingdom is a website monitoring service that tracks the uptime, downtime, and performance of your website.
Key Use Cases:
Uptime monitoring
Real-time alerts
Page speed monitoring
Transaction monitoring
Real user monitoring
Server monitoring
Tailored Incident Management
Pricing: Start at $10/month.
16- WP Rocket Caching Plugin for WordPress: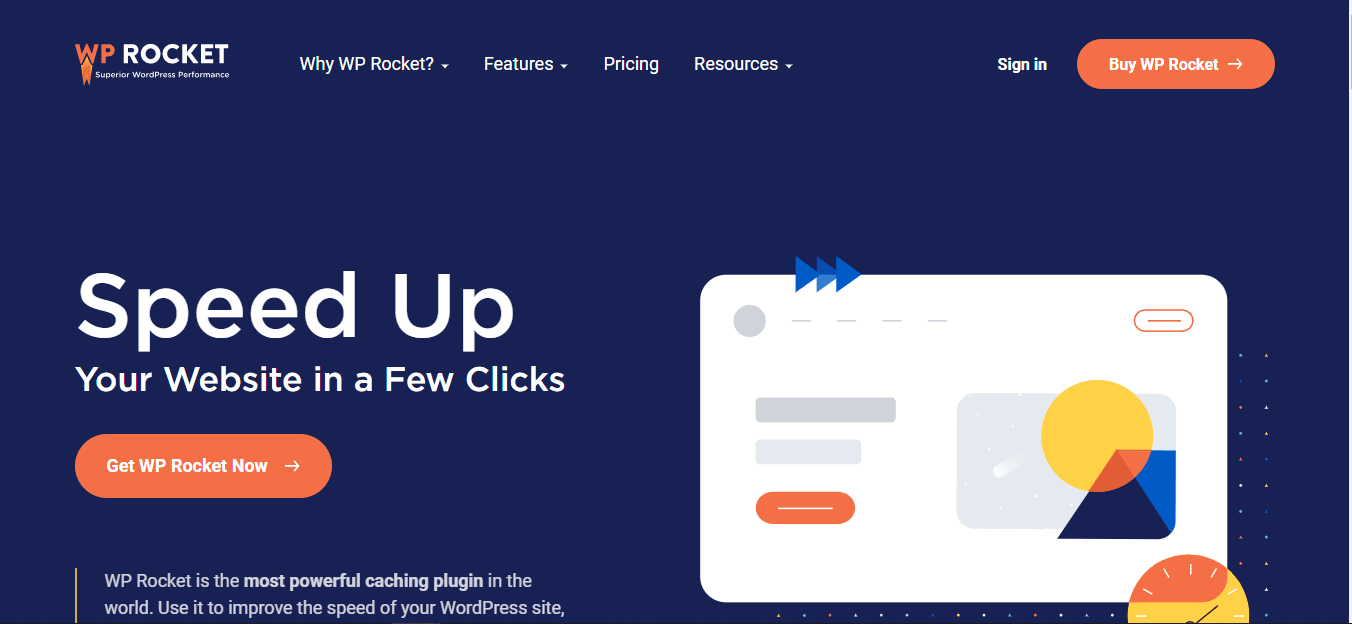 WP Rocket is a premium plugin for caching to make your WordPress website load faster.
Key Use Cases:
Improves the site speed by preloading the cache.
Compress all files such as HTML, CSS, and JS through minification.
Improves page load time by loading images as users scroll down.
Integrates with all CDNs.
Pricing: Starts at $49/year for one site.
People Also Ask
What is Small Business SEO Software?

Small business SEO software is a tool that helps you optimize your website for search engines. These tools are designed to automate tedious tasks and provide you with the data you need to optimize your site.

Free or Paid SEO Tools

SEO software is also known as SEO tools. You can get free SEO software, or you can pay for it. Many of the best SEO software programs are web-based, which means that they operate on the web and have a monthly subscription fee associated with them.
There are also some pieces of SEO software that you install on your computer and pay a one-time license fee to use.

Why Use Small Business SEO Tools?

Small business SEO software tools can be used to improve a business website's content, to help you achieve higher rankings on search engine result pages. These tools take into account the keywords and key phrases that your customers use when they search for information online

What are the features of Small business SEO software?

Small business SEO software typically offers three main features:
Keyword research tools
On-page optimization tools
Link building tools
Conclusion:
Let's be real, this journey is critical, and anyone has to work hard to get the desired results, but such phenomenal tools can help a small startup business in reaching the audience or target audience.
However, some old businesses still are making their way in there, but some small initiatives are doing wonders when weakening help with these best SEO tools for small businesses that we have discussed above.
Anyone might pick a tool according to their preferences and need. Also, these search engine optimization tools can be used in a combination or so to get the desired results.
We hope this list helps you flourish your small-scale business into a significant venture as little steps that you take and minor tweaks here. They can create a magnificent difference in the overall outcome and progress of the business.
Most business is still struggling with the idea of making their spaces on the internet.
Reaching the top in the SERP is not that difficult in comparison to reaching the top and staying there for a longer run. Regular checkups with these expert tools can hit the goal one wants to achieve.