If you are a restaurant owner or manager, the chances are that you are looking for ways to improve the efficiency of your internal operations.
Whether making an inventory of all your produce and pantry items or maintaining a tab on the restriction orders, a free daily restaurant checklist software is the way to go.
Not only will these give you and your team full access to all the relevant data, but they will also allow you to make well-informed decisions if you're in a pinch.
So here's how you can improve your tasks to offer the best dining experience for your customers by creating customizable daily checklists for restaurant operations.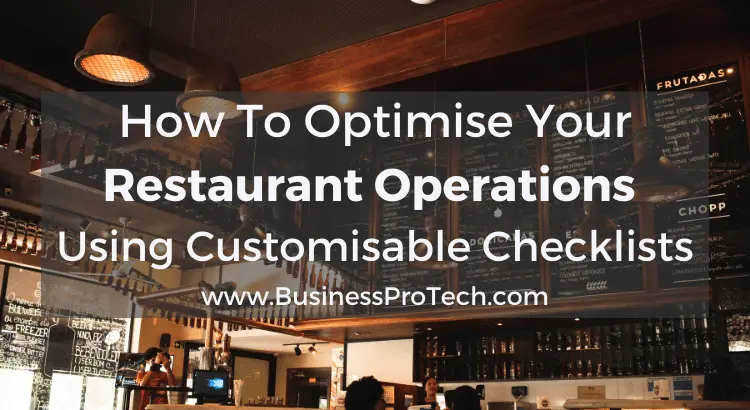 Make Small Checklists of What Needs To Be Done
Listing down everything that needs to be attended to and completed along with a set deadline will allow you to look at all the work cut out for you.
Having all these tasks jotted down in a single place can help you prioritize the order of operations to make the most of your resources within the allotted period.
Moreover, instead of taking on all the tasks, these applications feature sharing the document with your staff to enlist their help and complete everything beforehand. Such a system allows you to boost efficiency and utilize all your resources for optimal productivity.
Delegate Tasks To Cover Everything
An effective way to optimize your managerial duties is through optimal delegation. Once you've listed all your tasks, you can proceed to assign these activities to your team.
Depending on their expertise, you can make the best allotments allowing you to finish your work quickly and effectively.
Using restaurant checklist software can help you digitize all these tasks and facilitate smooth communication between the team, allowing you to stay connected with them.
Further, the task tracker is extremely useful in tracking your employee's progress and seeing that all the required tasks are completed on time.
Use Separate Checklists For Different Niches
Instead of compiling all your data and tasks under a single free daily restaurant checklist software, you can opt to create separate and individualized lists depending on the type of work. For instance, pantry management can be assigned to a designated team member with an independent list.
You can also use checklist software for managing restaurant orders, serving logistics, and other restaurant tasks. Such a situation prevents any mix-ups and allows for easy transfer of duties in case a staff member is on leave.
You can share all the required information with your team, allowing them to see the staffing allocation. If they spot any inefficiencies, they can take charge and step in without waiting for the matter to escalate.
Deal With Recurring Tasks
Much like any establishment, restaurants will have several recurring tasks that they'll need to perform daily. Since dining is one of the most sensitive fields, you'll have to remain on top of your game to ensure that your kitchen and seating area are clean.
Not only will this protect your customers, but such a practice can also help you build your brand by giving it a good name in the market.
Further, you are legally bound to maintain effective hygiene and adhere to the rules and regulations specified by the government of Australia. To help make this easier, you can opt for a static restaurant checklist through software to tackle these repeated tasks to have everything under control.
These pre-made templates avoid the redundancy of creating new lists every time. Instead, you can go to your library and pick out the required lists for that day.
Scale Your Operations
By having all your resources listed, a single glance can help you gauge the scale of operations. By doing this, you can optimize your decisions to reduce costs and increase efficiency.
If you're looking to expand, such a system projecting estimates and conducting a comprehensive analysis can help you gain insight and better understand the areas where you need to focus more.
It will even allow you to boost your performance for more significant revenue generation and quick expansion.
Final Words on Checklists for Restaurant Operations
Whether taking an inventory of all your ingredients and produce in the pantry or managing several customizable orders from different tables, checklists can simplify your life and boost the efficiency of your practices.
Logging all your activities can help you create a structure and streamline the operation flow for the best results. If you want to increase efficiency and simplify tasks, consider investing in a comprehensive digital checklist software and see how your life changes for good.