A significant asset turnover ratio is a proven method to gauge your particular line of work. Good service quality with your business is among the most crucial things you can do.
Examining the causes of initial churn is one method of achieving that. A customer exit survey and rejection questionnaires are excellent tools for discovering the reasons behind client churn.
This blog will help you understand all the details regarding consumer exit questionnaires. Along with it, you will also witness the best practice and must-have questions for your exit survey.
The Need For Customer Survey
Whenever the consumer cancels your services, you send them a form known as a customer exit survey. By delivering the consumer termination survey, you can collect their opinions while the motivations for canceling are still new to them.
The exit questionnaire items aim to gain more insight into customers' experience using your product and why they departed. Gaining this insight will enhance user experience and reduce client turnover.
Best Practices For Customer Exit Survey
Recognize The Different Consumer Groups
Your consumer segmentation must guide each interaction you make with the client base. They provide you with information on the vocal tone that will best engage your particular clientele.
Regardless of when they are no longer your consumers, it would be best to still interact with them by using the lessons your consumer segments showed you.
Keep Your Inquiries Succinct And Straight Point
When someone cancels your service, they won't want to dedicate much time to precisely understanding and answering your queries.
Therefore, through the exit survey, you can increase the answer rate by making your inquiries concise and direct to gain insights regarding the current company services or products.
Moreover, succinct feedback will allow you to enhance the service for future clients.
Also Read: How to Improve Customer Satisfaction (10 Easiest Ways)
Converse Empathically
Even though the consumer rescheduled, you must show them kindness and understanding. In addition to being the proper way to handle things, it produces the best results.
Generate Value Even Now
Every conversation you share with a consumer should include some aspect of what value you provide. One method to do that is to let the dissatisfied consumer know that you value their comments and will take them into account.
In addition, to further demonstrate your empathy and value and win back the consumer, you can assist them with any problems they may have encountered with your product.
Two Questions You Must Include In Your Exit Survey
Why Did You Decide To Stop Your Membership?
It is the most vital and prominent part of the questionnaire. Businesses frequently make the error of providing a multiple-choice response in this case. This strategy could not even address the reasons for leaving as they can't be precise with their answers.
Reading through exit survey replies takes more time but enables customers to express themselves.
What Could Be Made Better, In Your Opinion?
It's a more detailed query. The responder will offer a wealth of valuable data. This specific question will provide a detailed answer to what the customer dislikes.
Hence, the feedback will make you aware of the unaware problem that would benefit your upcoming clients.
Final Words on Customer Exit Survey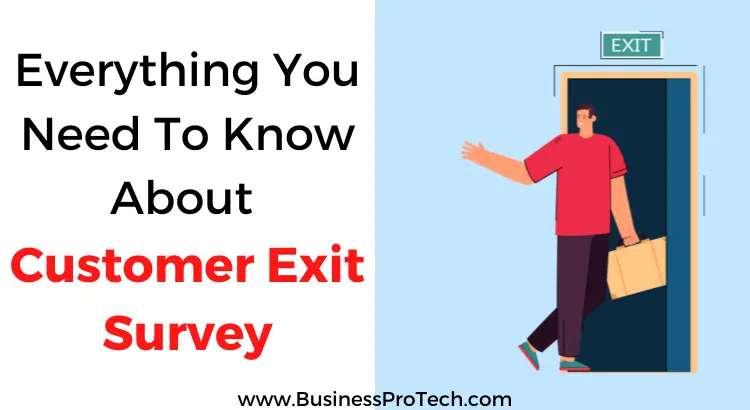 Surveys of the leaving customers are one approach to turning the tables in your favor. Remember to use these polls strategically and act on the information you find.
Exit surveys are valuable for reducing future churn, although they are only sometimes used. However, analyzing the surveys and making inferences from them takes some effort.