Quick question: Which form of printing is prominently attractive regardless of the content or subject matter on it?
Even quicker answer: The foiling printing is prominently attractive and we all have saved a shiny promotional material somewhere in our drawer or the diary because it's nice to look at and feel.
This is the charm and effectiveness of the digital foiling printing technique. The foiling technique has recently been recognized as a trend but in no way it's a new technique.
The very first manuscript was produced using real gold leaf for decorating the intoxicating calligraphy. The same techniques were also used on items such as statues and amulets.
What is Digital Foiling?
Digital foiling is a form of printing that offers shiny and irresistible finishing of your design print. The process of digital foiling includes metallic or pigmented foil application onto a solid surface by infusing a heated die onto the foil.
The heated metallic foil creates different shiny designs and prints graphics on several materials sticking on the surface.
Digital foiling is a printing specialty that converts your design into art pieces. It can be used for numerous printing occasions including digital foiling for;
Invitations
Packaging
Custom business stationery
Promotional materials
Exclusive PR posters.
5 Tips on Achieving Exceptional Digital Foiling Outcomes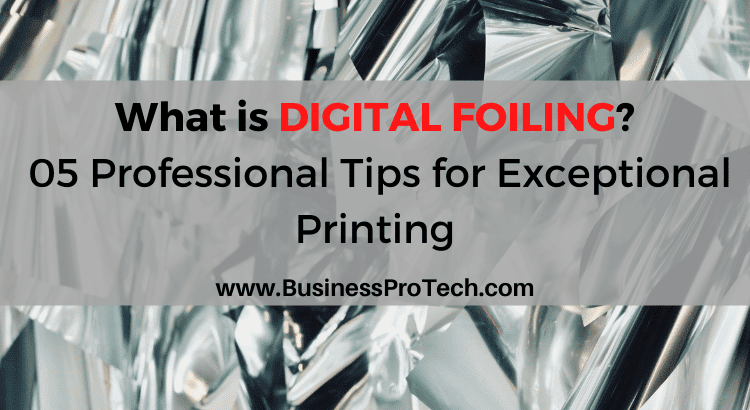 The purpose of digital foiling is to create a premium look and feel for the printed material. Printing is a simple process and often it is the simple and minor shortcomings that ruin the design.
Below we pointed out the minor mistakes and how you can achieve exceptional digital foiling print.
Use Thick Lines
Digital foiling is a delicate process and due to the nature of foiling your designs, using excessive small lines and intricate patterns is a bad choice.
The foil doesn't stick well to the thin patterns and gives a matte look rather than a shining texture.
Anything below point two won't give you a clean finish because the lines are too thin for the foil to stick.
If you want digital foiling to stand out, use thicker lines and patterns. Thicker lines help you reflect the effect better and shinier.
If you still want to go for thin lines keep reading and we have a tip for that as well.
Avoid Small Fonts
We have already established that foil doesn't stick on the smaller patterns and the same goes for the font.
The clarity and kerning of your font are important as it is responsible for conveying the message. Due to the reflection and effects of the digital foiling, the smaller fonts are harder to read.
If you want your font to look good use a typeface that is above point 8 and use bold thick curvy fonts. The font can work as a major element of attraction.
Avoid Pixelation
As you know, the digital resolution is a lot for text clarity and finesse finishing. Similarly, resolution matters a lot in digital foiling and it is one of one the common mistakes as well.
Pixelated foil printing always ends up with a poor finish ruining the whole design.
Even though digital foiling is a process of tangible printing, the resolution of the design matters. For a nice and crisp resolution, you should go for a minimum of 300 dots per inch (DPI).
Proper use of Foiled Stickers
When it comes to digital foiling stickers, you have two options. The first option is to foil the design only and the second option is to foil the entire sticker. Before finalizing your option, remember the difference between them both.
The foil only on your design will cover vector-based shapes and text leaving the rest of the area relatively plain but you can add layers and colors.
On the other hand, you can foil the entire sticker and cut out your design.
If you choose to foil the complete sticker, there are some side notes you should be aware of including only a single element of your sticker will be foiled, you can't add additional colors and layers, and the foil color.
Foil color will be the only colored element.
Block Foiling
Block foiling is also known as a traditional form of printing.
Traditional foil blocking (hot foil stamping) leaves your foiled elements embossed and lightly textured. The emboss is created by pressing metallic foil to the paper or the card using heated plates.
Traditional blocking foiling is a better option for smaller fonts and intricate details as the final texture is embossed, and it is easily readable. The technique is popular with finer details and serif-style fonts.
Explore Digital Foiling Options
The most conventional digital foiling options are silver and golden corporations. No doubt these colors give a very luxurious effect.
However, if you think your business isn't the silver golden type, don't be disheartened. Digital foiling is a common practice and offers vast options in colors, effects, and designs.
If you choose the right digital printing company you can explore several colors and effects such as holographic and pearlescent which replicate the look of precious metals.