Anyone can start an eCommerce business. Whether you are looking for a new full-time occupation, or a side hustle to bring in some extra income, eCommerce can be your route to financial freedom. As easy as it sounds, there is some work to do.
Here are the three first steps you should take to begin building your business. Get these right, and you have a foundation for success you can create your company upon.
Dot The I's and Cross The T's
Before beginning any business, you need to do some paperwork basics. One of the most important is insurance. Without it, you could face some expensive liabilities down the road. Depending on what it is, there may be specific types of policies for your specific business, but most eCommerce startups will need a small business insurance policy.
You can find a competitively priced small business insurance policy at The Hartford. They are consistently rated as one of the best small business insurers and have policies available aimed at specific sectors of business if that is what you need.
This is exactly the type of coverage you should be looking for when starting an eCommerce business.
Research Products and Opportunities
The key to starting a successful eCommerce business is to sell products and services that people want. The demand has to be there for you to supply it. It is much harder to enter the marketplace with a product that needs to be explained before it can be sold.
To get the ball rolling you should make things easy for yourself and research in-demand products that you can sell at a more competitive price.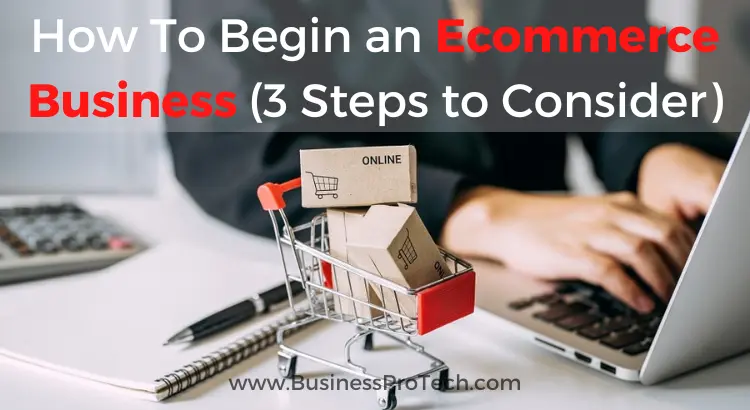 The venue you choose to sell on and advertise will also be crucial to your success early on. It is hard to convince people to use a new eCommerce website, especially when it comes to entering payment and address details.
Consider selling through a larger and more well-known website, at least at first. Both Amazon and eBay are the perfect places for this and will allow you to make a name for yourself. From there people will come to your website after they have made a few purchases.
Plan Your Marketing
Without marketing, you will struggle to attract customers and build your client base. You may get some sales from popping up in searches on retail websites, but you need to market your business and its products if your eCommerce company is going to grow.
Social media is the perfect venue for small business marketing. A picture speaks a thousand words, use them to get the attention of consumers and tell them about your company.
Instagram and Facebook do this well for businesses of any size. They also create an opportunity to engage with your customers and potential consumers, and the likes and shares of social media posts help distribute your marketing organically. These apps do the hard work for you, while you concentrate on customer service.
Conclusion
With the paperwork in order, some market research completed, and a social media marketing plan you are ready to start trading. The hard work has just begun, but in a short amount of time, an eCommerce business begins to run itself.
Invest time and money now and reap the rewards later.