YouTube is constantly changing and evolving. The days of funny cat videos and dogs on skateboards are long gone. Today, YouTube is also a destination for marketers and an extremely powerful business tool.
To reach your customers, however, you must acquire more free YouTube views. With that said, let's jump on seven tricks on how to boost engagement on YouTube.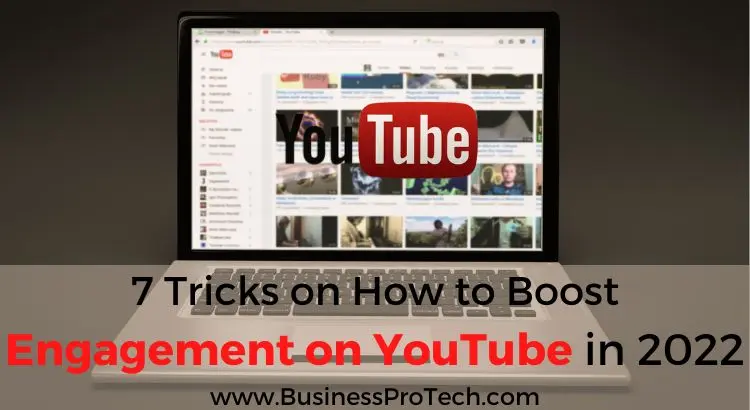 Create Interesting Content
If your videos aren't good, it doesn't matter how many hacks or advertisements you use. Figure out what your ideal customers want to know, and then make videos that address their concerns.
Is this a possibility? You bet. Graham Cochrane amassed 51 million YouTube views by focusing on how-to content.
Encourage Viewers to Become Subscribers
Customer retention can be an effective means of expanding your business. The same is true for YouTube views.
As a result, encouraging current viewers to subscribe is one of the simplest ways to increase views on YouTube, as acquiring subscribers increases the number of views on each new video you release.
Make Playlists to Keep People Interested
According to YouTube, "top-performing brands on YouTube build and promote twice as many playlists as the bottom 25%." Why are playlists so effective? Auto-play. When videos keep playing, it takes effort to divert your attention away from them.
Ac cognitive bias is known as 'loss aversion is at work. According to loss aversion, the pain of losing something is twice as bad as the pleasure of gaining something equivalent. Loss aversion, for example, suggests that people will work twice as hard to keep $100 as they will earn $100.
Loss aversion is used by auto-play to reframe the situation. The simplest way to make a YouTube playlist is to go to each video you want to add and click the '+' icon underneath it.
End Screens & Cards Can be Used to Promote Other Videos
Cards and end screens are tools for promoting your videos and increasing their views on YouTube. To use these features, you must first verify your YouTube account.
To do so, click on your profile picture in the upper right corner, then select 'Creator Studio.' Then, select the 'Status and features' tab. You can view and configure additional YouTube channel features on this page.
Let's take a closer look at the end screens and cards now. An end screen is a dedicated frame at the end of your videos that you can use to wrap things up and highlight calls to action.
Related to Youtube: Transcripts for Youtube Videos
Add a Watermark to Your Videos
Watermarks allow you to gain more subscribers and free YouTube views by promoting your channel across all your videos. A watermark is simply an image you can set to appear on all your videos — most brands use their logo as a watermark.
A subscription prompt appears when a viewer hovers their mouse over a watermark. That is why the Shopify YouTube channel has a 'subscribe' watermark.
Create a watermark that is square, transparent, and has more than 5050 pixels. Because YouTube shrinks watermarks when they display them in the corner of videos, making a larger one will help ensure your branding is visible to your target audience.
Check to See if Your Videos are Embeddable
Ng viewers embed your video on their websites and blogs is an efficient way for your brand to reach new audiences and increase YouTube views.
If a video supports embedding, when a viewer clicks 'Share' beneath the video window, YouTube will display the 'Embed' option.
Promote Your Videos on Other Social Media Platforms
If you have followers on other social media platforms, notify them whenever you upload a new video to YouTube. A brief teaser video is an excellent way to achieve this.
You could, for example, create a one-minute teaser for a new YouTube video and then share it on your Facebook page with a link to the full video on your YouTube channel.
Recognize the Importance of 'Watch Time'
YouTube's algorithm is called a "search and discovery system." This algorithm decides which videos are displayed.
On the main page
Videos that have been suggested
In the search engine results
Click the Subscriptions button
Through notifications created by viewers
Besides that, the method has an impact on both entire YouTube channels and individual videos. The YouTube algorithm is complicated, but remember that it is primarily based on 'Watch Time.'
According to YouTube, "every clip posted as well as every stream on YouTube is 'ranked' by watch time."
Conclusion on How to Boost Engagement on YouTube
Keeping up with what's going on in your industry can mean the difference between becoming well-known and fading into obscurity. Those who have a thorough understanding of what is going on in their world can create videos of bothered and exciting videos for those in neither he.
However, knowing your industry allows you to identify viral content as it occurs, allowing you to share it with your followers before anyone else. Being the first to share information establishes you as a thought leader in your field, resulting in increased exposure and views for your content.
On YouTube, a view is recorded when a user intentionally plays a video and watches it for at least 30 seconds. Repeat views are also limited to 4-5 before YouTube stops counting repeated playback from the user's account or device.