Have you ever heard of pen friends (Pen pal)? Pen friends is a little old term that refers to friends that people make just by exchanging letters, these are friends that have never met each other, and the only communication link they have is by exchanging letters.
If you make a pen friend, you two will get to know about each other's culture and lifestyle. It is a great way of knowing about people living in different parts of the world. There are different websites and social media platforms that connect people around the globe.
In this article, we will be discussing one such website, i.e., Omegle (www.omegle.com). Here we will cover everything related to using how to use Omegle on phone.
What is Omegle?
Omegle is an online messaging website/platform that randomly pairs two strangers based on mutual interests. It helps two strangers to interact and pass the time together without revealing their identities.
If you enjoy random interactions with strangers, Omegle is a great platform for passing your time.
The most common way of communication is the Omegle video call feature. The other two ways you can use for communication are audio calls and text messaging. You can choose the one that suits you the best.
Related Post to Omegle: How to flip camera on Omegle (iPhone, Mac, Chrome)

Related Post to Omegle: 5 proven ways to remove CAPTCHA on Omegle
What are the Features of Omegle Video Chat?
The Omegle video chat feature is the most common and gives its user a nearly real-time experience of watching the person he is talking to. It has the following features:
Mutual Interests
The 'Interest' mode of Omegle video chat can help you find the right partner for you based on your mutual interests. You can search for people according to your interests.
Language and Translate
You can choose people based on their language; it helps you find people from your country. You can also use a translate mode (from Google Translate) to translate messages from a different language.
Spy Question Mode
With this button on your side, you can ask questions without revealing your identity. This feature helps you ask questions to the person you will talk to. It also makes the person able to ask questions from you too. If you want to keep the talk going, ask creative and interesting questions.

Omegle.com 18+
This site is an adult version of Omegle video chat. If you want a mature person to talk to you or plan to have an intellectual talk with an intelligent and smart person, you can go to this site.
One thing about this site is to be cautious of vulgar and obscene content that is also present on this platform. It can be not comforting for you. Everything has two different perspectives, and one can go either way.
Omegle Text Chat
It is the safest way of interacting with strangers in a way that they can neither hear you nor watch you, so there is no fear of being identified.


How can you use Omegle on the Phone?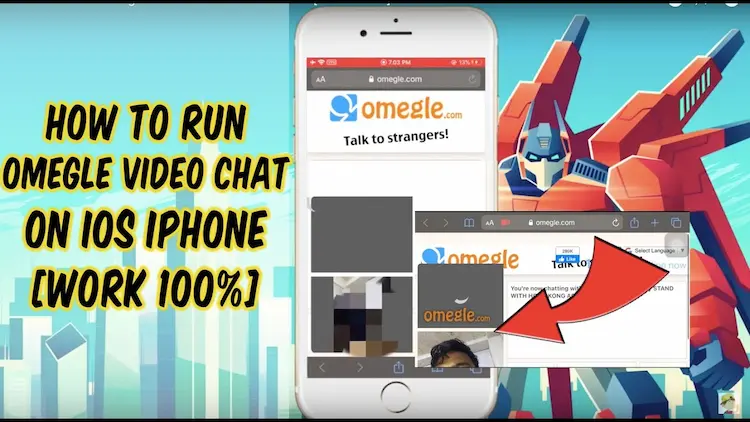 If you are facing difficulty in using Omegle Video Chat on your Phone, it may be because of the security of your Android or iOS.
The Android sometimes doesn't give the application access to the camera and microphone. You cannot use the video call feature if you are using your mobile application.
It is very sad news because the video calling feature is one of the most popular features of Omegle phone. But you need not worry because we have a solution for that also.
We can access the app through a different browser, so it gets access to your phone's microphone and camera. The next part is the solution to your problem.
How to Omegle Video Chat on Android & IOS Using Browser
Omegle Video chat can be used on any browser other than a normal phone browser to use the video chat feature. The mobile browsers that are most commonly used for Omegle phones are Penguin Browser and Puffin Browser.
Puffin Browser
Puffin Browser is a mobile internet browser that can run Omegle Video Chat properly. You have to download the mobile application from the Google Play Store or App Store of iOS. It is not an updated version of the browser on the play store, but it will work for you.
Here is a step-by-step guide to running Omegle on puffin browser:
1- Download the puffin mobile application on your phone.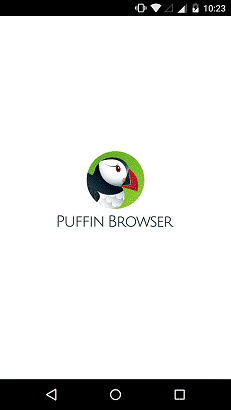 2- Once you have downloaded the application, open it and search for Omegle.com.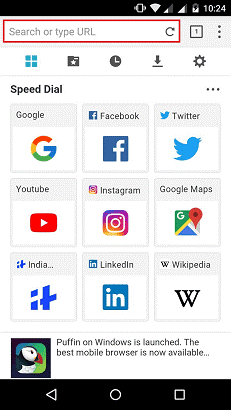 3- Once the website is open, tap on three vertical dots present in the top right corner of your browser.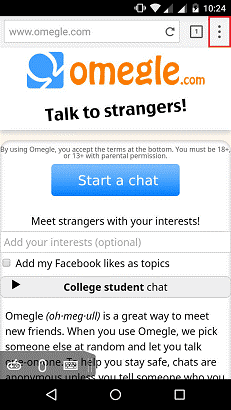 4- Tap on the 'Request Desktop Site' toggle button to enable the feature.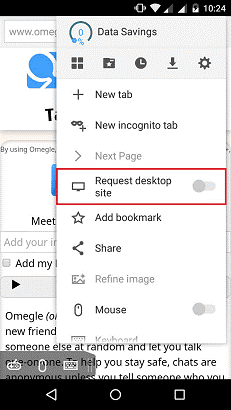 5- Refresh the webpage.
6- Search for the 'Video Chat' option on the page. Tap the Video Chat button.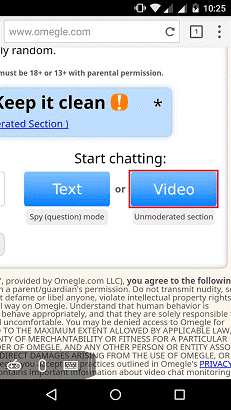 7- Once you tap the Video chat button, a pop-up screen will appear to request the phone camera and microphone access.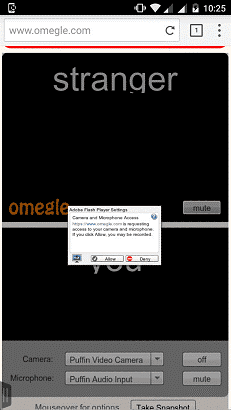 8- Allow the browser to use your phone camera and microphone.
9- Let the webpage reload itself; now, a captcha code will appear. Solve this captcha code to confirm that you are not a robot.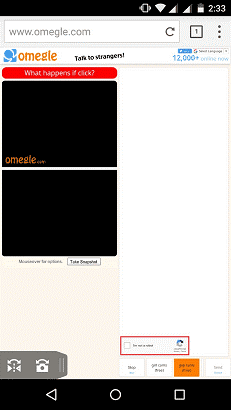 10- Enjoy a seamless experience of video chat on Omegle on phone.
Penguin Browser
Penguin browser is another browser that can access omegle.com without any trouble.
How to Use Omegle Video Chat on IOS?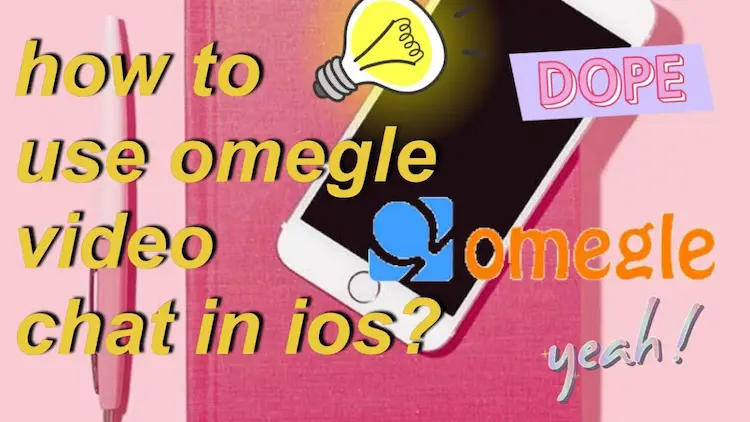 People Also Ask About How to Use Omegle on Phone
Can you use Omegle on the phone

To use the Omegle on the phone, you have to download the application from Play Store, but to get access to the camera, you have to open it through a specified browser, as discussed earlier.

Can you use Omegle video on your phone

Yes, you can use Omegle video three on your Phone. You can either chat by text messages or by audio call, as well as you can make a video call.

Can you download Omegle on your iPhone

Yes, you can download Omegle on iPhone; iOS supports the Omegle software. You can download it from the iOS App Store.

How do you connect Omegle to your Phone

To properly connect your Omegle with your Phone, you must access it through a third-party mobile browser. These browsers make it easier to grant access to the phone camera.

Does Omegle work on mobile

Yes, Omegle can be work on Android and iOS, but you cannot get access to the phone camera due to security reasons. You have to use the software through a specific mobile browser.
Conclusion
We can enjoy interacting with strangers using the Omegle on Phone. It is advised never to share your personal information with anyone during the interaction.
Any sharing of personal information can lead to scams. Also, be aware of what are you talking about and never share any of your pictures on such platforms.
Downloadable Resources of Web Browser: