It doesn't matter what a business does or who it serves; they all have the same goal: to be well-known and appreciated by the customers they have. Is there a way to guarantee that clients take away a positive impression of your organization before they leave?
In the year 2022, there are a more significant number of ways than ever before to capitalize on the power of public relations (PR), making it almost impossible to do so without it.
Traditional public relations and digital public relations are two of the most common ways to get the word out. The two strategies are quite distinct from one another, despite having the same overarching goal of increasing brand awareness.
Public relations using more traditional methods, or public relations using digital methods?
Managers and company owners often ponder this issue. Over the last decade, public relations have undergone significant change in response to the ongoing development of digital marketing.
What is Traditional PR?
Traditional public relations work in a way distinct from digital PR to advance objectives such as influence, reach, brand awareness, and reputation management. Conventional public relations tactics primarily focused their attention on the written and spoken media.
The use of online publications is becoming an increasingly important strategy for increasing positive brand recognition as well as contact with customers.
What is Digital PR?
In spite of the fact that its primary focus is on the internet, digital PR has a far wider scope than this. In contrast to more traditional forms of PR, the primary goal of digital public relations is to drive web traffic to a company's website via "backlinks." The majority of its attention is directed at boosting the search engine rankings of your content and expanding your website's authority.
However, to achieve this goal, digital public relations integrate traditional public relations tactics, such as developing relationships with influential bloggers and website editors, with online marketing methods, such as search engine optimization and link building.
The term for this practice is "link building." The primary objective is to raise the visibility and reliability of your brand while simultaneously promoting positive contact with customers.
Differences Between Traditional PR and Digital PR
Today's most successful public relations specialists have used cutting-edge digital PR strategies to reach an audience that is far larger than that which is attainable via traditional offline approaches.
It is crucial to keep in mind that digital public relations (PR) specialists are a strong force in a brand's marketing team, capable of interacting with a targeted demographic in order to distribute information and news much quicker than conventional offline methods.
Although there are numerous ways in which traditional public relations (PR) and digital public relations (PR) vary, it is vital to remember that traditional PR and digital PR are not the same.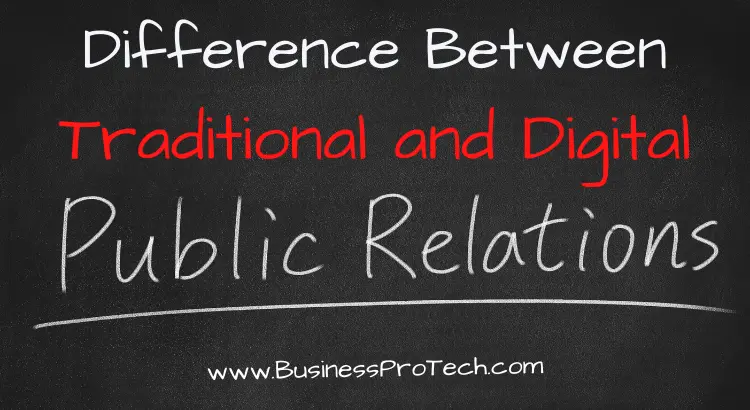 Examining the Obtained Results
When you use traditional public relations, it's possible that you won't be able to determine with absolute certainty how many people saw a media placement about your company or how many people read an article about your firm in a newspaper.
The number of readers or visitors who go to the website on a monthly basis is something that may be calculated using a general guideline.
Traditional public relations lack the ability to be readily monitored and assessed, which is a significant benefit of digital public relations. When measuring the effectiveness of a campaign, digital public relations has the potential to give much more indicators.
You are able to monitor how your content is being received on the internet by using tools like Social Animal and Google Analytics, and you can also determine the number of people who have seen it and shared it.
Make Sure you Have all of the Necessary Tools
Keep in mind that traditional public relations strategies still play an essential part in the contemporary media environment, despite the development of digital PR. To guarantee that you are utilizing the potential of both traditional public relations and digital public relations, you need to keep a close watch on the differences between the two.
Traditional public relations tactics, such as arranging press visits for our clients and planning press travels for hand-picked top-tier print publications, are still employed when required to assist our clients in obtaining great international coverage.
Although digital public relations could be a huge benefit for a business, it is essential to keep in mind that reputational damage is never more than a mouse click away in the open digital world of today.
Establishing a Connection with One's Intended Demographic
The work of social media PR professionals offers several benefits, including but not limited to the following:
influencer management,
audience engagement,
brand awareness,
brand collaborations,
development of client,
consumer connections, and many more.
PR experts are well-known for their ability to communicate in both written and spoken form effectively and their capacity to connect with a diverse group of individuals from various demographics and psychographics via social media platforms such as Facebook, LinkedIn, Twitter, and Instagram.
This ability to communicate effectively in both written and spoken form has earned PR professionals a good reputation.
Conclusion
When it comes to choosing a public relations strategy, a company's needs are the most important consideration. If you want to bring your business in front of more potential customers in your industry and boost your company's profile, traditional PR is the way to go.
Digital PR is an excellent option if you want to get a lot of attention from the media. Regardless of how you answer this question, there is no right or incorrect response. Because both traditional and digital PR have the same goal, many firms utilize both.
About the Author:
Prashant Pujara is the CEO of MultiQoS Technologies, an eCommerce-focused Mobile App Development Company where you can hire app developers for your business. He is in charge of the company's commercial and delivery operations and strategic planning and strategy.