In most departments, the role of the manager is clear: to plan, organize, direct and control resources to help team members work toward and achieve specific goals. Yet, because IT is such a highly technical field, many executives are not certain how to fill the role of IT manager.
Should they hire a candidate skilled in business administration, who is competent in keeping the workforce on track, or should they fill the position with an IT specialist, who has the hard skills necessary to understand and execute IT-related projects?
The answer, in most cases, is: It depends. Here is a quick guide to the IT management role and some tips on finding the best candidate for the job.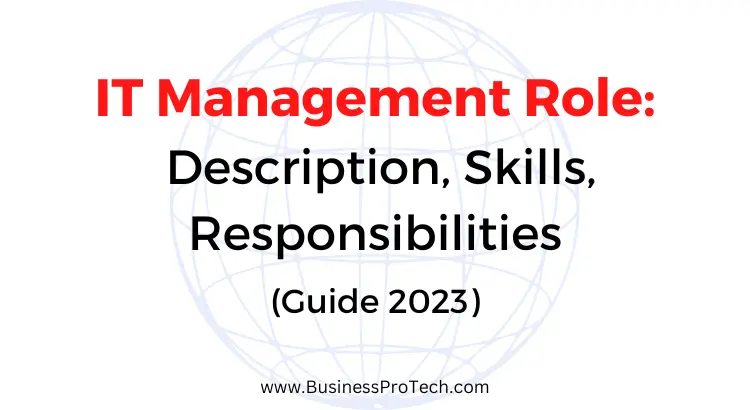 IT Management Job Description
Every department within an organization requires managers, from marketing to customer service to HR. Though many executives view IT as a distinctive group due to the technical knowledge they must employ, the truth is that managers of the IT department should have comparable skill sets to any other managerial staff.
For example, a sales manager usually has ample experience working as a salesperson before demonstrating leadership potential and receiving a promotion to the management level.
Perhaps the manager acquired an MBA or some other education credential that qualified them for leadership, or perhaps their consistently high sales rates compelled the organization to keep them on staff in a management position.
Regardless, their background in sales will give the manager insight into what their team members need to maintain high performance and drive success.
The same logic should apply to leaders of the IT department. Generally, lower-level managers will have more IT-related knowledge and skill, which allows them to relate to their staff and guide them more easily toward efficiency and success.
Higher managers and IT executives can likewise benefit from understanding the demands of IT, but having more experience and training in leadership is a must.
In truth, every executive benefits from taking an information technology course, which can provide a useful foundation of knowledge about the digital technologies that allow an organization to excel. Yet, IT managers specifically should have more in-depth IT skills to help them navigate impactful projects and strategies.
IT Management Responsibilities
Though responsibilities of IT managers tend to vary from organization to organization — and from level to level — some typical tasks assigned to IT management are as follows:
Evaluating existing IT systems and organizational needs
Recommending IT system and process enhancements to top management
Creating and executing IT policy
Scheduling and overseeing IT projects
Managing IT team members
Developing IT training for employees across the organization
Also Read: Have All your Information Technology (IT) Needs Met By a Single Provider
IT Management Skills
Before an IT employee is ready for a role in management, they need to demonstrate the following skills:
Time management, to ensure proper scheduling of IT system maintenance.
Problem-solving, to creatively overcome IT challenges like security threats, glitches, and bugs.
Budgeting, to find cost-effective IT solutions.
Leadership, to drive cooperation and motivation amongst IT team members.
Communication, to comprehend and explain IT concepts to various business groups.
In the IT realm, certifications tend to demonstrate a worker's aptitude in certain key areas. There are a number of IT management certifications that IT workers might pursue to demonstrate their interest and capability in leadership roles.
Some of these certs include:
IT Management Perks
The demand for qualified IT workers is exceedingly high, as more and more organizations adopt more sophisticated digital systems and tools.
Likewise, high-quality IT managers are becoming increasingly difficult to find, so organizations need to do what they can to foster management talent from existing IT staff and retain those managers into the future.
Organizations should offer generous salaries, upwards of the median of $87,871, as well as various enviable perks like education benefits, professional development, wellness programs, and more.
Despite their deep knowledge of tech, IT managers are not so different from any other executive within an organization. By understanding more about the role and responsibilities of IT managers, executives can choose the best candidates and create an IT environment of mutual success.
Also Read: How is Information Technology Impacting the Dynamics of Accounting?
What Kinds of Teams do IT Managers Often Have and What is the Role of These Teams?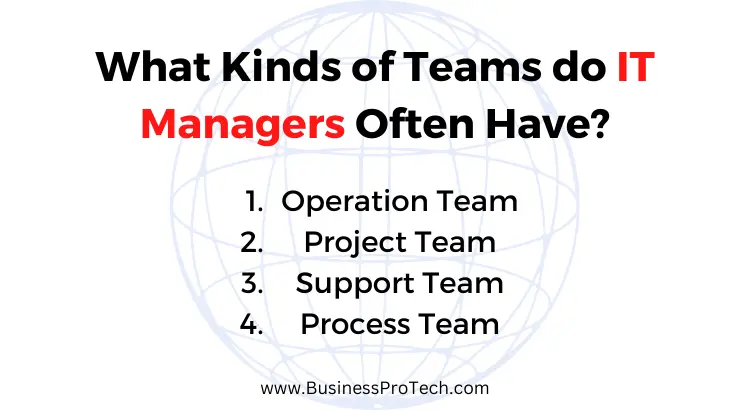 IT managers themselves are nothing. They need an excellent team to get the specified task done. Here is a brief introduction to what kind of team IT managers have.
Operation Team
To begin with, we have an operations team that directly impacts the business. The operations team is also known as the IT service management team. It includes data centers, web series, and networks, which are the most crucial part of the business.
Project Team
A project team is also necessary to complete a specific task. For instance, you need software developers to build a website or application for your business. They will help you to polish your business.
Support Team
Without support, your business is nothing. The IT support team looks after the operation and project team. They resolve issues regarding projects, IT, data centers, or other related matters as they are the backend team.
Process Team
In the process team, the company hires IT, specialists. Moreover, some analysts or data miners aid the business positively. The main job of the process team is to improve the business process. These processes flow with fluency and grow your business.
Final Thoughts
In this technological era, we need IT in every step of business. From starting a business to enhancing it, IT networks help us a lot. It is essential to choose IT teams carefully because all of your business is based on them.
Moreover, IT professionals are in tremendous demand due to this technological world. So, try to seek some IT teams to help yourself.