When you first get started with a technology project, whether an in-house employee or an IT company, finding help isn't always easy. You might wonder where to start when choosing an IT consultant. You might even worry that your business is too small for one.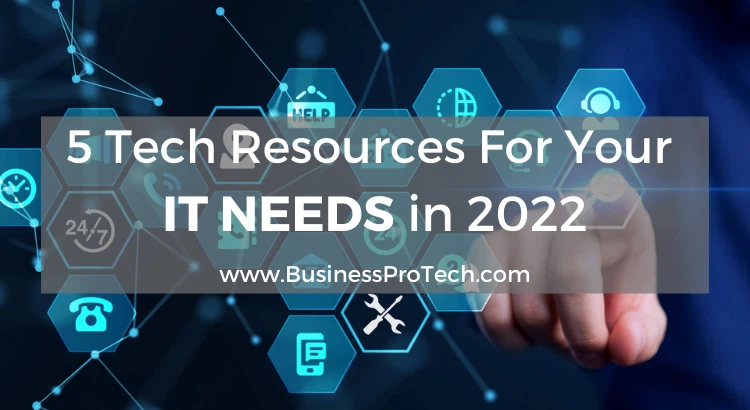 Here are five tech resources to help you find the best one for your needs.
Ebooks
Ebooks are a great source of critical information for those needing IT knowledge. An environmental company, for instance, could publish an eBook focused on water-saving products.
A business that deals with environmental issues might produce an eBook on using water-saving products and how to reduce their carbon footprint. Likewise, a company focused on customer satisfaction might publish an eBook on how to solve common problems faced by their customers.
Online Courses
Online courses provide structured learning to learners without committing to a specific time or location for the training to take place. Online courses can be built as brief modules utilizing rapid writing tools.
These can be posted onto an LMS, business desktop computers, or a learning portal so that employees can view them conveniently. When the training content is lengthy, it can be broken into modules to construct an e-learning curriculum that can be completed over some time.
Webinars
A web-based seminar can shape a presentation or a talk given by one or more presenters over the internet (webinar). According to Forbes, webinars have grown in popularity over the past few years, serving as marketing and training tools.
Because they can reach a significant number of individuals in a short period, they are ideal tools for mass communication. Typically, participants are placed on mute to eliminate distractions, and they can communicate with the speaker(s) through the chat option.
Video conferencing software can be used to offer webinars over the internet, and they can be recorded and made available on demand. Webinars are used for various reasons and are equally effective with small and big groups of participants.
The number of participants present will determine the level of engagement in a webinar during the session. There are protocols in place for using IT infrastructure and how to operate and control it.
Using information technology resources efficiently and smoothly relies heavily on protocols. As a result, they safeguard the information and keep it up to date.
Videos
Employees can learn and retain essential knowledge more easily when video-based resources provide training creatively and visually appealing.
Animations, photos, and graphics can all be used to produce videos, which you can do with the help of numerous software applications. They are visually appealing and engagingly provide content that the information shared is recalled for a more extended amount of time.
In practical training settings, videos are helpful, and you may use them to teach various subjects. They are instrumental in the product, process, and new employee training.
Software
The term "computer software" refers to a collection of interrelated computer programs. The IT infrastructure would not be what it is today without software. What the hardware does and how it performs is determined by the software that runs on it.
As a result, the software is a critical component of any IT infrastructure, and as such, it must be selected with care and regularly maintained. Because it's intangible, the software is often overlooked in IT infrastructure planning.
An IT infrastructure's inability to meet its goals can be directly attributed to a lack of good software choices. In contrast to computer hardware, software acquisition is a labor-intensive process that demands constant attention to the acquisition, maintenance, and improvement.
An IT infrastructure's most important asset is a well-stocked library of well-tested software programs for meeting an organization's information needs. Computer software can safeguard the IT infrastructure against the other three essential IT resources' possible threats and flaws.
Conclusion on Tech Resources for IT Needs
Even if you are in a pinch, panic is unnecessary. Numerous resources can tell you the best way to walk you through your current technology needs.
All that's needed is a little guidance and sometimes someone willing to listen. If you can anticipate future IT tech needs, such as flash drives or tablets, you will get your IT tech needs all in one place.
Life should be easier with the right tools, which is true with technology!