With the rapid growth of the digital landscape, businesses, no matter the size, rely heavily on IT infrastructure to have seamless and efficient operations.
Information technology (IT) is a vital component of any business. IT is needed by start-ups and large corporations to handle, expand, and operate such organizations adequately.
Because of how essential IT can be for your business, it's helpful to concentrate on your IT support. An IT support service can help address hardware-related problems and issues with tasks related to particular company software.
IT systems can be complex, and only knowledgeable and skilled IT specialists can handle them. It's important to note that systems can break down anytime, so having 24/7 IT support is crucial. You have the option of getting a remote assistant or an on-site one.
This post will discuss that in detail to help you make the best decision.
What is Remote And On-Site IT Support?
You should know the two options for having IT support. You can benefit from either on-site or remote IT support. But how will you define these two kinds of support services?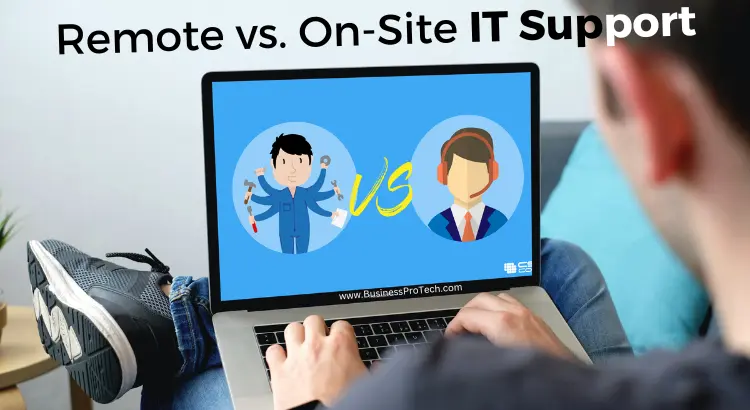 Firstly, on-site IT support involves a group of IT experts that do tasks at your business's physical location. If you want the help of an on-site IT service provider, it can be helpful to check various IT management services that can handle your IT infrastructure and end-user systems.
Some tasks, such as installing hardware, network cabling and rewiring, and physical security setup, can't be done remotely. Hence, on-site IT support is necessary to provide assistance and accomplish these tasks.
Now that we have discussed this type of support service, it's time to know what remote IT support is.
Simply put, it's a service that allows you to outsource IT tasks to a remote company. It can be beneficial if you want someone to assist your in-house IT team. This service can also help if you want fewer IT staff members on your premises.
Also Read: IT Management Role: Description, Skills, Responsibilities
If you want to know which is better between on-site vs. remote IT services, then learn more by reading the following guide.
On-Site IT Support
There are a lot of businesses that still rely on an on-site IT team. One reason is having an IT team in your location helps address physical or hardware issues instantly.
Here are more details about the benefits of having on-site IT support:
Faster Solution For Your IT Issues
When there are outages and technical issues, there's no time to wait for an extended period, as it means decreased productivity and profitability. Because these problems can negatively impact your company, seeking assistance from an on-site IT team can help. Depending on the IT team's dispatch procedure, local resources can be provided to your team within 24 hours, allowing proper resolution of your IT issues in less time.
Another reason why on-site IT support is they can quickly send many or additional technicians as needed to address IT issues in your office. Overall, if you're planning to have this kind of IT support, consider such location-related benefits.
On-site IT support services allow you to become flexible in deciding the services that suit your particular IT goals. For example, you can hire an on-demand IT dispatch team for a set period if you're preparing for a new office premise. An IT dispatch team can offer you the following IT solutions:
Malware and virus remediation
Diagnosis and troubleshooting of hardware and software issues
Proper management of technology asset lifecycle
Management and repair of network infrastructure
As an on-demand IT dispatch team has its advantages, so do recurring on-site services. This kind of on-site IT support is ideal if you don't need constant help from an on-site IT support expert.
Wherever your business is conducted, on-site IT support should be able to constantly offer three benefits: hands-on support your business requires, timely and prompt support whenever needed, and cost-effective rates.
Communication can make it easier to relay your problems. This way, you can personalize the support that your team needs. Over time, because they can observe your system in action, they can provide a more tailor-fit solution to common issues your organization may be experiencing.
Overall, opting for the available types of on-site IT support can improve your business's efficiency. They'll allow your staff to focus on more crucial tasks by spending less time addressing technical issues.
Remote IT Support
Remote IT support is the kind of external IT service provider that doesn't physically operate within your business premises. It has long been a part of the fast-paced business sector and provides excellent benefits for your company.
These are some advantages of remote IT support that you can consider:
Remote IT support services can help you without requiring you to pay fees for on-site visits. In other words, additional expenses such as travel and emergency on-site booking assistance fees don't happen if you hire this service.
In addition, your human resource (HR) department won't have to worry about finding tech talents to fill an in-house IT team. This benefit will remove the need to shoulder office space costs.
Seeking remote IT help also means you won't need to spend money on unnecessary expenses (e.g. free food for on-site employees) that don't directly contribute to developing a product or service.
Overall, having fewer expenses through remote IT support can be ideal for small and medium-sized businesses with only enough money to run their operations.
It can affect overall productivity if IT issues constantly limit your employees' time and capability in doing vital tasks. Having remote IT support will help in these situations.
Hiring a remote IT service provider will help ensure your enterprise's operations run smoothly. This type of service involves experts who know how to handle complex IT issues that any business can face. Moreover, they know about complicated concepts like security patches, intrusion detection systems, and firewalls and how to operate or navigate them.
With remote IT help, your end-users and staff members can have more time doing their tasks and achieving the overall business objective with fewer no technical issues. Therefore, you won't have to worry about decreased productivity, which will impact your revenue and operations.
Businesses can access support services from anywhere in the world. Staff doesn't have to be in your business's exact location. This allows you to hire anyone qualified in different time zones.
And without a permanent job position, you can quickly scale up and down, depending on your business needs.
More importantly, your business can become all-inclusive. You can hire excellent and skilled IT support even if they have disabilities. Many IT support staff can't get an on-site job because of mobility but can perform the task excellently.
Which is Better for Your Business?
Your business type is a crucial factor when deciding on the right kind of IT support. For instance, hiring a remote IT support service may be the right path to take if you're operating a small-to-medium business.
One reason to opt for this service is that you only have a small group of members. It can affect your business's productivity and revenue if these employees spend more time on IT issues. Fortunately, you can rely on remote IT support to address such a problem.
On the other hand, if you want quicker resolution of IT issues, choosing on-site IT support can be ideal. With this service, you can avoid waiting for an extended period, as the IT team will be at your location and can resolve issues promptly.
That said, it's ideal to seek advice from an IT consultant to know which support services are more suitable for your business. Ultimately, the choice will rely on your specific needs. You must assess your requirements carefully and research various companies before completely diving in.