Everyone has a smartphone these days, and on all smartphones, the common thing is social media applications.
From teenage to old age, social media accounts and their habits are popular. The experience that social media platforms give in engaging with them draws users to spend most of their time either propelling or procuring data.
Regardless of the type of relationship, everyone is connected through social media handles. Today, it's not a choice but a need to be on social media. Otherwise, a lot of information is missed that could have been just a swipe away.
With the growth in access and acceptance, social media applications have proved to be a real help when it comes to stretching out your intention, creation, or assistance to the world.
From sitting on one end of the world, you can effortlessly connect with someone on the other end. Hence, have a global charm.
This transformation that the uprising social media has brought to the way people interact and immerse is particularly beneficial for small businesses.
This article will suggest six ways in which social media can scale up small businesses. Before that, it will depict the impact it can have on small businesses. Read along as we get you up to speed.
Related Article: 5 Effective Ways for Small Business Growth with Social Media
Top 5 Impacts of Social Media on Small Businesses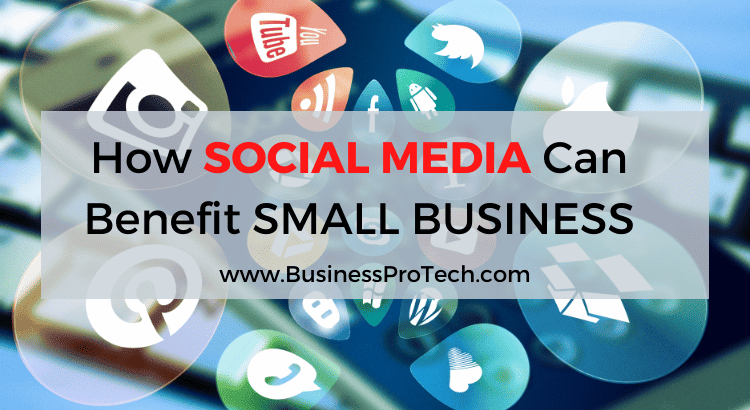 Works As Word of Mouth
Social media can spread brand awareness effectively at a low cost. It provides an opportunity to establish a direct client and customer interaction to help collect customers and cement their loyalty.
Most social media accounts allow free registration and, in return, require only a time commitment.
Boosts Traffic and Ranking
Scaling on social media platforms that already see a lot of traffic like Facebook, Instagram, Pinterest, Twitter, etc., helps attract the maximum traffic to the website.
Furthermore, with tools like online video maker, one can build posts that get maximum recognition, and media shares as videos make up more than 82% of all consumer internet traffic.
You can use this to your benefit to create more video content. The higher the media shares, the higher the SEO ranking would go.
A Way To Brand Legitimization
Once a brand gains popularity on a social media platform, visitors start online searching for it frequently.
On searching the internet, if they receive similar information about the brand, it leaves a praising effect. They start relating with the brand, which leads to brand legitimization.
Related Topic: Top 5 Marketing & Branding Materials For Small Businesses
Allows Maximum Leads Generation
The cost per lead generation through social media is comparatively lesser than any other mode.
Also, these platforms allow free-of-cost advertisement options that can help fuel lead generation and sales. Hence, social platforms prove profitable and advantageous for lead generation.
Opens Opportunities For Sale
The number of likes, shares, or recommendations on social media platforms impacts sales. An increase in the attention from followers results in innumerable profitable opportunities for sales to open up
6 Ways to Use Social Media for Small Business
How to Effectively Use Social Media for Small Business (Video Credit:Karissa Pukas)
Find the Right Social Media
Identify the platform that gets maximum traffic from the age group that might benefit from your services or products and accordingly scale.
Platforms like Instagram and Facebook see more than 1 billion and even more users each day. With their audience reach, target advertisement, visual appeal, customer interaction, community building, and powerful analytics, they are perfect for finding the target audience and leading generation.
Instagram is the most used social media platform, with 76.50% of the social media users. However, don't adopt an all or none approach. Use different social media platforms as per the marketing and sales strategies.
Track Down the Target Audience
The target audiences are those buyers who are most likely to buy a product or a service. To run a successful small business on a social media platform, it is important to identify the target audiences as it is cost-efficient for small businesses.
Also, analyze the digital presence of your audiences and convey messages that are according to their preferences and personality. This is called micro-targeting.
Engage More and Enhance the Exposure
It is a thumb rule that business accounts on social media must reply to all their messages. Therefore, after seeing your ad or post, interact timely with the customers who reach out to you with complaints, requests, queries, etc.
Increased engagement will help small businesses create a strong relationship with their target audience. Gradually, as the engagement increases, likes and shares will increase, and the social algorithm will also increase, improving exposure.
Improve Exposure Using Branded Hashtags
Social media can be used to participate in ongoing discussions or occasions that relate to your business goals. You can promote your business and drive the conversations. Creating a branded hashtag can be extremely useful for this purpose.
Branded hashtags can boost the business's social media engagement through likes, shares, comments, and new followers. Also, using hashtags related to a matter outside your business goals is a way to benefit from an important cause or issue.
Benefit From Brand Collaborations
Brand collaborations are an effective idea, particularly for small businesses. It changes perspectives besides that it opens new markets, brings different audiences, generates loyal customers, and helps fight the competitors.
It adds credibility to the small business in the eyes of the audience. Make sure to collaborate with businesses with an overlapping market but not the same.
Also, avoid collaborating with businesses that have similar products and services as your small business.
Develop Varied and Effective Content Ideas
Create small videos of carousels on Instagram about your products and services, share information about the business, and promote discounts and offers.
Besides, you can also make longer videos on YouTube & Facebook or Live stream a sale of products and invite people to participate through comments.
You can use an online video maker to make impactful videos that rank well on every platform. As the requirements of each platform are different, a video maker will help ensure you are catering to the audience of every platform.
Conclusion
There is nothing like an overnight success. Build well-grounded, down-to-earth strategies for the social media presence of your business and use social media networks intelligently.
Remember that providing the target audience with a quality product or service that they prefer and require is the only way to success for small businesses.