To both gain new clients and foster repeat visits from existing customers, you must keep your patrons happy. Whatever industry you're working in and whatever your job role, customer satisfaction should be a leading priority.
But how can you ensure that customers are satisfied with your services?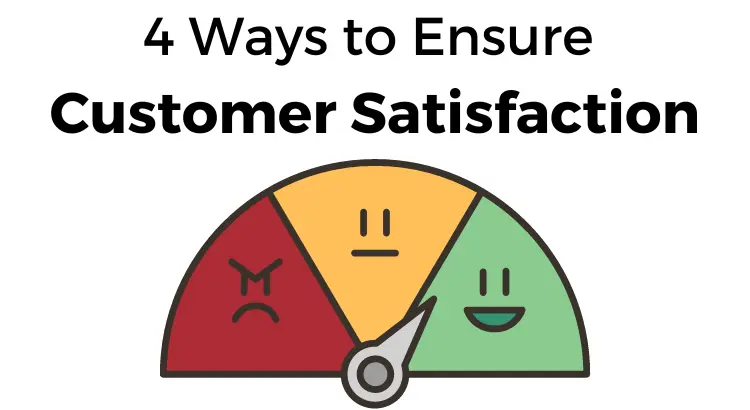 Put the Customer First
In the USA, there has been a sharp decline in overall customer satisfaction since the year 2019. While this has likely been compounded by the effects of the COVID-19 pandemic, there's no denying that many businesses today are failing to provide the personal touch and connect with their customers.
The no.1 rule of customer service is always putting the client first and ensuring that all of their needs are catered for.
Try to develop customer-friendly processes designed to enhance user experience, and try to tailor or personalize your services to the customer wherever possible.
Related Post: How to Improve Customer Satisfaction (10 Easiest Ways)
Show That You Care
An important part of putting the customer first is treating clients like individuals and showing them that you care.
Customers who feel valued and appreciated (rather than like just another invoice number) are far more likely to return and use your business again – this is especially true if you provide the best service possible.
Identify your most loyal customers and create a loyalty program or incentive scheme to reward their efforts. Indicators of loyalty in customers include repeated visits, incremental rises in spending, premium purchasing, and making recommendations to friends and family.
Also Read: Your Business and Incentive Schemes: Why Adopt Loyalty Cards?
Action on Feedback
While you may not want to hear complaints from your customers, take any criticism or constructive feedback seriously. Identify trends in feedback and take action to fix any problems before they happen again.
This will make your existing customers feel more valued and improve the experience for future clients.
If possible, incorporate this feedback resolution process into the narrative of your brand identity using 'behind-the-scenes before-and-after videos, interactive live chats, and reels – this will add transparency and a personal touch.
Have Fun
A reliable way to expand your brand's reach and enhance satisfaction is by boosting social media engagement using social media marketing. The more interactions you gather on your posts, the broader your customer base will become – social media is a crucial element of business today.
The good news is, social media marketing enables you to get creative and have fun!
Whether you choose to produce stories, reels, or guides for Tik Tok, Facebook or Instagram, you're almost guaranteed to gain new clients and boost the satisfaction of your existing customers.