In today's digital age, starting an e-commerce business sounds tempting. It does offer an opportunity to reach customers worldwide. However, launching a successful e-commerce business is more than just creating a website and product for sale. 
The online marketplace is incredibly competitive, with countless businesses looking to capture the attention of customers. So much so that the e-commerce market is expected to reach over $8.1 trillion by 2026. That's exactly why e-commerce startups should think outside the box.
There are ways to help you stand out against competition. And investing in e-commerce tools can be a game changer for your startup's success. Today, we'll evaluate the top nine e-commerce tools that can give your startup the competitive edge it needs.
Let's dive in!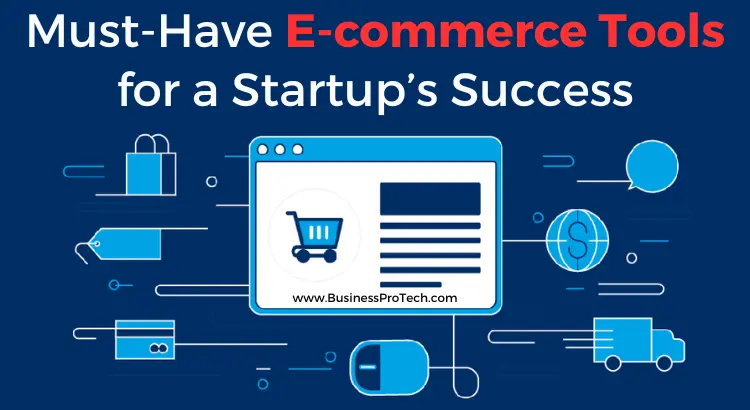 E-commerce Trends in 2023
First, let's talk about the latest trends in the e-commerce industry. Regarding the e-commerce trends for the food and bev industry, it's enough to say that e-commerce is finally starting to take off in this field as well. 
Social commerce is also on the rise and continues evolving. If you haven't started with social media selling yet, it's time to buckle up because your competitors might already be ahead of you. Selling on social media is becoming the norm, and if you're not doing it you're missing out on a huge opportunity.
Personalization is also a huge deal nowadays. Customers are definitely more likely to remain loyal to brands that offer them a personalized experience. Brands that do these are already thriving in the e-commerce industry.
Lastly, artificial intelligence is starting to find its way into the e-commerce industry. AI is perfectly capable of collecting valuable data about customers' shopping behaviors, which is why it'll continue helping brands find out more about customers.
The Kinds of E-commerce Tools a Startup Needs
Getting your online store set up can be challenging. It's even more confusing when it comes to choosing the right e-commerce tools. With so many options available, it's important to focus only on those that align with your business goals and can help you succeed in the competitive online market.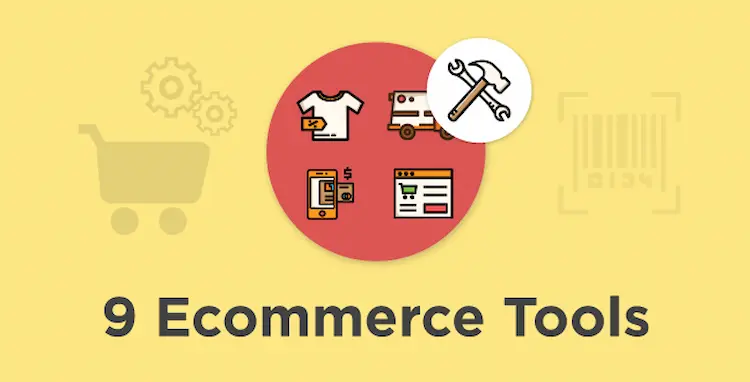 Of course, you should always aim for a tool that's user-friendly. However, it's equally important to consider the specific features in order to make a better decision. Generally, e-commerce tools fall under five categories:
Research tools. With the help of research tools, you can easily gain insight into current market trends, competitors, as well as overall industry trends. This puts you at an advantage and one step ahead of the competition. With research tools by your side, you will finally make decisions based on facts, rather than assumptions. Instead of relying on gut feeling, you can access valuable and accurate data to guide your strategies.
Business tools. As the name suggests, these tools do help you with your overall business performance – from enhancing workflow to improving productivity and driving growth.
Marketing tools. Specifically designed to help you promote your product or service, marketing tools are an inevitable part of any e-commerce business wishing to succeed. These tools offer you different strategies for marketing campaigns to help you attract potential customers. 
Analytics tools. You can do a lot but have you ever asked yourself how your strategies are doing? That's what an analytics tool can help with. It will collect and analyze information about your business's performance, so you can timely make data-driven decisions.
Website tools. You might have an idea but transforming this idea into a functional website is challenging. That's when website tools come into the picture. They can help you build a website that's both eye candy and user-friendly.
Top 9 E-commerce Tools for a Startup's Success
There are currently more than 26 million e-commerce sites worldwide. That's why we've singled out the best to help you stand out against competitors and take your business to the next level. Let's check them out. 
SEMrush
When it comes to improving your online presence, SEMrush provides a different set of tools and features. It lets you do content marketing and SEO, keyword research, as well as tracking and monitoring your website's performance.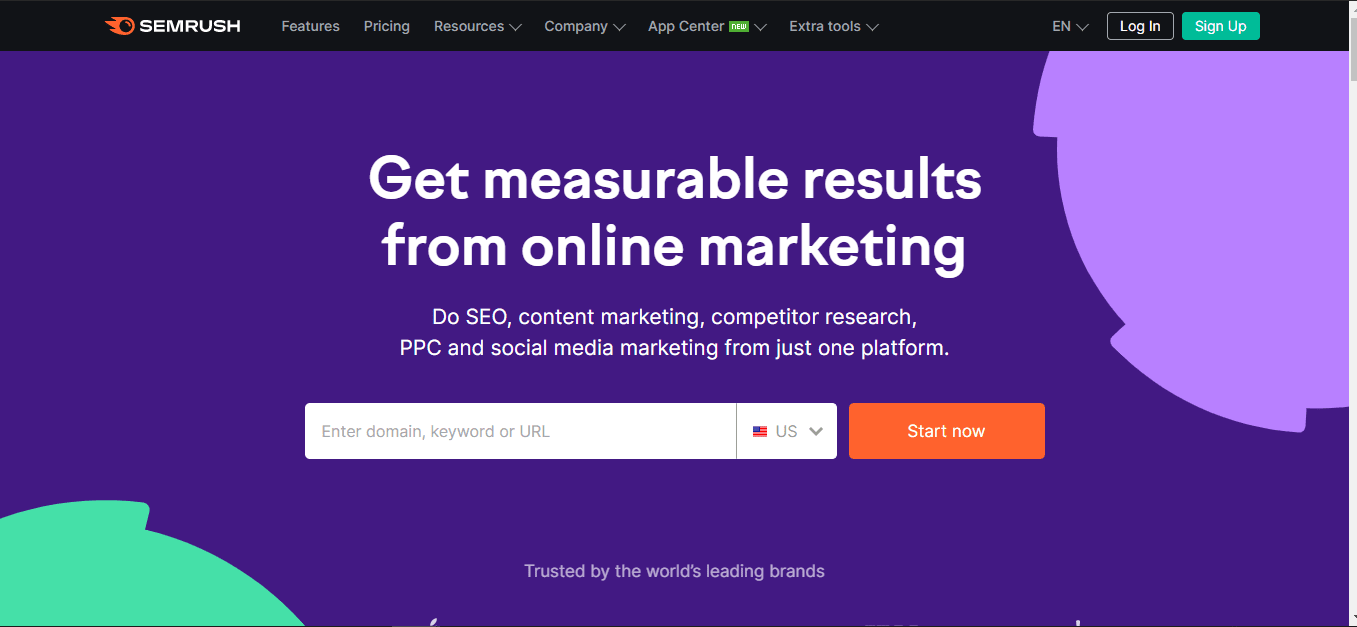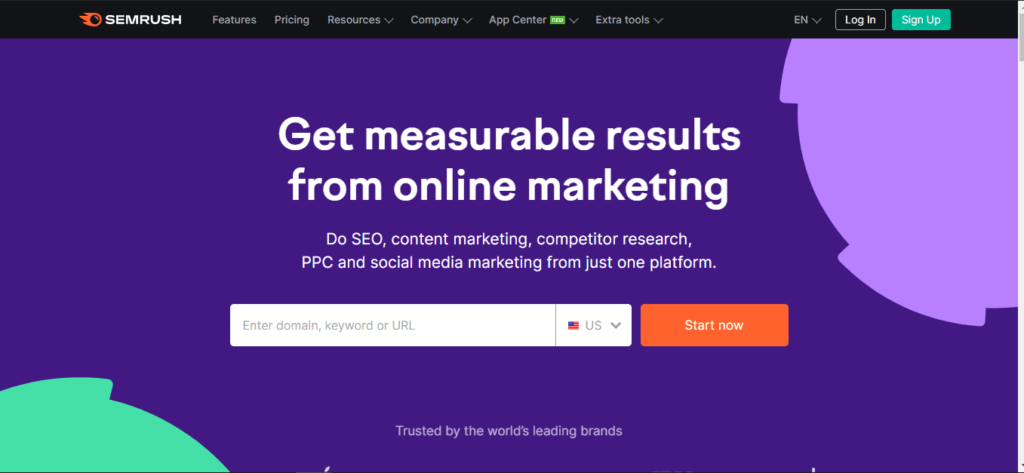 Let's face it. An e-commerce startup business must do all of these. Since you're currently dealing with it, you probably want to increase your website visibility and attract relevant traffic to it. With SEMrush's versatile capabilities, you can easily do both.
Shopify
I bet you've all heard about Shopify. Since its founding in 2006, Shopify has experienced rapid growth. It's no wonder, considering the numerous benefits it brings to the table. First and foremost, it is a user-friendly platform that allows you to easily set up and manage your online store.
Secondly, it offers you a wide range of themes and templates to choose from and customize to make your website look awesome. And lastly, Shopify has quite a few apps and integrations that you can add to your store to help with marketing, tracking, customer service, and more.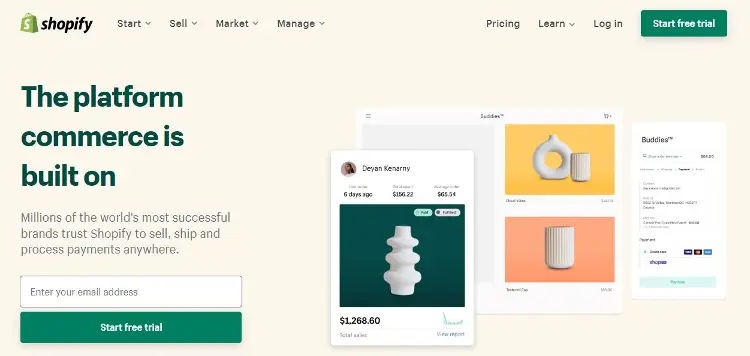 Salesforce
It does have other benefits but Salesforce is known for its customer relationship management (CRM) system. This means you can manage leads, keep track of customers' interactions, and nurture relationships with existing customers.
Most importantly, Salesforce can help you gain insight into your customers' behavior so you can offer them a personalized marketing experience. Did you know that 83% of customers are totally cool with sharing their data if it means they'll get a more personalized experience? So, personalization is far from a joke and is something you should consider in the near future.
Sana
Next on our list is Sana – an e-commerce platform that can help you create and manage your online store. What's great about this platform is that it actually uses data from popular business software like Dynamics or SAP ERP for an even better customer experience.
Sana has all the needed tools and features to make your online store a success. You can easily personalize your store's look to align with your brand and provide a user-friendly and overall unforgettable shopping journey.
Google Analytics
When it comes to understanding your website's performance and gaining valuable insights into your online business, Google Analytics is a must-have. The tool allows you to uncover key information about your website visitors, their behavior, and how they're interacting with your startup.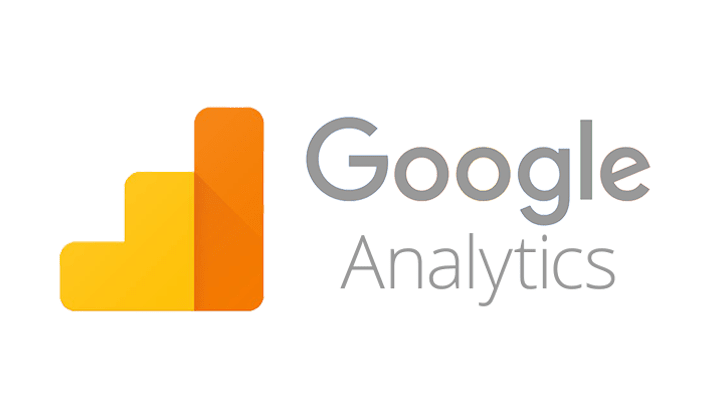 Despite many other tools offering this, Google Analytics is still the number one analytical tool. It's a reputable, and widely adopted tool in the industry, making it the perfect choice for anyone looking to succeed in the ever-growing e-commerce industry.
Mailchimp
Considering that Mailchimp is designed for small businesses, it definitely deserves to be on this list. This is a popular email marketing platform that can help you manage your email campaigns, as well as drive sales.
Sadly, email marketing is often overlooked. However, it's important to note that email is still considered one of the most preferred ways of communication in the business world. That said, Mailchimp will help you deliver personalized messages and targeted promotions to your target audience's inbox.
ActiveCampaign
Another reputable e-commerce tool that can help you streamline your business's operations. ActiveCampaign is all about customer experience. It actually features advanced automation capabilities. However, you'll need to purchase their sales plan or a bundle to get these pro features.
With ActiveCampaign, you can create personalized and targeted email marketing campaigns tailored to the specific needs and wants of your customers. By sending relevant content to your customers, you can increase customer loyalty, and drive sales in the long run.
OpenCart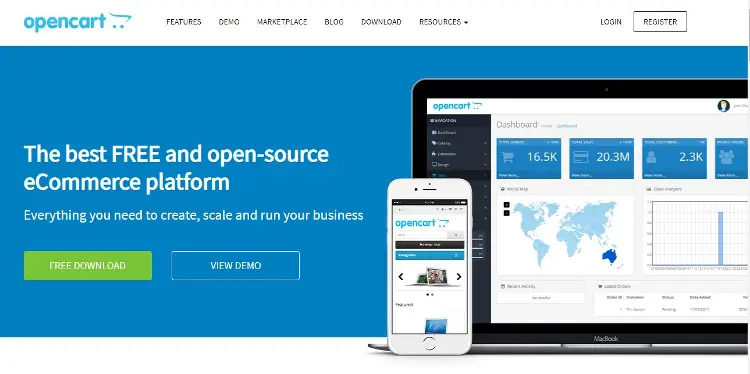 If you're looking for something affordable, it can't get more affordable than this. Opencart is a free e-commerce CMS platform that you can download, install, and use OpenCart software as well.
OpenCart offers you a wide range of extensions and themes to improve your online store's capabilities. It's also highly customizable, so you can rest assured your website will be tailored to your specific requirements.
BigCommerce
BigCommerce is another e-commerce platform that has gained significant recognition in the e-commerce industry. It offers various features so you can lead on this platform to help you launch and scale your online business.
BigCommerce is at an advantage because it has more built-in sales tools than any other competitors. It allows you to optimize conversions, enhance the customers' shopping experience, and drive revenue growth.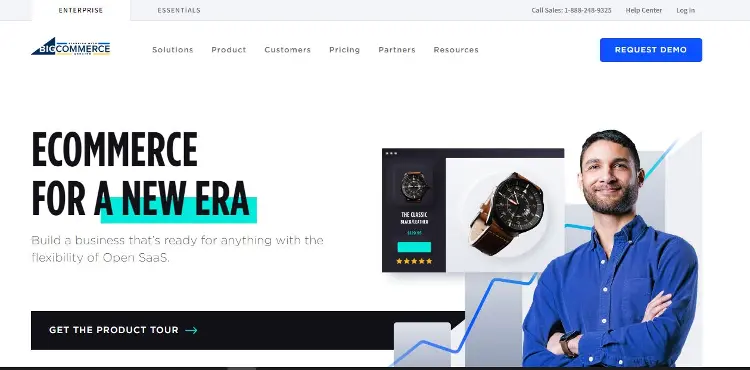 Achieving Success with E-commerce Tools
Don't worry If you're still not at the peak of your career. You'll get there eventually. Who knows how many more trends we've yet to see in the e-commerce industry? One thing is certain though – success takes time.
Hopefully, this guide will help you to choose the best e-commerce tools for your startup to succeed. Remember that many of these tools are designed to automate some aspects of online selling, which can help you a great deal – save valuable time and increase efficiency.
With dedication, knowledge, and the right e-commerce tools by your side you're already on your way to take your startup to the next level.