A big question you already know the answer to. Are users opting for voice search more? Yes.
Smaller but arguably more important questions:
How many users opt for voice search?
How many times have users chosen voice search over typing?
How many users find voice search and voice-enabled devices a necessity?
The answers via the lens of data:
An eMarkerter survey confirmed that 40% of users in the U.S. opt for voice search.
30% of web browsing sessions were screenless in 2020.
49% of Amazon Echo and Google Home users find the devices to be a necessity.
We won't repeat what you know such as 'optimize your website for voice searches.'
We'll show you ways a Professional SEO company must take to achieve voice search optimization for websites.
Thus, if you're an SEO company, you know the precise steps to take. If you're hiring one, you know how to measure if they're taking the right steps or ripping you off your money.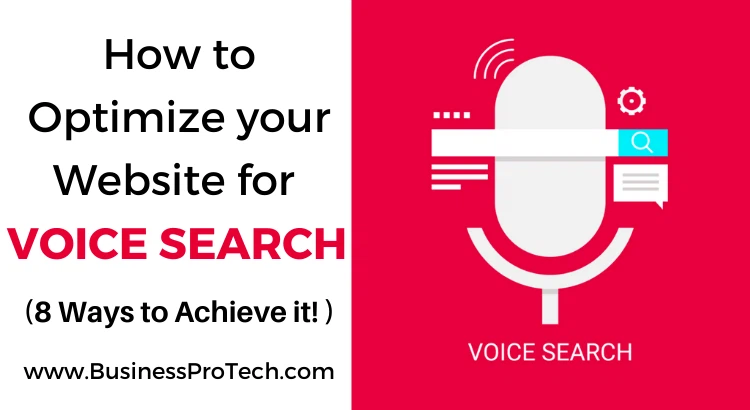 8 Ways to Achieve Voice Search Optimization for Websites
Using Structured Data
Structured data — also known as Schema markup — offers relevance and optimizes the content for website voice search.
Here's a markup that classifies the 'Contact Details' page of a website.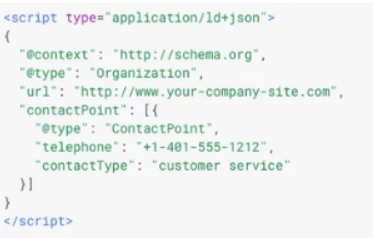 Let's consider an example;
If you search for the population of Dubai, the following search results will show up.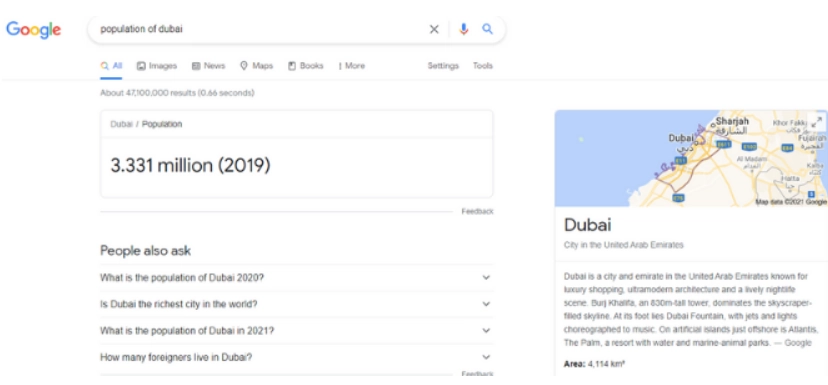 See, the exact population figure at the top? Google retrieved the number because of a markup.
These markups include metadata such as the address, operational hours, directions of the place from the highways, and contact information, among others.
Furthermore, you can use featured snippets to structure the data as well. This brings us to our next point.
Optimizing for Featured Snippets
Google pulls over 40% of voice results from the featured snippets. The number alone makes featured snippets essential for voice search optimization.
However, what are featured snippets? How to optimize for featured snippets? Here are your answers.
Remember the box appearing under the search bar? That's featured snippets. Featured snippets offer small chunks of information pulled from relevant websites.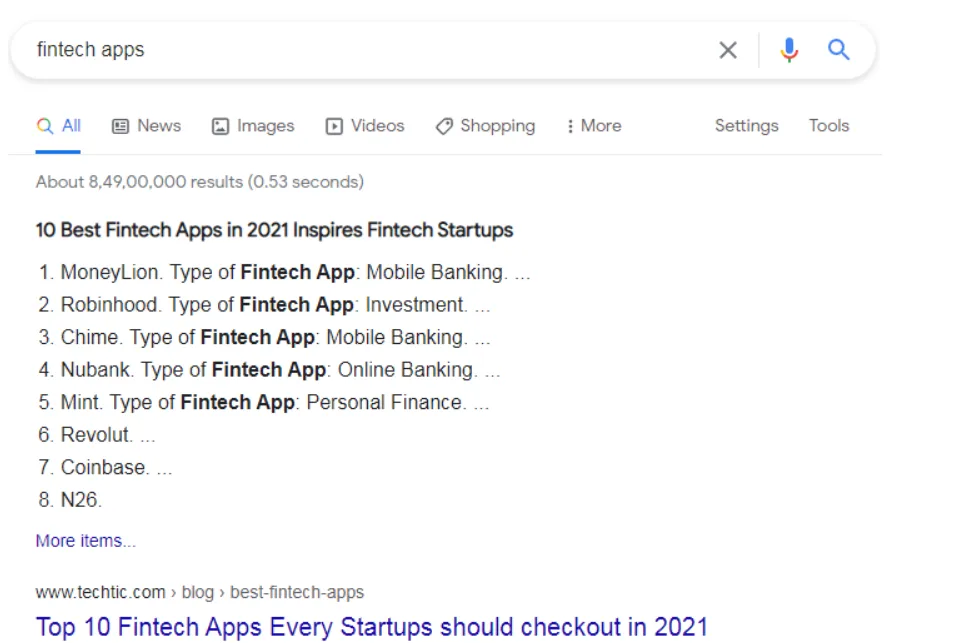 Optimize for featured snippets by:
Understanding the user's search intent. The search intent can include a one-line answer, a description, a video, or a comparison.
Offering a specific answer.
Gathering keywords from your competitor's featured snippets and using them in yours.
Creating Conversational yet Concise Content
When people type in their queries, they go for the keywords only (for example, 'SEO-friendly content').
However, when people choose voice search, they speak in a conversational tone (for example, 'How to write SEO-friendly content?').
Thus, your content must offer a conversational tone to appear more relevant to the query. Miss that and your content won't show up in search results.
Here's how you can create conversational yet concise content.
Check frequently asked questions to know what the users are searching for. Furthermore, use long-tail keywords as they match the conversational tone present in the speech as well.
Opting for Long-tail Keywords
When using voice search, users utter the entire query instead of using keywords. Thus, long-tail keywords help your content rank higher for voice search online queries. Furthermore, long-tail keywords improve search rankings as fewer businesses compete for the keywords as well.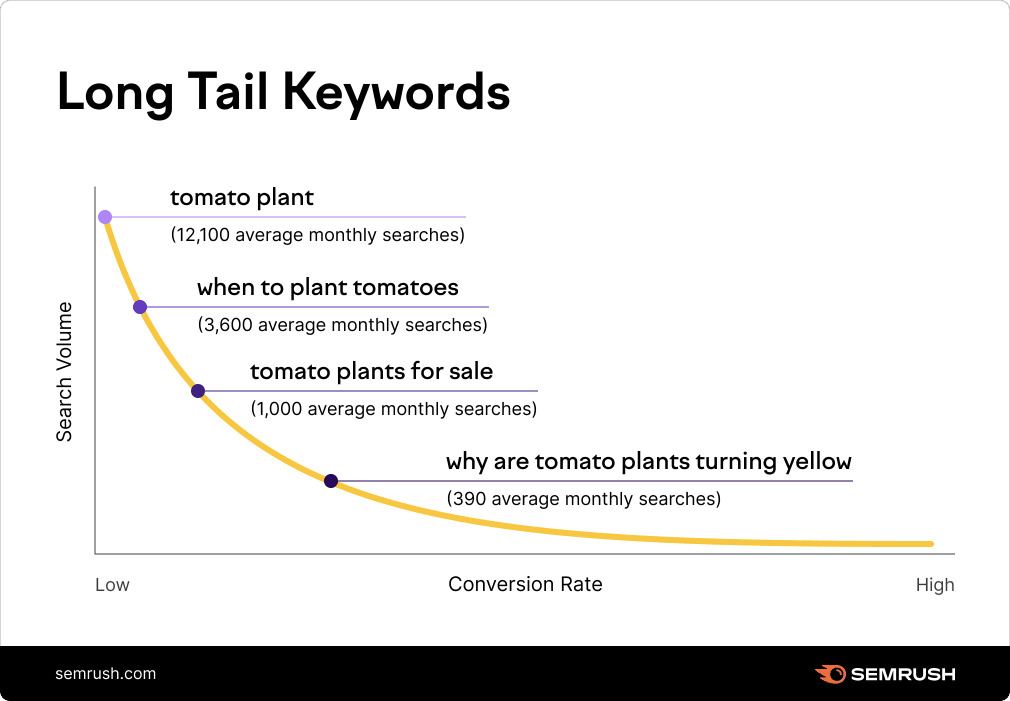 If you don't know, long-tail keywords are longer but more specific and more targeted than short or 'head' keywords. Check out the following examples to understand the difference better:
You can find long-tail keywords with:
Google autosuggest
Third-party tools such as Ahrefs' Keywords Explorer, Answer the Public, and Solve.
Forums such as Quora and Reddit.
Creating Mobile-friendly Content
Three interesting facts for you to mull over:
Mobile devices generate 54.4% of the global website traffic.
Over one-quarter of the global online population use the voice search feature on their mobile devices.
91% of small business websites aren't optimized for mobile devices.
The information above tells you two things — users use mobile devices for a majority of the voice searches and most websites aren't prepared to handle the same. Never fall into the same category.
If users can't find your website or leave within seconds of entering, the 'game-changing' content you've made will get buried on the internet.
Not convinced yet? Here's one last piece of information.
Google checks websites for mobile optimization first to decide where to rank the website on the search result page.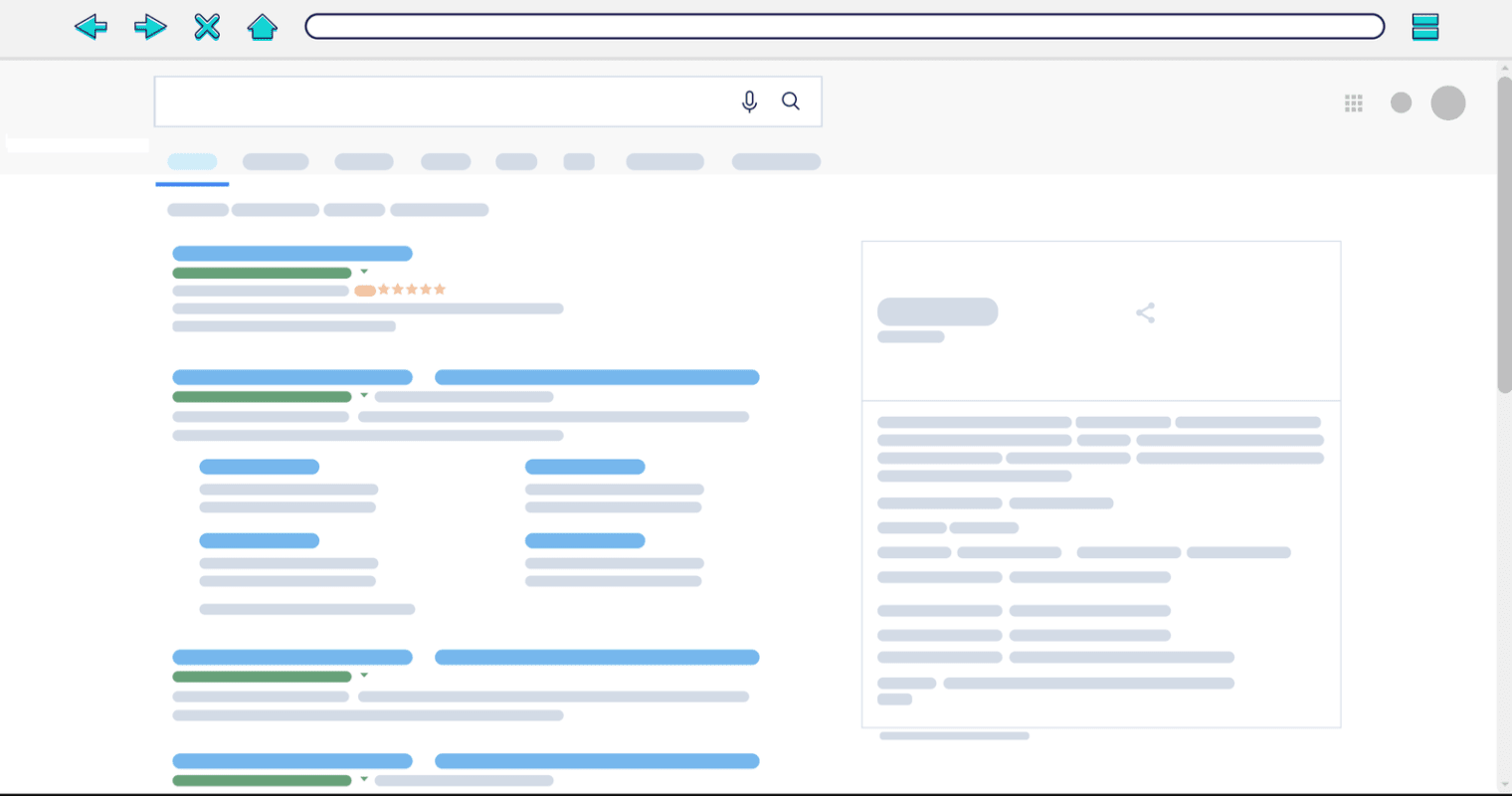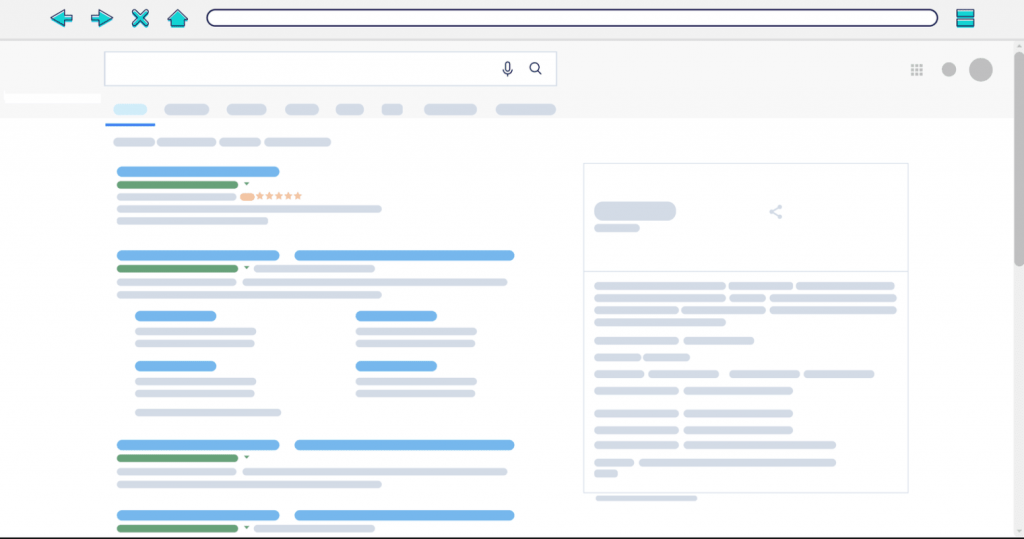 Claiming your 'Google My Business' Listing
Google pulls up structured data for voice searches. However, the tech giant wants to offer the most accurate information each time (obviously!). Google achieves the same by checking your 'Google My Business' listing.
Add the following information to your 'Google My Business' listing:
Street address
Directions to the physical store from well-known landmarks and highways
Operational hours
Contact information
Claiming your 'Google My Business' allows you to:
Appear in a geographical search. The feature is especially beneficial for local businesses.
Receive more Google reviews. If you rack up positive reviews, Google favors and pushes your website up the search results.
Verify and edit information about your business.
Optimizing for Local Search
Users opt for voice search three times more likely than text-based searches to get information about local businesses. Furthermore, local searches make up 46% of all voice searches.
Add to it the fact that these users are extremely engaged buyers and you'll realize the importance of local search.
Optimize your content for local search by:
Including the region in both content and metadata
Using visuals specific to the local area with alt-text tags
Tagging images and videos with the name of the locality
Opting for location-specific pages over a standard footer address
Use keywords such as the name of the landmarks near your business location and the name of local institutions relevant to your business
Using the phrase 'near me' in the meta description, title tags, anchor text, and internal links
Creating Content Around Frequently Asked Questions (FAQs)
People use questions when they use voice search on Google. Thus, the more content you can create around those questions, the higher your website will show up in voice search results.
You can check the 'People Also Ask' section of any search query related to your content to see the questions your target audience is asking.
Create your content answering those questions, solve the pain points of your target audience, and Google will reward you with an improved search ranking.
Voice Search Optimization for Websites – the Trend is Here to Stay!
The voice search and voice-enabled devices industry will grow to a $40 billion channel. Thus, it's essential that you optimize your website for voice search.
These voice search optimization techniques for websites will help you achieve the same.